Archives look to preserve records and objects in perpetuity so that the information they hold can be accessed and used by people for research, interest and pleasure! We are of course, no exception. To help highlight some of the items and subjects that are tucked away in our archives we curate exhibitions that look at a range of material from a single archive, or around a single topic. These are exhibited in display cases dotted around the library, in Window on the Mack and as part of bigger exhibitions in galleries across the country (and internationally).
To expand the audience for these displays the GSA Archive is creating a virtual version of its exhibits on Pinterest! As many of our users are students and staff from the School who are looking for inspiration, Pinterest provides an ideal platform for visually presenting the materials while also linking to other media and websites of relevance that can provide further information (including our own archives and collections catalogue and contact details). The first of these exhibitions was recently produced by our Skills for the Future trainee Maja and displays some of the materials recently accessioned into the archive from the Student Representative Council.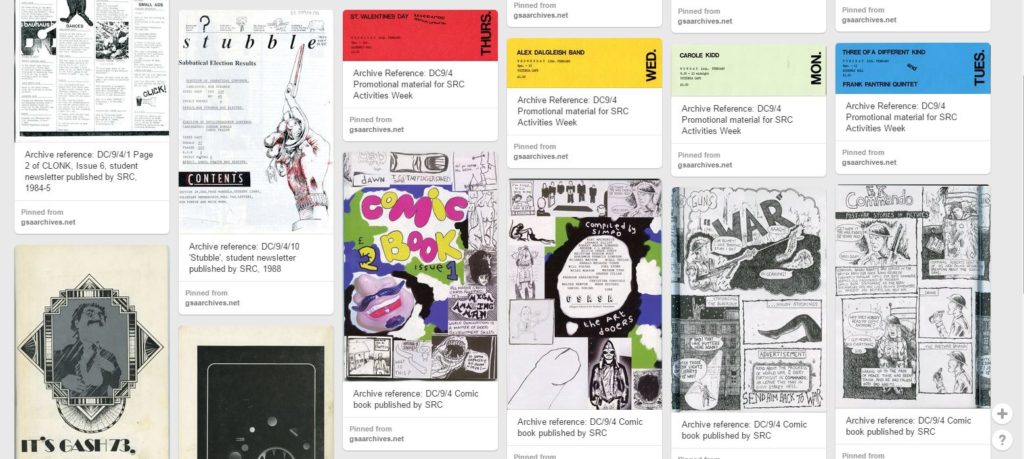 Today we release Explore your Archive 2014 – Alison Brown researches the Glasgow Girl, Georgina Goldie Killin. 
'Explore your Archive' is a campaign run by the National Archives to raise awareness about the unique potential of archives for the local community. We have been participating in this campaign since last year by producing story boxes that track a particular researchers experience and discoveries in our archives and collections. Last year Alison Brown, curator of European Decorative Art at Glasgow Museums, produced a story box based on her research into designer Georgina Goldie Killin. This is now available on Pinterest! Each pin is made up of items that were placed in this story box and there are links to an interview with Alison explaining her research, and experience of using the archive.
This is a new platform that the archive is investigating so if you have any thoughts or comments please feel free to share!