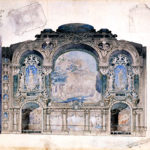 The Glasgow School of Art's archives and collections are an outstanding resource for the study of art, design, architecture and art education.
They comprise of a wide range of material from GSA's institutional archives to artworks and architectural drawings, textile pieces, plaster casts, photographs and furniture. Our holdings also include a large number of items by Charles Rennie Mackintosh, giving us one of the largest Mackintosh collections held in public ownership.
Our Archives and Collections are currently based in The Whisky Bond at Speirs Lock on the Glasgow Canal.
We are open to all researchers including the School's staff and students, and external visitors including members of the general public:
Please see here for further information about access procedures and opening times
Please see here for details on how to find us
GSA's Library and Archives & Collections also offer group sessions. See here for further information and to request a booking.
To find out more about our activities and how historical resources can support contemporary creativity see our Archives and Collections blog and our Vimeo channel.