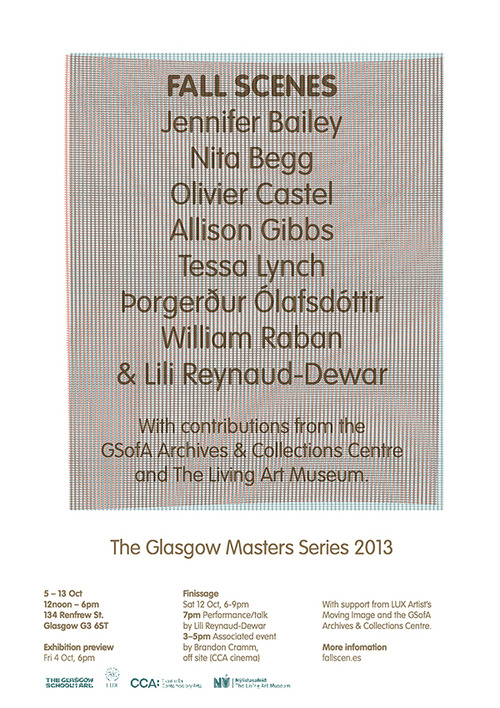 Fall Scenes, an exhibition that borrows and adapts its title from William Raban's included film Autumn Scenes (1978), takes as its starting point the process of making indistinct the perimeters of inside and out. Taking place mostly in a former furniture showroom (a specialist in recliners) incidental objects, seasonality and the distractions and influences of daily life become actions deployed to permeate the exhibition proper.
Operating across a variety of cultural and temporal registers, the contents of the exhibition are encouraged to act upon each other, like haphazard contents of the utility closet rather than objects of innocuous purity, unperturbed by harmonious surrounds.
Fall Scenes is an expanded exhibition co-initiated by Jennifer Bailey, Allison Gibbs, Tessa Lynch and Þorgerður Ólafsdóttir that invites works by Nita Begg, Olivier Castel, Sigurður Guðmundsson, William Raban and Lili Reynaud Dewar to temporarily live alongside a selection of incidental objects and interior interventions. The project has been developed in conversation with Sarah Tripp and includes an off-site event by Brandon Cramm.
The exhibition features a poster from our collection advertising a talk held in the Mackintosh lecture theatre at Glasgow School of Art by artist John Wright in the 1980s, in which he showed and discussed colour slides of his journeys across the Sahara to Tassili.
The exhibition is open from Saturday 5 October until Sunday 13 October, 12-6pm at 134 Renfrew St, Glasgow, G3 6ST. Preview: Tonight, Fri 4 October, 6pm. Finissage: Sat 12 October, 6-9pm – Candies by Olivier Castel, performance/Talk by Lili Reynaud-Dewar, 7pm
Associated event by Brandon Cramm, 3-5pm, CCA cinema, 350 Sauchiehall Street, Glasgow, G2 3JD
Fall Scenes is supported by the GSA Archives and Collections Centre, LUX Artist's Moving Image, The Living Art Museum (Iceland), i8 Gallery (Iceland) and is presented as part of The Glasgow Masters Series 2013. Poster Design by Sophie Dyer.
For more information visit the website.