Read Kay Bryant's exciting conclusion to the story of the McGeehan sisters!
Aniza moved to Paris after leaving GSA, and continued her studies at the Académie Colarossi. Founded by the the Italian sculptor Filippo Colarrosi, it was seen as a very progressive studio and one of the first in Paris to offer classes where woman trained alongside men and were allowed to draw from the nude male model. Aniza would have been there just a couple of years later than another well known Glasgow girl, and fellow GSoA alumni, Bessie MacNicol. On her return to Glasgow, Aniza joined her sister Jessie at the 134 Bath Street studio and seems to have concentrated on sculpture. One interesting commission was for ten sculptures for Pettigrew and Stephens' store in Sauchiehall Street which she completed just before her marriage in June 1900 (Picture 5).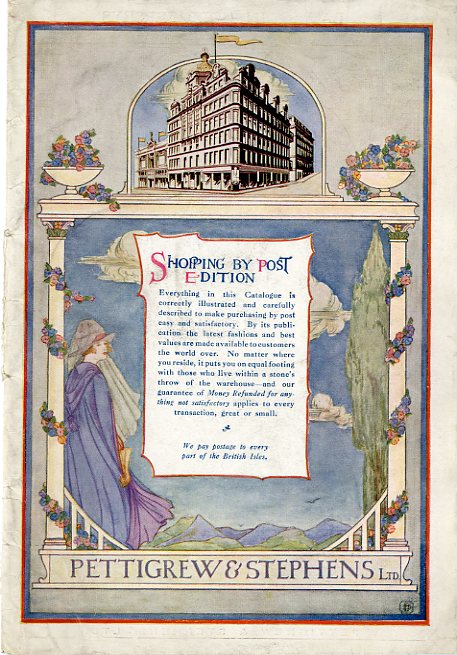 Sadly, the Pettigrew and Stephens building was demolished in the 1970's, but Aniza's work stood alongside designs by some very familiar names, and this association with some of the top artists of the day shows how highly her work was regarded. The architects of the building were John Honeyman and John Keppie. Charles Rennie Mackintosh (who worked for Honeyman and Keppie) was responsible for the roof stair and some of the door designs. Stephen Adam junior designed stained glass windows for the building and there were murals by Maurice Greiffenhagen. Two of her sculptures were rescued and one was gifted to the Hunterian Museum at Glasgow University.
After her marriage to Vincent Murphy, a timber merchant, Aniza moved with her husband to Liverpool. Family responsibilities (she had four children, two of whom survived infancy) meant that she exhibited less frequently than Jessie, but she did show a plaster bust of her son, John Vincent, in 1913, and still undertook commissions.
Mary Catherine McGeehan, Sister Callista, joined the Notre Dame convent in Dowanhill in 1904 (taking final vows in 1914) and remained there until her death in 1960. Following her studies at the School of Art, she went on to become the principal art teacher at Dowanhill Training College. It is interesting to note that in addition to her time at the Art School during WW1, Sister Callista enrolled again from 1927 – 1930 studying Drawing and Painting, first as an afternoon student then as a day student for her final year. By then in her early fifties, she was obviously keen to keep up her skills, and possibly needing to upgrade her qualifications for her art teaching at the Training College.
As I had suspected when I read about the courses she followed, she did produce work for the convent, including a rose window and four side windows for the College chapel. These were removed from Dowanhill and stored at St Andrews College in Bearsden for many years. (Notre Dame and Craiglockhart Training Colleges merged in 1981 to form a new, national Catholic Training College known as St Andrews College). When St Andrews College amalgamated with Glasgow University, the Bearsden campus was emptied and the windows moved to a new home, St Peter's Church in Hyndland Street, Patrick. Four windows, Christ the King, Our Lady Queen of the World, St Joseph the Worker and St Peter were relocated, and striking borders created to fit their new locations, by Claire Mulholland, a stained glass artist and parishioner of St Peter's (Picture 6). The current Notre Dame Primary and Notre Dame High School, (the only single sex comprehensive school in Scotland) are both within a short distance of the church.
Other works by St Callista still extant have been more difficult to locate. Elma MacDonald mentioned a large window of the Assumption made for the chapel of the Notre Dame Mother House in Namur, Belgium which she believed had been covered over. The Mother House was heavily bombed in WW2. No doubt the rebuilding offered an opportunity for Sister Callista to produce new works for the restoration, but there is nothing mentioned about this on the Order's website or online archive. Other works described as on display at St Andrews College, a (damaged) portrait of St John Ogilvie and an illumination of St Margaret of Scotland, may have been lost when the College was demolished to allow the site to be redeveloped for the new Bearsden Academy, which opened in 2010. Elma MacDonald reproduces a watercolour illustration from a children's book about the life of St Julie Billiart, founder of the teaching order of Notre Dame de Namur, one of a series seventeen produced by Sister Callista (Picture 7). It seems likely that more of her work has survived, but very probably its modest artist remains unidentified.
Resources used:
'A Family of Artists', Elma MacDonald, Monklands Heritage Society 2007
Buildings at Risk Register for Scotland 
Dangerous Women Project 'The Alexander Sisters', Sandra Cairncross
Hidden Glasgow Forum, St Andrews College entry
Mapping of Sculpture catalogue entry, Aniza McGeehan
 Records of the Glasgow School of Art,  The Glasgow School of Art Archives and Collections.