As some of you will know from following our social media, we're currently in the process of digitising and uploading lots of lovely new images of our collections onto our online catalogue – how exciting! This means that you'll get to download even more images of our material whether this is for your studies, your own personal interest or as creative inspiration.
Here's a little snippet of some of the most recent images that we've uploaded for you to enjoy. You can also keep up to date with this yourself by viewing our page of 3,000 + images on our online catalogue here.
First, we have some beautiful photographs of examples of cutlery designed by Charles Rennie Mackintosh. See here a cutlery set designed for Miss Cranston's Ingram Street Tea Rooms in Glasgow, as well as some pieces designed for Francis and Jessie Newbery, who were Director and Embroidery tutor at The Glasgow School of Art in the late 19th/early 20th century.
Next, these charming placemats, aprons and tote bags which were made by Sylvia Chalmers, a student at GSA in the late 1940s. Chalmers had a very successful career as a textiles designer, working as a fabric designer for Heal's in London before setting up her own company Tuar Fabrics back in Scotland in 1955. GSA Archives and Collections holds a large collection of printed textiles by Chalmers, as well as many of her student notebooks and designs on paper. See our online catalogue here for more information.
Interior design student Jim Longmuir made this striking dining table and chair when he studied Interior Design at GSA in the 1960s. We love the way they are designed to fit together!
One of our relatively more recent accessions is this Shark Tail Pendant necklace by Silversmithing and Jewellery student Liu Tong. We are fascinated by the little hands which have been cast so delicately…Liu graduated in 2014, winning the Peter Wylie Davidson Purchase prize. Find out more about Peter Wylie Davidson and browse the works that he created in our collection here.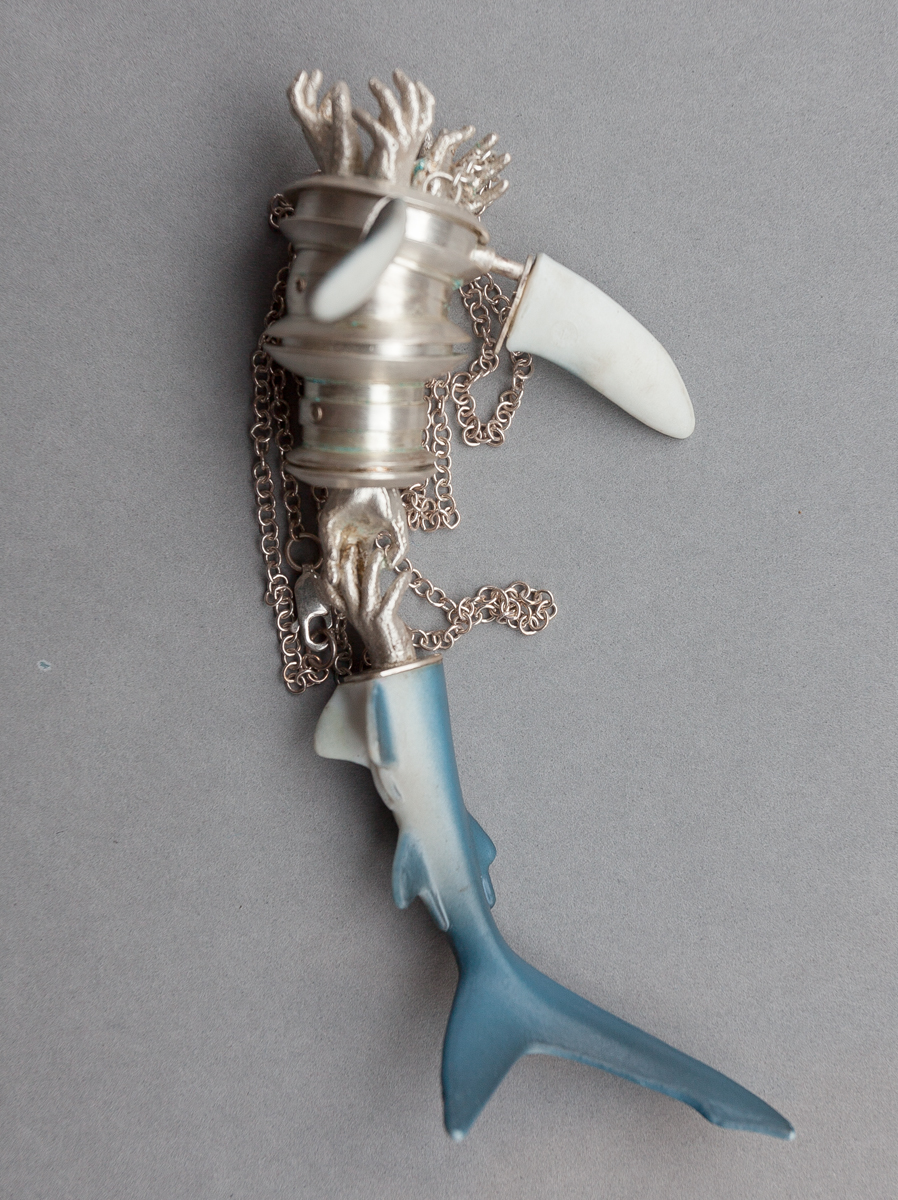 Keep an eye on the images section of our online catalogue for more images added regularly! You also have the option at the top right of the images to sort them by "Most Recent" so you can always explore what's new.