The National College of Art and Design Gallery (NCAD Gallery) and The National Irish Visual Arts Library (NIVAL) are delighted to present the exhibition 'more adventurous thinking…' from the archive of Dorothy Walker, with artist response from Seamus Nolan.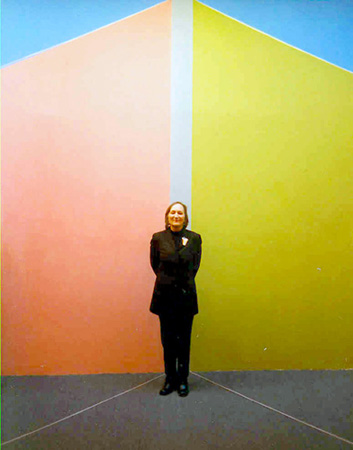 Dorothy Walker (1929 – 2002) was a dynamic and influential art critic and author who played a central role in many of the most significant events in Irish visual art in the second half of the 20th century. During her active life she kept an archive, recently bequeathed to the National Irish Visual Arts Library, Dublin. The archive charts the scope and diversity of her interests and is essential information for the understanding of Modernism in the context of the visual arts in Ireland.
Earlier this year NIVAL were fortunate to be awarded a grant from the Department of Arts, Heritage and the Gaeltacht under the recently launched Philanthropy Initiative specifically to create an online catalogue devoted to the Dorothy Walker Archive. Without this funding it would not be possible for the Library to dedicate time in cataloguing this wonderful resource and subsequently could not celebrate her archive through exhibition at NCAD Gallery.
NIVAL has begun the development of this online catalogue of the collection that will provide an overview of the material, identifying key events and personalities, and establish a chronology of the documentation. The collection documents her involvement with institutions and projects such as Rosc, Guinness-Peat Aviation Awards, the Irish Museum of Modern Art (IMMA) and the International Association of Art Critics (IACA), and with artists such as Brian O'Doherty, Patrick Scott, Sean Scully, Ciaran Lennon James Coleman, Eileen Gray, Joseph Beuys and poet Seamus Heaney.
In response to the Dorothy Walker archive, visual artist Seamus Nolan engages select works of art of the early modernist period in the context of NCAD Gallery. Private collectors and museums are approached by way of written invitation to consider the compatibility of these works of art within this contemporary gallery structure. The Gallery is subjected to the standards and processes applicable to the exhibition and handling of museum objects through detailed measurement of the environmental conditions; specifically humidity, temperature, light and ultra violet levels.
The National Irish Visual Arts Library is a partnership project of the National College of Art and Design and the Arts Council of Ireland.
For further information see the event website, or contact:
Anne Kelly, Curatorial Coordinator, NCAD Gallery, 01.636.4390
Donna Romano, Acting Head Librarian, NCAD Library, 01.636.4347
The National College of Art and Design Gallery, 100 Thomas Street, Dublin 8.
NCAD Gallery opening hours are 1pm-5pm, Monday-Friday. The exhibition continues until Friday, 20th September 2013.