Karen Harkness, our digitisation volunteer and recent GSA graduate, explains what she has learnt about The Glasgow School of Art and notes some of the work that she's been doing as part of GSA's Archives and Collections Recovery Project.
A current project to digitise photographs in GSA's archive collections has uncovered interesting images of past degree shows which provide not only an opportunity to see inside the old campus buildings once again, but also to compare the work of current students to those who studied here in the 1970s. As a recent graduate, I have vague memories of the old design building, the cafe on the ground floor and the winding staircase to view students degree show work. Are any of these images familiar to you?
The 1970s saw a number of significant changes to the GSA's curriculum and landscape. New courses were introduced including Masters courses in Design, Fine Art and Architecture and a BA(Hons) degree course that promoted critical engagement with subject areas instead of focussing singularly on practical skills. The first degree of this course was awarded in 1976. The Newbery Tower was completed in 1970 becoming the home of design students. Meanwhile, in 1979, the Bourdon building was officially opened by HRH, the Duke of Gloucester. Looking over to the facade of the Mackintosh building, the Bourdon became the school of Architecture.
In the 1970s despite the heavy industries which had made Glasgow wealthy falling into severe decline, the city's cultural economy began to grow and organisations such as The Glasgow Print Studio, The Third Eye Centre (now the Centre for Contemporary Arts), Transmission Gallery, Street Level Photoworks and The Glasgow Sculpture Studios were established.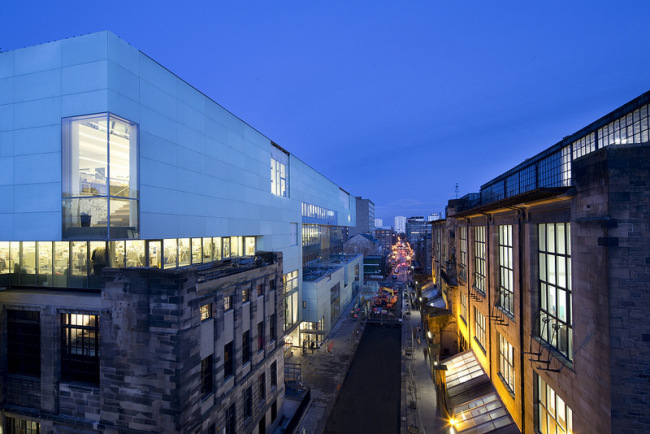 GSA has seen a lot of significant change in the past four years, including the demolition of the Newbery Tower to make way for the grand opening of the Reid building. It has also seen the heart-breaking destruction to part of the Mackintosh building, as well as the subsequent relocation of the fine art department to the Merchant City. Unfortunately due to restoration work, the visitor experience has changed and sadly, interior tours of the Mackintosh building cannot take place at this time.
As a recent graduate, these images are an intriguing and highly nostalgic find, and as new GSA alumnus, I am excited about the reopening of the Mackintosh building in years to come when the campus can finally be reunited.