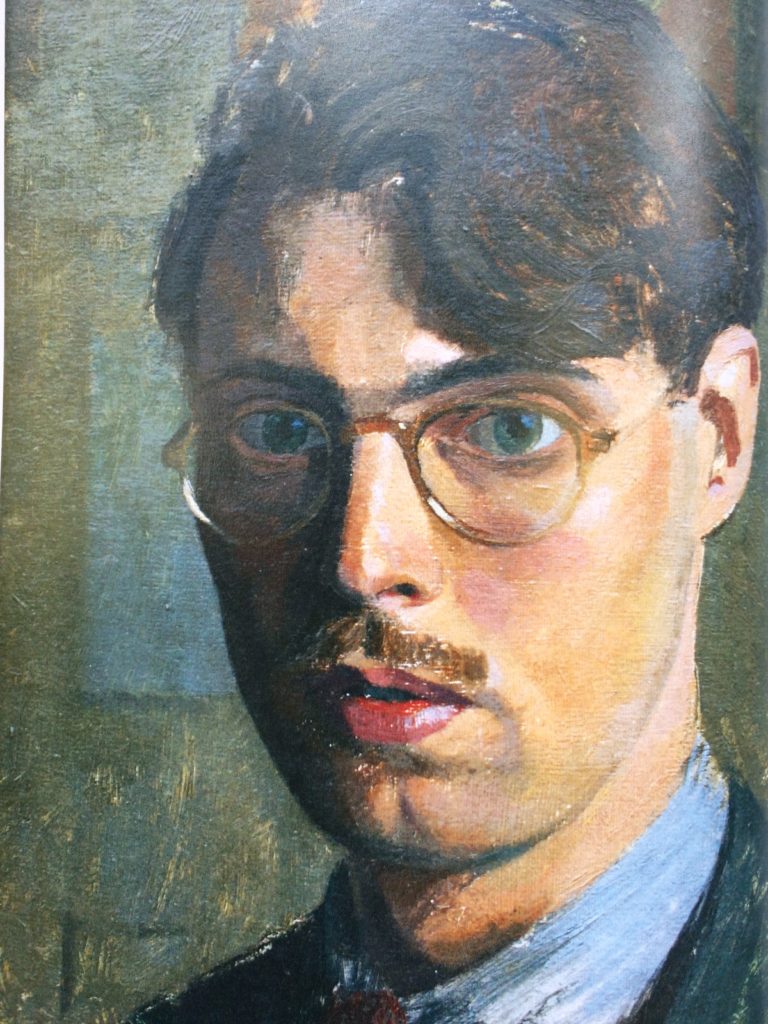 This week the GSA Archives are looking at some recently discovered materials that cross the boundaries between science and art in celebration of this, the last week of the Glasgow Science Festival! Recently we have been fortunate enough to receive a number of materials from a previous staff member of the school, one Mr Ted Odling. These materials include notes and class props for student tuition on aspects of colour theory and optics.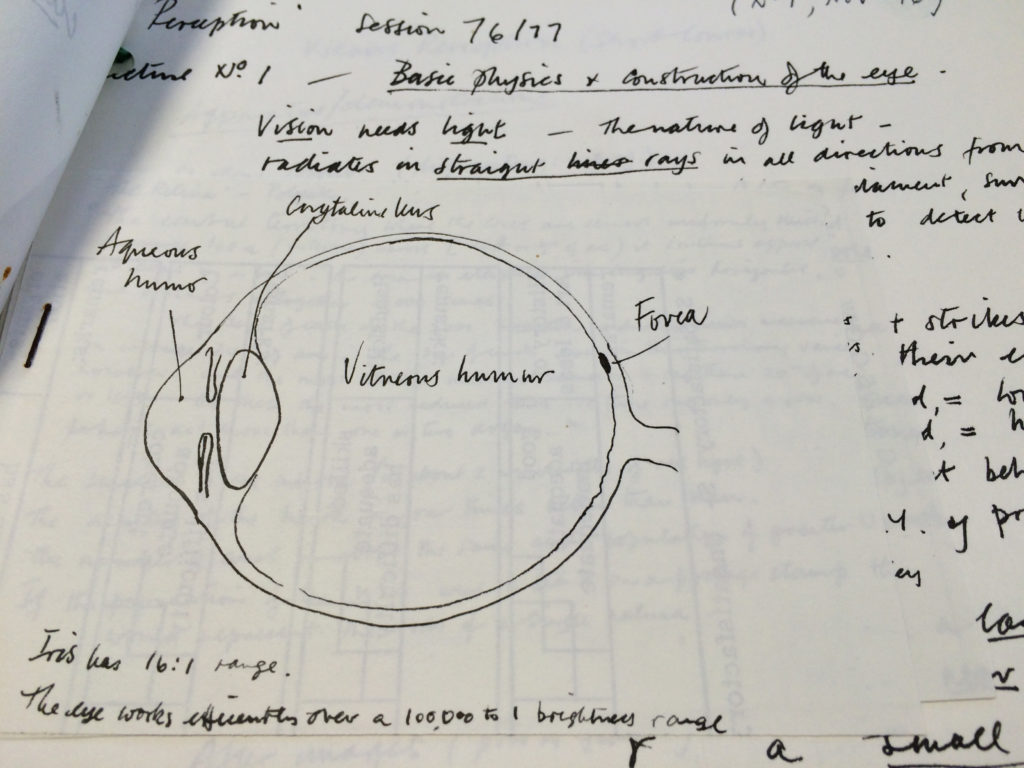 Ted Odling was a School member of staff, who in 1962 set up the experimental and forward looking 'Section Five' course. A course designed to cross traditional boundaries Ted Odling brought not only his skills in drawing, painting and printmaking, but also his experience and enthusiasm for optics, photography, electronics and music. Shortly after creating this course Odling received a Leverhulme Fine Arts Travel Grant to visit colleges of art across Europe and alongside the teaching materials in this collection are Odling's letters to Director Harry Barnes describing his travels to foreign art institutions, as well as the professors and colleagues he met along the way.
Although the distinction between art and science is often represented as two opposing sides, in reality there is often cross-over and collaboration between the two professions. In the arts, colour theory is research into the perception of colour, the science of colour mixing, the visual effects of specific colour combinations, as well as the categorisation of colour bases (for example, primary colours, secondary colour and tertiary colours). Interested in optics and the perception of colour by the brain and how this could be altered by different colour combinations, Odling created a set of optical demonstrations.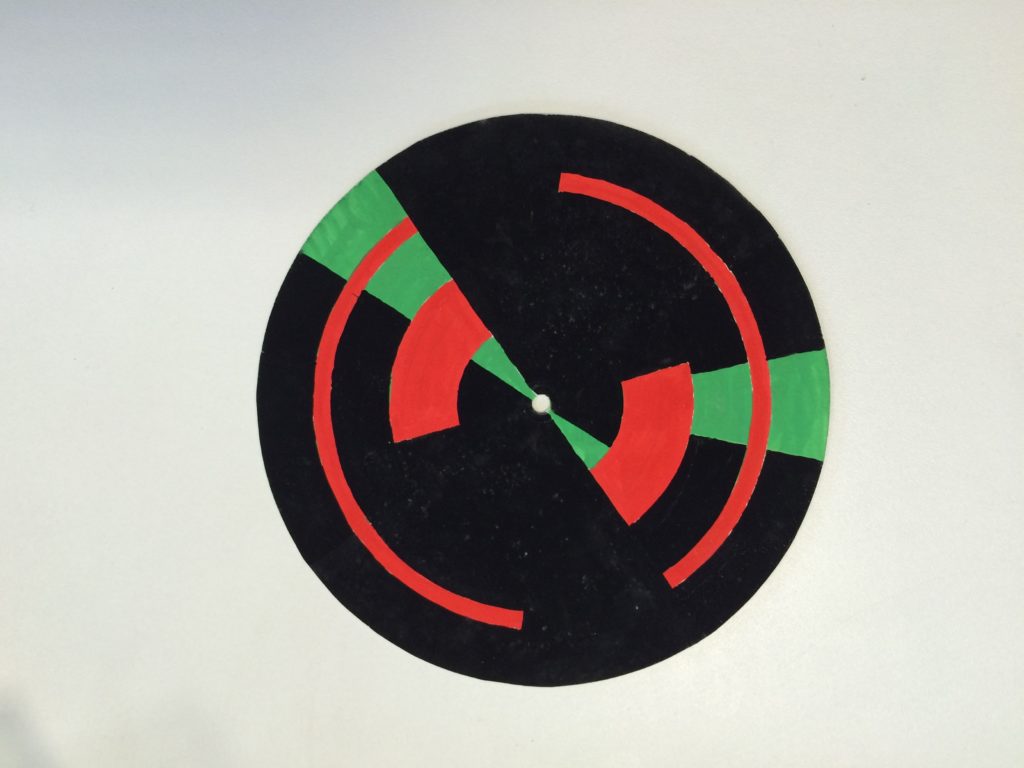 These demonstrations consisted of coloured discs that would be mounted on an electrical drill and spun! These would produce colour illusions and unique black and white patterns. Here are a few of his demonstrations:
Ted Odling Coloured Discs from The Glasgow School of Art on Vimeo.
Ted Odling Coloured Discs from The Glasgow School of Art on Vimeo.
Ted Odling Coloured Discs from The Glasgow School of Art on Vimeo.
**No archival materials were harmed in the making of these videos.
As colour is something that technically does not exist outside of our minds – colour being our perception of a specific wavelength of visible light – these experiments assist in demonstrating how our perception can be altered. Unfortunately it is not quite clear whether these discs mimicked existing scientific experiments, or were new inventions by Odling, so if any scientists out there recognise these demonstrations, let us know!
These materials recently surfaced as part of the work our researcher Debi Banerjee is doing into fine art pedagogy in the 1970s and late 80s. As part of her research Debi has been conducting several interviews with previous members of staff to create a new collection of oral history recordings. In this case, it was Ted Odling's daughter – Noelle Odling – that generously provided Debi with access to these materials. While Debi is still in the process of conducting her research we will soon be releasing some of her work online so stay tuned for more details!
The Archive is not the only resource that shows the cross over of science and art within the Glasgow School of Art, the Library also has an extensive collection of books that relate to different scientific topics. Recently the Library has released a post highlighting an original catalogue from the 1951 Exhibition of Science at the Festival of Britain to celebrate the Glasgow Science Festival, it can be found here. 
Until next time!
Resources Used
Ted and Elizabeth Odling, Artists of the West of Scotland  – Noelle E, Odling, Christopher H. Odling and Nicholas W. A. Odling
How Color Works – How Stuff Works: Stuff You Should Know Podcast