As you may have seen in some of our previous blog posts, we have been enjoying working in collaboration with University of Glasgow Textile Conservation students this academic year. They have been busy repackaging our Fraser Taylor and Glasgow 1999 Festival t-shirts recently and we were pleased to get the newly beautifully boxed garments back last week. The students have kindly allowed us to re-blog the following piece about their experiences…
All images courtesy of the University of Glasgow Centre for Textile Conservation 
The final stage of the project to conserve a collection of t-shirts and sweatshirts from Glasgow School of Art Archives and Collections focused on the best way to store the collections for the long term. This was something of a conundrum: as structurally sound, reasonably contemporary items a range of options had potential, but at the same time, as large objects prone to creasing, all options also had the potential to take up a sizeable volume of space and / or result in the reinstatement of the creases we had spent many hours removing. Caterina Celada Prior and Isabella Rossi were tasked with resolving the conundrum and fulfilling the brief that the solution should provide support, protection and ready access to the items, make the printed graphic visible and be space efficient.
Initial trials investigated:
A hanging storage method– using a flat, but padded, hanger and a Tyvek cover
Variations on a theme of folded and flat storage, including tissue 'sausages' to soften the folds, a padded or fabric covered Plastazote® 'board' and a Melinex sleeve idea inspired by a project undertaken at Manchester Metropolitan University Special Collections in which over 100 t-shirts were folded and stored in boxes upright in vinyl 'LP' sized Melinex sleeves[1]. Of these only the fabric covered Plastazote® was pursued and in a comparison with the hanging option, as seen below, came out as the strongest contender.
A subsequent session brain storming what to put the mounted t-shirts 'in' eventually arrived at the obvious solution to use the trays already being used to re-house the rest of the textile collections, the virtues of which have been exalted in a previous blog (https://www.gsaarchives.com/2017/11/visit-glasgow-university-textile-conservation-students/).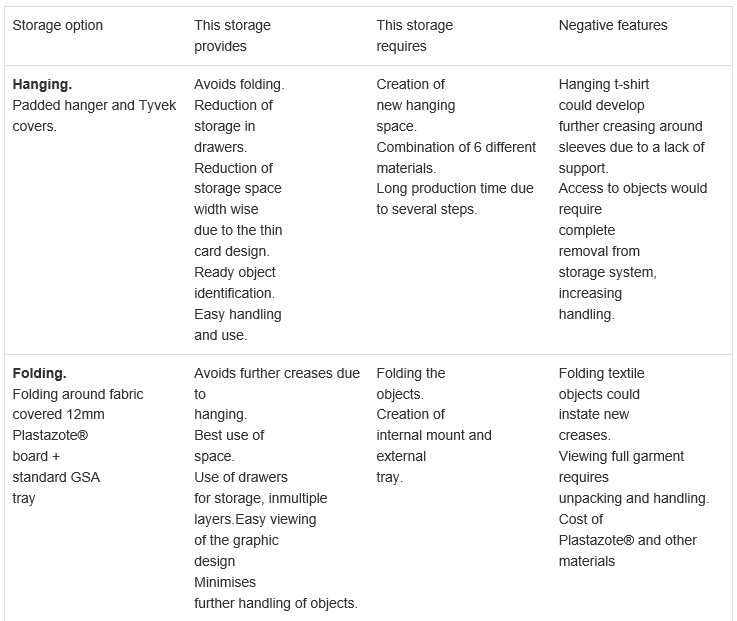 The mass production of the mounts, like the survey undertaken at the beginning of the project, involved almost all first and second year students as well as 12m2 of Plastazote®, 15 metres of cotton jersey and 62m of cotton tape! By streamlining the process and being clear about the instructions, we managed to make nearly, but not quite all, 25 mounts in a morning and came away reflecting on how grateful we were that they we hadn't chosen a more complex system.
Marina Herriges volunteered for the immensely satisfying but surprisingly time consuming task of labelling and then filling all the trays.
The project has been a great success both as a collaboration and in its results. It has given students an opportunity to take part in a wide variety of purposeful activities and to develop their conservation, project management and team working skills. They have been able to engage with and learn from both the staff at GSA Archives and Collections as well as artist Fraser Taylor and have benefitted from getting to know the diverse and extraordinary collections. The t-shirts look fantastic in their new housing – they are now much more accessible, visually, physically and online and most importantly in the best condition and conditions to ensure their long term preservation.
Many thanks to Michelle Kaye, Polly Christie and team.
---
[1] Draper, Alison. "A History of the Future – Storing a Popular Culture Collection at Manchester Metropolitan University Special Collections." In Forum of the Icon Textile Group, 27th March 2017, the Assembly Rooms, Bath, edited by Sarah Glenn ACR and Katy Smith: ICON Textile Group, 2017.