These Mackintosh lights (MC/F/107) originally hung as part of a chandelier-type cluster in the centre of the Mackintosh library, and were complimented by a further 40 lights displayed around the library's interior.
After the 2014 fire in the Mackintosh Building, an archaeological excavation of the library recovered over 630 fragments of metal from the lights, and following extensive research and a three-year restoration project, eleven of these 13 lights on display were created using entirely original parts. Two of the lights have been made from newly crafted pieces, bringing the total number of pieces in this display to 239.
The restoration was undertaken by the architectural metalworker Rodney French from Lonsdale & Dutch, with input from colleagues at the University of Glasgow, Historic Environment Scotland and Kevan Shaw Lighting Design.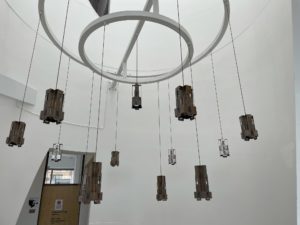 This modern configuration was designed by Masters students from GSA's Department of Interior Design. The installation was made possible with the professional support of David Narro Associates and Harley Haddow Mechanical & Electrical Engineers, and the modern lighting rig was fabricated by metalworker James Boam and generously sponsored by Reigart Contracts Ltd.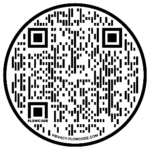 Scan this QR code to watch a short film about the Library lights' restoration. If you can't access this for any reason, please see the film on Vimeo here.
For more information about the lights and The Glasgow School of Art's Archives and Collections, please visit www.gsa.ac.uk/archives or email us at archives@gsa.ac.uk.