Cat Doyle, our Skills for the Future Trainee continues with her research into international links at The Glasgow School of Art by examining the archive's collection of travel diaries.
I'm now almost halfway through my International Links project at GSA Archives and Collections and it's fairly flying in! I've built up a diverse body of work and identified key research areas over the past three months which is really helping to inform the next steps of my project.
One of the things I've recently been working on is cataloguing a series of travel reports from the period 1947 to 1959. These reports were produced by students from different departments within the school who won traveling scholarships or bursaries which provided them with the means to travel abroad as part of their studies. It has been a luxury to be able to sit down with these reports and get lost in all the different journeys of the students!
One particular travel report stood out which was that of architecture student Harry Anthony Wheeler. Wheeler worked as an apprentice architect for Alexander Maclean Goudie in Stranraer before transferring to Glasgow to work for Lennox and Macmath in 1937. This enabled him to study at GSA alongside his apprenticeship. He went into military service during the Second World War years, returning to the School in 1946. Two years later upon completion of his course, he was awarded the prestigious John Keppie Scholarship in Architecture, a cash prize of £100 to fund an overseas study trip. Wheeler used his scholarship to travel to the Italian cities of Rome, Florence and Venice where he studied the architecture of various Loggias.
As the photograph below shows, Wheeler's study trip was incredibly productive! He produced 47 plates of beautiful drawings of Loggias in pencil, ink and watercolour. His report is unique amongst most others in the collection in that he actually created work whilst abroad whereas it seems most simply produced a written account.
Examining the entire collection, it can be seen that he was particularly inspired by the Loggia La Badia in Florence. There is a folder of sketches where Wheeler has plotted its architectural measurements as well as several large scale presentation drawings. These are particularly fascinating as they feature his annotations relating to materials and techniques.
Working with this collection has also brought to my attention a number of other travel-related documents from this period lurking within the Archives and Collections. Included in this selection are well known GSA alumni – Joan Eardley, Kath Whyte, The Two Roberts.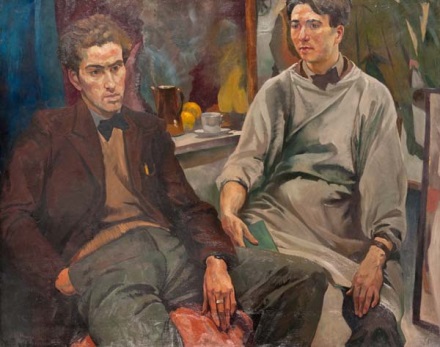 I am looking forward to examining these further, particularly this visually exciting example by John Walter Lindsay,an interior design student who went on to become an architect.
And of course, I simply cannot mention travel diaries without mentioning Mackintosh's Northern Italian Sketchbook. Flick through a digital copy of this here.
Resources Used
Dictionary of Scottish Architects
The Glasgow School of Art Archives and Collections, Records of The Glasgow School of Art, Glasgow, Scotland, 15th century-2014.
The Glasgow School of Art Archives and Collections, Mackintosh Art, Design and Architecture Collection.
The Glasgow School of Art Archives and Collections, Art, Design and Architecture Collection 13th Century – 2014.
The Glasgow School of Art Archives and Collections, Papers of John Walter Lindsay, architect and student of the Glasgow School of Art, 1943-2006