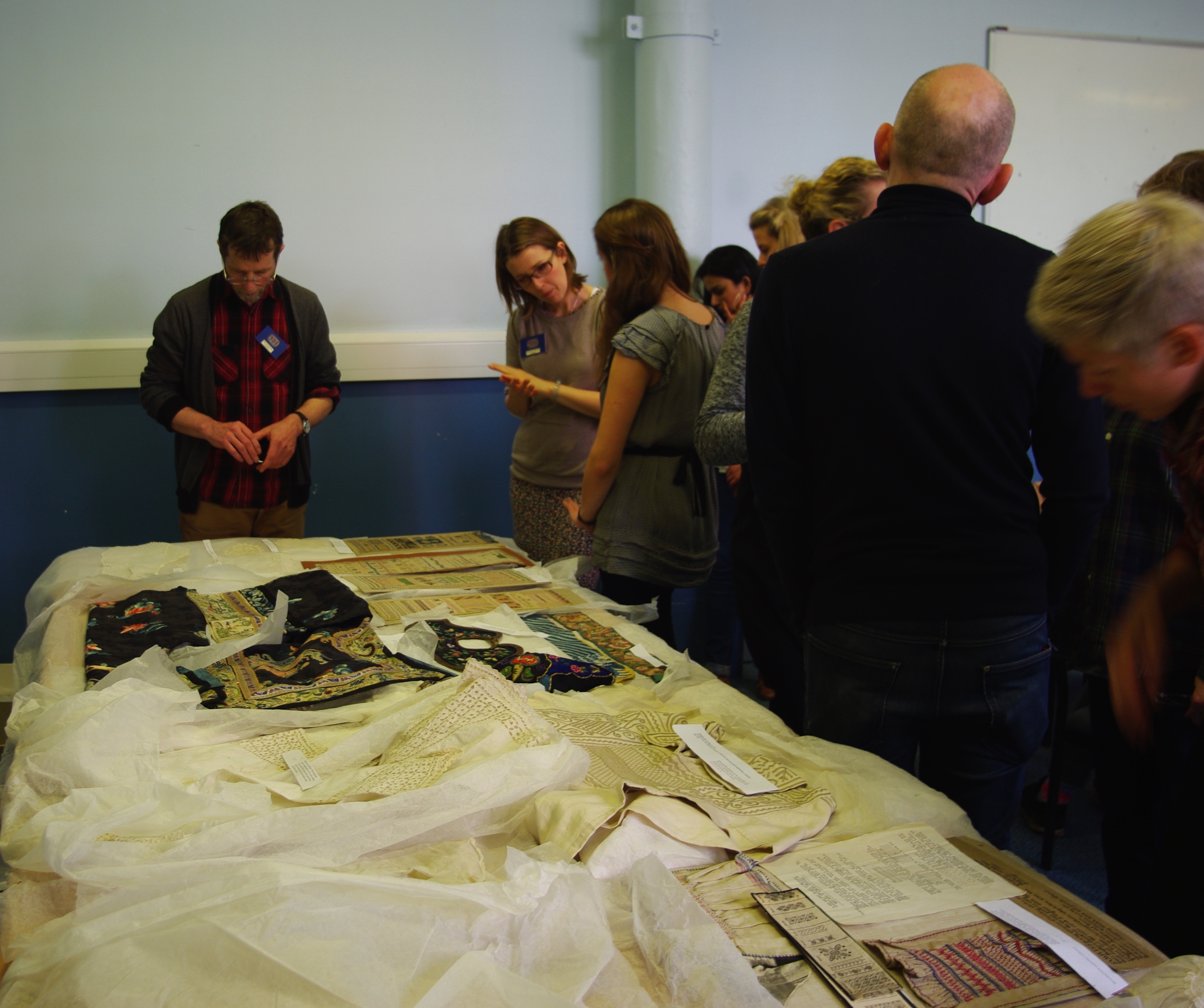 Last Wednesday we had the pleasure of attending a symposium about the Needlework Development Scheme held at Edinburgh College of Art/University of Edinburgh.
The Needlework Development Scheme is an important and overlooked part of Scotland's textile history. Founded by Scottish thread manufactures J&P Coats in 1934 with the specific intention of educating through study and practice, a collection of over 3,500 embroideries was distributed when the scheme disbanded in 1961, between Edinburgh College of Art, Glasgow School of Art, Duncan of Jordanstone College of Art and Design, Grays School of Art, The Victoria and Albert Museum, The Embroiders Guild and The Royal Scottish Museum.
Edinburgh College of Art has, like the other institutions involved, a beautiful collection of antique textile samples, once part of the ambitious Needlework Development Scheme (NDS) that aimed to "encourage interest in embroidery and raise the standard of design and technique." ECA's collection has been lying inert in boxes, hidden in the ECA board room wine cellar, only rediscovered in 2011, exactly fifty years since the Scheme ended in 1961.
A project entitled Revival and Re-invention, embroidery heritage in the 21st century, is currently underway. The main objective of this project is to re-establish connections between these institutions, re-linking the collection and scoping focal points to ensure an exciting future for the collection with relevance for education in the 21st century.
Last week's Symposium was the first of hopefully many attempts to get all the institutions with NDS collections together to discuss the future of the NDS. In the morning, Lindy Richardson, Programme Director of Textiles at ECA, and invited speakers, including Frances Lennard, Senior Lecturer in Textile Conservation at the University of Glasgow; GSA's Archivist Susannah Waters, and Matthew Jarron, curator of  Museum Services at the University of Dundee, spoke about the history of the scheme, the idiosyncrasies of the various institutional NDS collections, and the conservation of textiles. In the afternoon we had a chance to view items from ECA's NDS collection, then we had group discussions about the potential, for example, to reinstate the scheme; to create an online resource; and to provide wider access to the collections. The event was a great success: We all learned from each other about the care of our collections; shared best practice and exchanged knowledge about the history of the NDS and about how the collections can be used in the future.
As part of a tour of the country's NDS collections, Lindy Richardson and Lucie Whitmore from Edinburgh College of Art visited us a few months ago to view GSA's NDS collection (see our previous blog post).
Visit the Revival and Re-invention project website for more details. You can also view a selection of Glasgow School of Art's NDS pieces on our flickr.