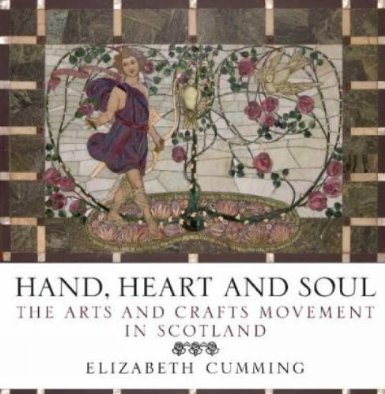 Hand, Heart and Soul: The Arts and Crafts Movement in Scotland, an exhibition at City Art Centre, Edinburgh (June to September 2007), which travelled to  Millennium Galleries, Sheffield (October to January 2008) and finally to Aberdeen Art Gallery (June to August 2008), looked at Arts and Crafts practice across Scotland between 1880 and 1939. More than 300 objects in a wide variety of media – from jewellery to furniture, ceramics and glass, textiles to architectural designs, and including a number of items from Glasgow School of Art's archives and collections – were assembled from public and private collections. Some items were familiar, many others (and their designers) were new discoveries. Arranged through six thematic sections, the show presented fascinating facets of the movement from the design or decoration of buildings to studio crafts. Together they provided fresh insight into life and identity a century ago.
The story of the Arts and Crafts movement in Scotland is one of friendships, families and networks of art workers, architects and designer-craftsmen and women, all committed to the restoration of beauty to everyday life in the industrial age. At heart it was a middle-class city movement with its base in art schools and shared exhibitions. Arts and Crafts was an ideology which embraced modernity and progress but also the romance of the past. Part of the British movement, Scottish Arts and Crafts reflected and encouraged national dreams.
The exhibition curator, Dr Elizabeth Cumming, has kindly provided the exhibition guide and texts of the exhibit labels. These are now available on The Arts and Crafts Movement in Surrey website. The book Hand, Heart and Soul: The Arts and Crafts Movement in Scotland
 by Elizabeth Cumming has been recently reissued and is available to purchase from  Amazon.