In our latest blog, we look at two of our schools' activities where we've invited you to "design your own…"
These activities form part of our series of activities for kids (and the young at heart!) based around items from our collections.  We have been inviting people to post their own artwork in reply to our posts, or to post and tag us with @GSAArchives or #GSAArchives. 
The "design your own…" activities take bright and bold designs within our collection and will hopefully inspire people to put their own stamp on the designs.  Here's a bit of the background behind the items we chose for our activities.
Posters in our collection
We hold hundreds of posters in our collection, many of them advertising extra-curricular events at GSA such as fashion shows, lectures, film screenings, degree shows and other social events, plus other events outwith GSA. These are kept in our ephemera collection and you can find posters created by GSA in our catalogue under GSAA/EPH/10, and read about them in previous blogs.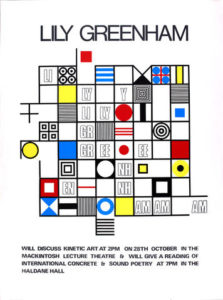 Jimmy Cosgrove poster for a talk by Lily Greenham (GSAA/EPH/10/178)
The majority of the posters are printed on paper, like the Jimmy Cosgrove poster for the Lily Greenham talk that we used in our schools' activity post, but some are printed onto fabric, including this poster advertising a lecture by Zandra Rhodes at GSA in 1981 (GSAA/EPH/10/119):
We are in the process of uploading digital images of these posters to the catalogue, and you can find these images here.
Ted Odling's colour wheels
Ted Odling was a lecturer at GSA from 1949 to 1982, and in the 1960s he introduced the experimental Section V course for first and second year students.  His own work considered colour theory, the perception of colour, and the science and effect of mixing colour combinations.
To investigate this, he created a number of colour wheels which we hold in our collection, along with his lecture notes and notebook on the subject, in collection DC 090.  The reverse of the colour wheels also show his detailed calculations to determine design of each wheel.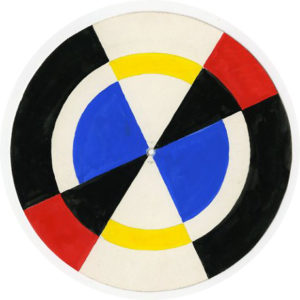 Examples of Ted Odling colour wheels and calculations to determine proportions of colours used (DC 090)
These were designed to be rotated to investigate mixing of colours, and you can see videos recreating some of these experiments here.
** Please note these videos contain flashing images **
We also have a number of previous blogs on Ted Odling's work here, and have displayed his work in the GSA Library.
The original posts are below, so why not try designing your own colour wheel or poster.  We'd love to see your artwork!
Design Your Own Poster Activity
https://twitter.com/GSAArchives/status/1263024715398107140
This week's activity is to design your own version of this Jimmy Cosgrove poster – what colours and designs will you choose? Show us your artworks by posting & tagging us with @GSAArchives or #GSAArchives. More info at: https://tinyurl.com/y7b3bzcv GSAA/EPH/10/178 @GSofA
Design Your Own Colour Wheel Activity
https://twitter.com/GSAArchives/status/1269909651568709632
Ted Odling designed some colour wheels, including those below, in the 1960s, and you can see them in action at https://tinyurl.com/y9znbtap. Can you design your own using the template? Reply to this post, or post & tag us with @GSAArchives or #GSAArchives. DC 090 @GSofA