At the beginning of this week the Crouching Venus from GSA's plaster cast collection was transported over to The Hunterian Art Gallery at the University of Glasgow for their 'Picturing Venus' exhibition (9 March – 29 June 2014).
Whilst a seemingly simple task, enormous care had to be taken whilst transporting the piece between the two sites due to the fragility of the sculpture. The sculpture first had to be removed from its plinth and wrapped by art transporters, who then used a specialist trolley to lower it to the ground and move the Venus outside.
The sculpture was then driven over to The Hunterian Art Gallery to be installed as the centrepiece of 'Picturing Venus', a focused exhibition between The Hunterian and Glasgow University's History of Art department that presents new research examining the occurrence of Venus's image in art and the myths associated with her.
GSA's Crouching Venus is believed to be a copy of the Crouching Venus in the Uffizi Gallery, Florence where it was taken in 1787. Also known as the Venere nel bagno and Vernere nella conchigla this version of the figure (of which there are a large number of versions with significant variations) is first defiantly recorded in 1704 when it was at the Villa Medici in Rome. All versions are thought to be copies of a statue referred to by Pliny as being by Doidalses and placed in one of the temples of the Portico d'Ottavia in Rome.
By the time the sculpture arrived at the exhibition space, the engravings from The Hunterian's collection had already been hung. Therefore it was only a matter of unpacking and installing the plinth and cast.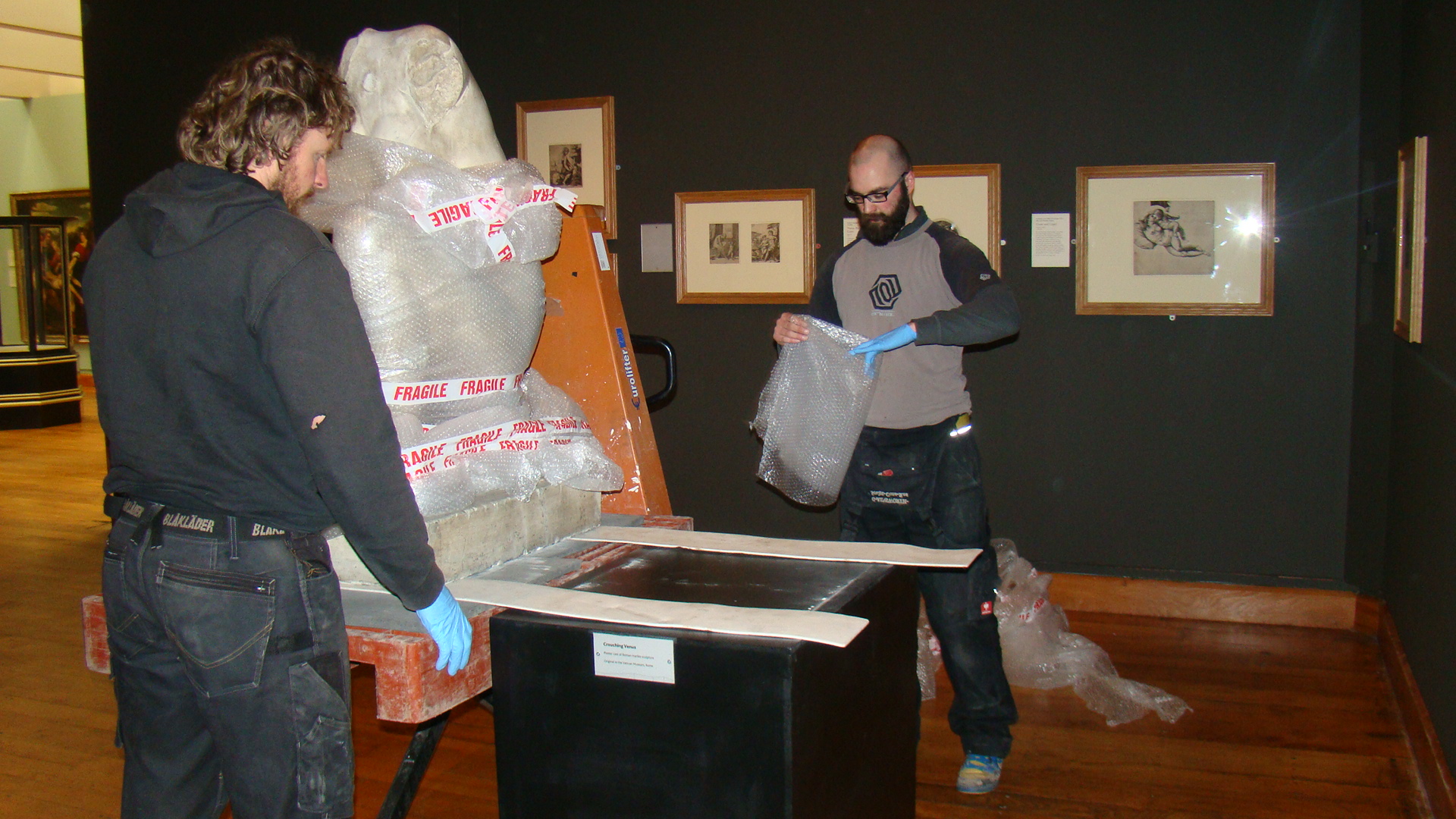 The cast sits away from the wall, so the Crouching Venus can be seen in her entirety. New facets to the sculpture have already been discovered in the impression of a tiny hand on her back, mirroring the touch of the cherubs in the engravings on the walls. The low light of the room (for the preservation of the engravings) with spot lighting also enhances the shadows and depth of form in the sculpture.
 Picturing Venus runs from 9th March- 29th June in The Hunterian Art Gallery, at the University of Glasgow.
 Guest blog post by Penelope Hines, MSc Museum Studies student placement, The University of Glasgow