Cat Doyle, another of our volunteers, details some of her work on the GSA's Poster Collection, and explains why she has started to become ever so slightly envious…
My role in the post-fire recovery project with The Glasgow School of Art is to enhance the digital descriptions of each of the 282 posters in the collection and to link some of these descriptions to digitised images on The Glasgow School Of Art Archives And Collections Catalogue. Many of the posters in the collection were designed and hand printed by staff and students on site using a number of printing techniques. As well as allowing me to apply my interest in printmaking to an interesting project, this been a fascinating insight into the rich history of the art school. The posters tell a quite literally colourful story about many interesting events that The Glasgow School of Art has been involved in over the past 50 years which have shaped the creative culture of Glasgow as well as the school's world renowned reputation.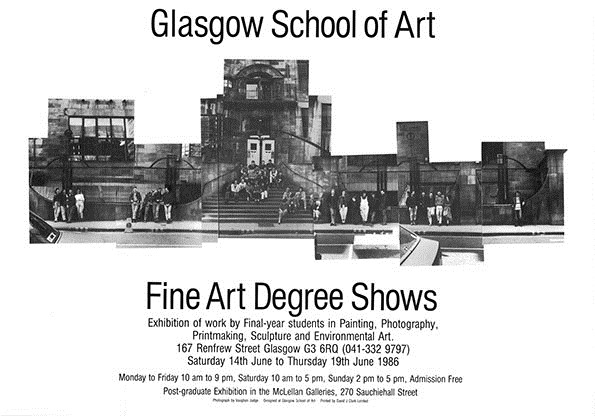 The posters cover a number of events which took place at the art school from 1960 onwards, including artist talks, film nights, exhibitions and music concerts. Although I am enjoying the project immensely, I must confess, it is making me a tiny bit envious of art student life in the late 20th century. If I'd been born a couple of decades earlier, I might have been able to attend a talk by David Hockney, a favourite artist of mine for a number of reasons, namely his frank attitude to life and bold colourful paintings. I might have spent an evening feeling cultured by attending plays performed by The Glasgow School of Art's theatre society, and what's more I could have paid less than a fiver to do so. Or, if I fancied something different, I could have been awed by the presumably bold and daring collections of the annual Glasgow School of Art Fashion show. Some of the pieces in these collections would have likely been inspired by the likes of Zandra Rhodes, another speaker whom I would have loved to see at the school. So I can't help but feel a bit peeved that the most exciting event when I was an art student was a visit from the gemstone supplier…
Despite this, I have made a number of connections to my own art school experiences when working through the poster collection. On more than one occasion, I have been reading through a description of a poster and found a name that I recognise. An example of this is when I came across Graham Fagan's name, who was a tutor in fine art at Duncan Of Jordanstone whilst I was studying. I discovered he was a previous student at the school and he is featured in a class photograph in a poster for one of the degree shows. Although he wasn't my tutor directly, I have memories of enlisting his help for one of my projects where I was attempting to make a body piece from used car tyres by cutting them on a band saw. Never attempt to do this, unless you want to lose an eye from the subsequent sparks or be febreezing your workspace for the next 6 months to free it from the smell of burnt rubber.
As well as making personal connections between the posters, I have found that the more I work through, the more connections I find between each one. One name in particular that keeps cropping up is previous deputy director and head of design Bob Stewart.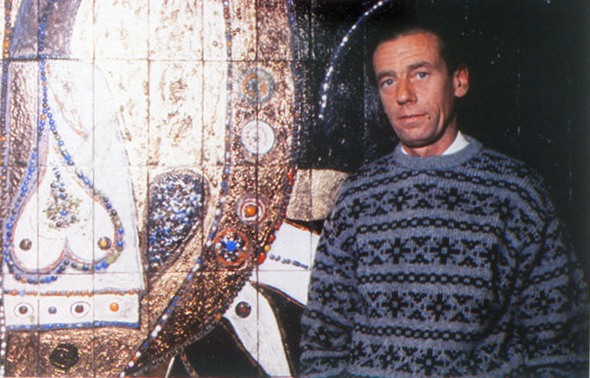 Seeing the variety of things he was involved in during his time at the art school made me curious about his character so I did a little background reading on him. I discovered that he was a hugely significant part of the school's history with an innovative, cross disciplinary approach which revolutionised teaching. He is also considered a leading figure in textile design, producing prints and patterns for the likes of Liberty of London and Pringle. Despite textiles being his major 'specialism' however, he also produced work in a range of other media, including painting, ceramic and tapestry and many examples of his work can be seen around Glasgow. His work is found throughout the Glasgow School Of Art Archives and Collections catalogue as well as the many posters he designed in the poster collection. Here is a beautiful example of this in the form of a ceramic panel.