If you've been following us on social media, you'll have seen that we've had a whole host of creative activities for you to take part in recently. If you haven't already, check out our previous blog posts Archive Activities 1, 2, and 3! You can also see examples of the creative responses we got on our Hatchery blog here. If you would still like to take part in any of the activities you can! Tag us in a social media post with @GSAArchives or #GSAArchives. You can also let us know if there are any other ways that you have or would like to use our collections to get creative. 
In our final Archive Activities blog post, we share with you our Create Your Own Repeat Pattern and Create Your Own Tile Motif activities…
Activity 1: Create Your Own Repeat Pattern
This video shows you how to make a simple repeat pattern using any image that you fancy downloaded from our online catalogue. We have thousands of images available for you to choose from here. We've used a late 19th century lace collar from our Embroidered and Woven Textile Collection, but as you can see it has undergone quite a transformation during the process of being made into a repeat pattern!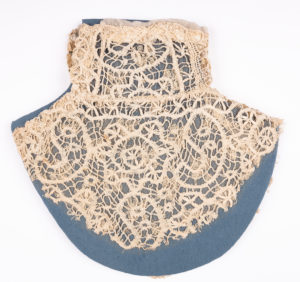 Follow the steps to create your own:
Browse our online catalogue and find an image that you like
Download and print the image out.
Trace the elements of the image that you like in pencil using tracing paper or baking paper. Move the paper around to add more elements and build up your pattern.
Turn your tracing over and place it pencil side down on a fresh sheet of regular paper. Use masking tape to hold it in place.
Take a soft pencil (preferably 2B upwards) and scribble all over the back of your drawing. This will transfer the lines from your drawing onto the paper underneath.
Go over your lines in pen if you want to make them stronger, colour in your pattern if you wish and there you have it!
Activity 2: Create your own Tile Motif
Our second activity is to re-imagine these Mackintosh tiles. These beautiful geometric tiles adorned the stairwells in the Mackintosh Building and we have several photographs of them in the collection. We used these to create this template which you can download and colour in, or you can (as we have done!) abstract the geometric pattern.