As some of you may already be aware, the GSA Archives and Collections recently opened again to the public and we are now in the happy position of being able to provide access to our many artefacts and records. As an outstanding resource for the study of art, design, architecture and much more, the School's archives hold a wide range of materials including the School's institutional records, to artworks and architectural drawings, textile pieces, plaster casts, photographs, furniture and more.
This past month we had the opportunity to celebrate the Archives and Collections opening with an open day showing off a small selection of our holdings (please see GSA Archives has moved! for further information and photographs), and to continue the celebration there are two new displays in the GSA Library featuring materials from both the GSA Archive and Library.
The two displays on the GSA Library's mezzanine and top floor hold a selection of materials including textiles by Kath Whyte, sketchbooks from past GSA student Dorothy Smith, jewellery by recent graduates Ciara Stapleton, images from the architecture firm of Gillespie, Kidd & Coia and more. Pop into the Library and take a look!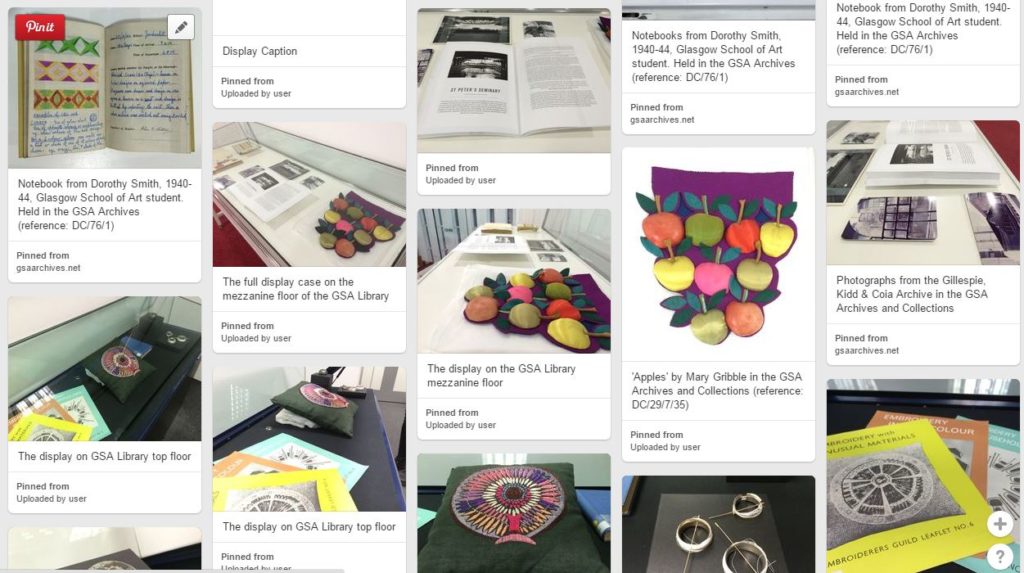 For those of you who are not able to visit the Library, there is also a virtual version of this display on Pinterest available here for your reference and enjoyment. If any of these items spark your interest, or you would like to find out more about accessing our holdings please take a look at the Archives and Collections Catalogue. Our catalogue provides details of the many artists, staff members and visitors to the Art School, as well as hundreds of images of the items in our collections. Alternatively email archives@gsa.ac.uk with your enquiry and we will get back to you. Until next time!