Alison Stevenson, head of learning resources provides a little more information on the recent archival acquisition of 'Fake Ophelia' by Steven Campbell, and where you can find out further information about this work.
One of "the most remarkable" of Steven Campbell's collages is how the critic Duncan MacMillan describes "Fake Ophelia" which became part of the GSA's collections last year thanks to a generous donation (see A New Acquisition, Artwork by Steven Campbell for more information).
The purchase of a new copy for the GSA Library of  Duncan MacMillan's 1993 book on Steven Campbell's paintings prompted us to look again at what MacMillan says about "Fake Ophelia" which now hangs at the entrance to the Library.
"It evokes the tension between convention, which is the basis of all art and which the method used here so unambiguously entails, and representation with its express ambition to transcend convention. The naked body of a woman is lying diagonally across the composition. She is entirely represented by neatly cut lengths of different-coloured string they are in a dappled pattern like the light on the water. At her head and right arm where the artist has not drawn round the ends of the string, the slightly blurred effect suggests that she is underwater and ripples circle out from her right arm where it breaks the surface. Like Millais's Ophelia with its river-bank flowers painted in the meticulous way that Ruskin admired so much and equated with moral truth, Campbell's Ophelia, too, is surrounded by flowers and leaves. But he uses cut-out conventional tree and leaf shapes and the flowers are the flowers on a printed daisy wallpaper. In the top left there is a tapestry-kit picture of a farmstead with a wind pump. In the context it is strangely beautiful but it is also ironically Ruskinian. It epitomises the qualities of the sincerity and honest labour which he valued so highly and which are paradoxically present in the whole work in spite of its use of conventional forms. They make it just as true as it is fake." (pg. 75)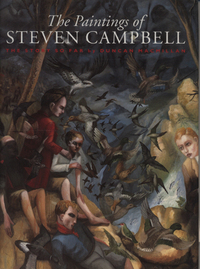 You can see for yourself by visiting the Library, and GSA staff and students can read more in "The Paintings of Steven Campbell: the Story So Far".