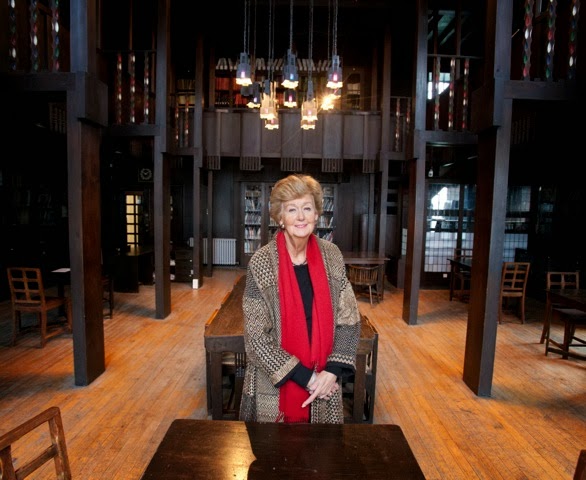 We are pleased to announce that Clare Henry, former art critic for the Herald, has donated her archive to the Glasgow School of Art.
The Glasgow Herald's art critic for 20 years is now based in New York where she writes for the FT and a range of US and UK magazines. Clare Henry has been a key voice in visual art criticism for more than 35 years and her archive consists of over 10,000 pieces of critical writing, annotated catalogues and exhibition publicity material.
"We are delighted to have been given this rich collection," says Susannah Waters, GSA's Archivist. "Clare Henry's time with The Glasgow Herald coincided with a growing recognition of the role of visual arts in the city during the 1980s and 1990s. We already have a wide range of Glasgow School of Art documents relating to this period. Clare's writings provide a complementary perspective, a critical appreciation of work being created and shown. It will be an excellent resource for researchers looking at the visual arts in Glasgow and beyond in the latter part of the 20th and early part of the 21st century."
"Although other places and institutions in the UK & the USA were interested, (today the internet makes distance no object), Glasgow seemed fitting," says Clare Henry. "Although much of my writing was and is international my mother, my son and I are all art school trained and I felt that GSA would be a very good place for my archive. I hope my gift, will be helpful to both to GSA Archives and to Glasgow."
" Since Glasgow City of Culture 1990, the arts have put Glasgow on the international map," adds Henry. "I hope The Clare Henry Archive will help it stay there."
GSA's Archives and Collections staff are currently cataloguing and repacking the documents and a catalogue for the collection will be available online from the summer of 2014. A range of the documents from the Clare Henry Archive will also be digitised and accessible online.
The Herald today has an article about Clare Henry's archive. Clare also has a very interesting blog.