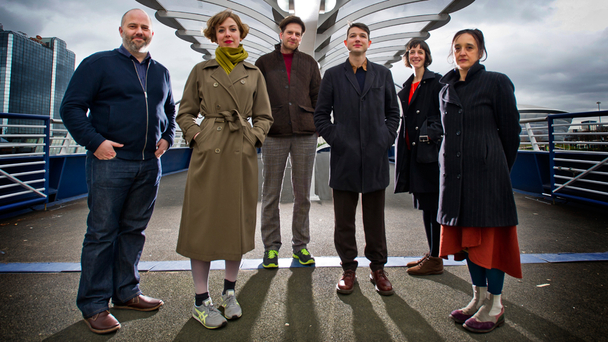 The BBC has chosen the six Scottish moving image artists who will be given access to explore the BBC archives in order to create their own artworks inspired by classic and lesser-known BBC programmes from throughout its history. The selected artists are Kate Davis, Kathryn Elkin, Turner Prize-nominated Luke Fowler, Torsten Lauschmann, Alia Sayed and Stephen Sutcliffe.
BBC Scotland, Creative Scotland and LUX arts agency have partnered to create Artists and Archive: Artist Moving Image at the BBC, a unique and unparalleled initiative that for the first time will create six new moving image works to be hosted online at bbc.co.uk/arts and around the country. This initiative marks the start of the BBC's on-going commitment to allow artists access to archives.
Jonty Claypole, Head of Arts for BBC Productions, says: "We were bowled over by the quality of moving image artists in Scotland and are looking forward to seeing what the chosen six are able to produce. The BBC Archive is a rich and unrivalled resource so this is a unique opportunity for some of Scotland's most interesting artists to create an eclectic mix of new works. We want to learn from these artists and see the archive used in new ways."
Leonie Bell, Director of Arts and Engagement at Creative Scotland, says: "Creative Scotland is delighted to be supporting LUX to deliver these residencies in partnership with BBC Scotland through the Creative Futures Programme. The BBC archive is a rich resource that will offer these artists significant source material and access to production facilities, allowing them to develop their practice and create wonderful new works."
The six artists are:
Kate Davis
Born in New Zealand, Kate Davis lives and works in Glasgow. Questioning how to bear witness to the complexities of the past, Davis's artwork is an attempt to reconsider, reclaim and reinvent what certain histories could look, sound and feel like. Informed by successive waves of feminist art and theory, Davis works across a range of media, including drawing, installation, bookworks and film/video.
Kathryn Elkin
Kathryn Elkin works predominantly in performance, video and writing. She is a graduate of Glasgow School of Art, Goldsmiths College and participated in the LUX Associate Artists Programme 2012/13. Her work concerns a comparison of the way in which we experience art to the ways and means it is understood culturally.
Luke Fowler
Luke Fowler (born 1978) is an artist, filmmaker, and musician based in Glasgow. He collaborates regularly with Richard Youngs, Eric La Casa, Toshiya Tsunoda and Lee Patterson. Fowler was awarded the inaugural Derek Jarman Award in 2008 and, in 2012, he was shortlisted for the Turner Prize. His latest film, The Poor Stockinger, The Luddite Cropper And The Deluded Followers Of Joanna Southcott won awards at the Mexico and Lima film festivals.
Torsten Lauschmann
Torsten Lauschmann's diverse practice continually shifts and plays with expectations of images and the interpretation of meaning. He is concerned with both the aesthetic content of images and the 'decoding' of meaning and narrative. Since moving to Glasgow in 1993 to study Fine Art Photography at Glasgow School of Art, Lauschmann has been exhibiting, screening and performing his work throughout the UK and internationally.
Alia Syed
Alia Syed is an experimental filmmaker and artist. She grew up in Glasgow, moving to London at 17. She earned a Bachelors in Fine Arts from University of East London in 1987 and a Postgraduate degree in Mixed Media from Slade School of Fine Art in 1992. Syed's work has been screened and exhibited in museums, galleries, and festivals worldwide, including at the Museum of Modern Art (MoMA) in New York, Museo Nacional Centro de Arte Reina Sofia in Madrid, Institute of International Visual Arts (inIVA) in London, and the Talwar Gallery, which has represented her for over a decade, in New York and in New Delhi.
Stephen Sutcliffe
Stephen Sutcliffe (born 1968, Harrogate) lives and works in Glasgow. Recent solo exhibitions include Tramway, Glasgow (2013) Rob Tufnell, London (2012), Stills, Edinburgh (2011), Whitechapel Auditorium (2010), Cubitt, London (2009), Galerie Micky Schubert, Berlin (2008) and Art Now, Light Box, Tate Britain (2005). Group exhibitions include: Frieze Projects, 'Project 35', Independent Curators International, touring to various venues in the United States (2010), 'The Associates', Dundee Contemporary Arts (2009) and 'Nought to Sixty' and 'Talk Show' at the ICA, London (2008 and 2009 respectively).