You may have noticed we've got a brand spanking new website! We're jolly pleased with it…
With a new website also comes a new blog. We wanted to make our current subscribers aware that the new blog does not have the option to subscribe. Therefore, loyal followers, please keep an eye on the blog itself for any new content.
The approach has been to surface the Archives and Collections content more seamlessly, add more browsable, engaging pathways into the collection and present the other features of the A&C service in a more complementary, contemporary and user-friendly fashion.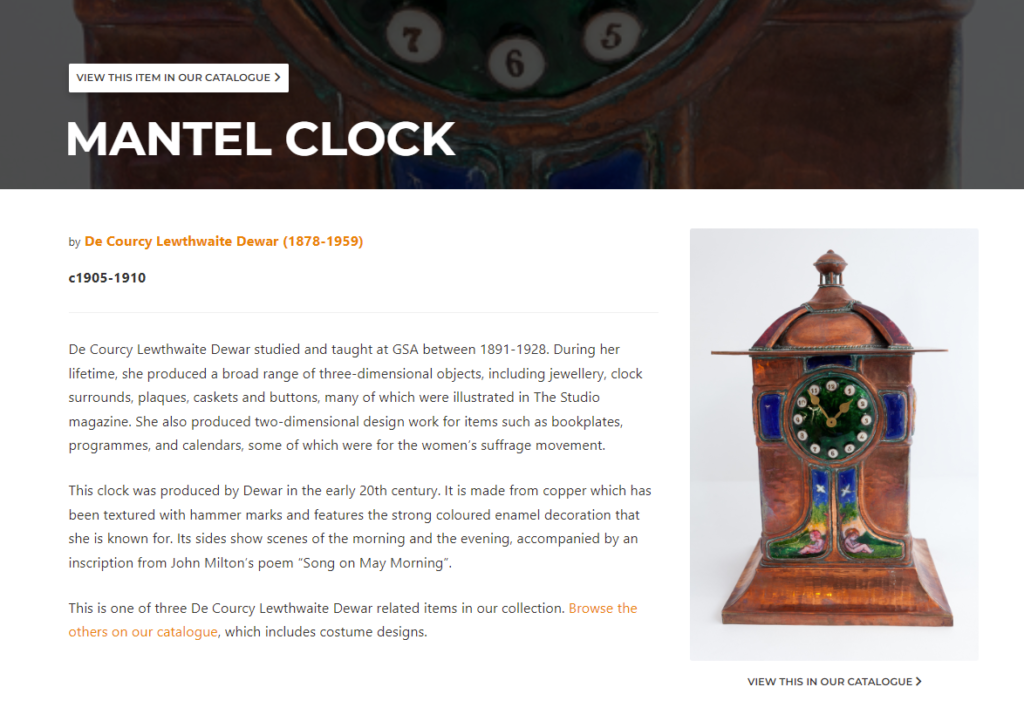 The new design offers more interpretation around materials, themes, people and collection highlights, with introductions to each area authored by guest writers. The texts are supported by links to relevant catalogue records and objects, as well as to relevant blog posts, the latter having been re-keyworded in order to feed through to the appropriate pages.
Our new homepage will guide you to these examples. Does graphic design float your boat? Click on "Materials" and explore the "Design" category for relevant works. Maybe you're curious to find out more about the life and work of Joan Eardley? Click on "People" and read the introductory biography by Professor Susannah Thompson. Or perhaps it's not the work of a specific artist but more The Glasgow Style in general that whets your appetite? Click on "Themes" and treat yourself to a breadth of visual examples of Glasgow Style works from our collection.
Of course, you will still find all of our usual information on the new website as well. The menu at the top right-hand side of the homepage will guide you to our catalogue, newly refurbished blog and a new "Explore" section, where you can browse a bank of exhibitions, projects and resources that we have been involved in creating. For anything else, simply scroll to the bottom of the homepage to find useful links, including to our social media channels.
Our Visit, FAQs and Catalogue help video should give you most of the information you need but please do use our feedback form or email archives@gsa.ac.uk if you're having any issues while using the new site.
Happy browsing!