Tomorrow marks the public opening of the 2018 GSA Degree Show! As usual, there will be a feast of diverse work from across GSA's creative disciplines – find out more here on the website. But before everyone gets their glad rags on for opening night tonight, we thought we'd share the story of one of last year's graduates Hannah Mooney and how her practice has developed one year later.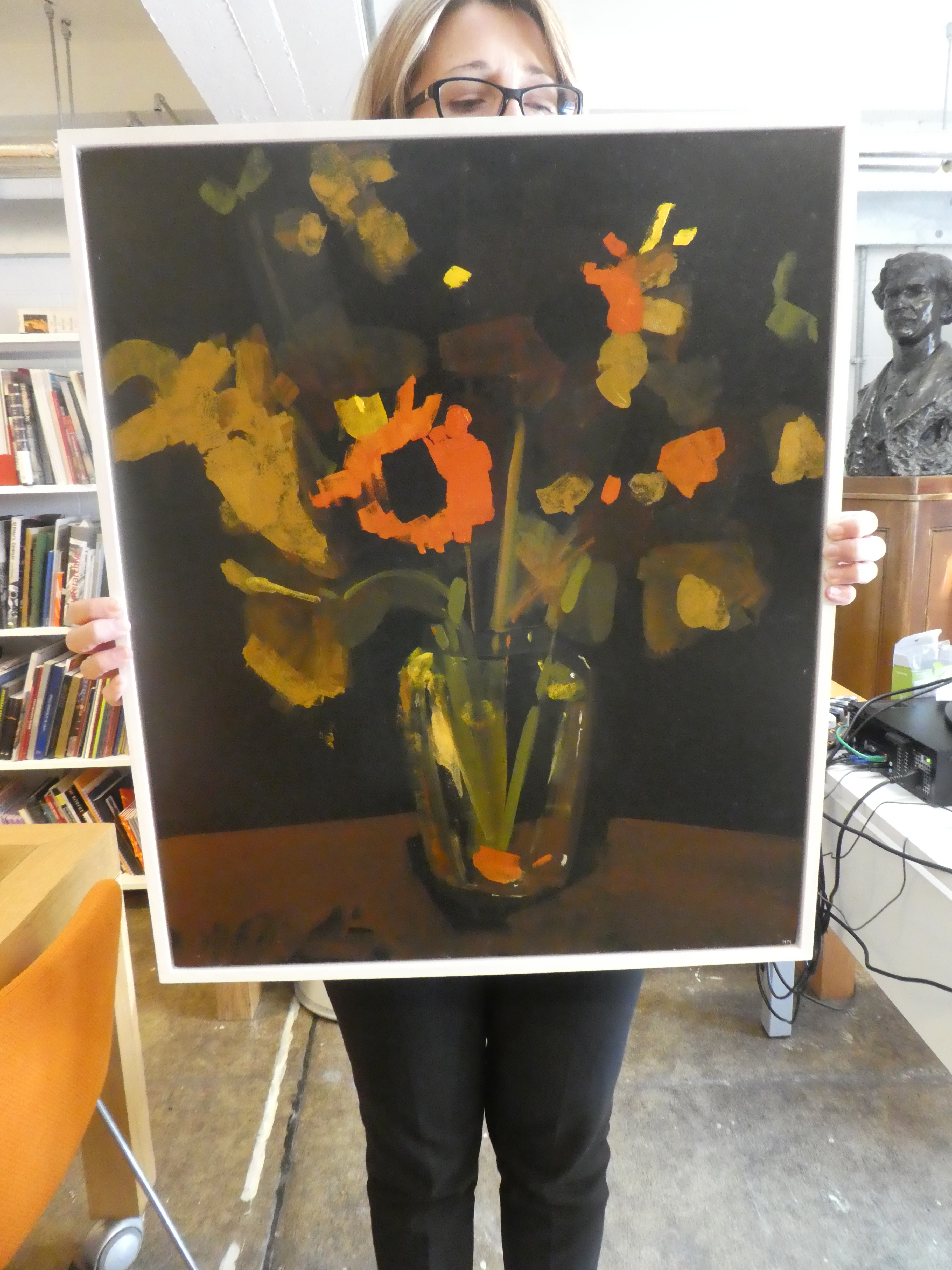 In recent years, the Archives and Collections have been lucky enough to accession a selection of work from prize winning students into our collection. Last year, one of these individuals was fine artist Hannah Mooney with her painting "Sunflowers I". GSA Archives and Collections first received a loan request from Hannah to exhibit Sunflowers I at the 2018 New Contemporaries Exhibition at the Royal Scottish Academy, Edinburgh. There she was awarded the Wyfold-Fleming bursary and the Art in Healthcare purchase prize. Mooney currently works in two distinct areas; still life and landscape. In both she is an instinctive, natural painter deeply concerned with the matière and traditional composition. Although based in Scotland, her Irish heritage is ultimately the driving force behind her paintings and she returns there frequently for inspiration. In addition to the James Nichol McBroom Archive, her work has also been acquired for the AIH collection and the Hottinger Group. Hannah Mooney works with the Mall Galleries, Panter and Hall in London and the Scottish Gallery in Edinburgh. In October 2019 she will be the subject of a solo exhibition at The Scottish Gallery. Hannah describes her work below:
My practice explores natural organic forms in drawing, painting and etching. Although based in Scotland, my Irish heritage is ultimately the driving force behind my work. It is difficult not to appreciate the wealth of beauty that resides in the landscape of County Donegal and County Mayo and I find myself returning there frequently for new inspiration. For the past four years my focus has centred around timeless genres of landscape and still life painting.
As much as possible I try to work from life, observing the mood and personality of the landscape. Better observation leads to more intrigue and a closer understanding of how to express the spirit of ones subject. Outside or in the studio, I try to think about how the landscape feels and remember its nuances, lyricalism and subdued colour palette. Although one could remark that my subject matter is rather neutral and unchanging, the elemental drama of Irish and Scottish skies is always changing.
Light can shift everything in a landscape, falling on the ground to illuminate blades of grass and ultimately make them transparent. Wind is also a stimulus for dramatic change; for moving clouds, rain and mist blown across fields and lakes, trees trying to stand tall. The mood of the Scottish landscape is similar to that of the Irish landscape. It is unpredictable, often dark, sometimes sullen, troubled, and mysterious.
None of my paintings are greatly detailed. One can never capture it all. I aim to work quickly, ignoring the superfluous details in order to capture the essence. Drawing is key to my practice and I try to treat paintings like observational sketches. I would like my work to address the physicality of paint, allowing a slither of the palette knife to suggest a wispy cirrus cloud or a deft brush mark the motion of a tree blowing in the wind. Marks are left untampered with and the act of discovery is still evident in the result.
When immersed in the countryside of Ireland or Scotland it is hard not to feel sentimental. I am constantly reminded of my favorite plein air painters and predecessors; how John Constable conveyed sunlight filtering through trees and his little flecks of white and yellow on meadows. In County Mayo I see Edward Seago's isolated trees everywhere which served as excellent stabilising devices in his compositions. It is mesmerising how he and Constable dealt with complex geometric patterns of rolling fields with apparent ease. Crucially, they captured experience of place with a sense of spontaneity and fluency. I am extremely grateful and respectful to this tradition of painting. I feel I will never lose my curiosity for how they established a dialogue with nature.
Since my degree show in May I have received a lot of support and encouragement which has given me the confidence to continue creating. I am working towards several different exhibitions and shows. As I received the Glasgow Print Studio Publication Prize, I will be making more etchings in the Glasgow Print Studio. In the months that follow, I will go to Florence under the Royal Scottish Academy John-Kinross scholarship. There I hope to be challenged and enthused by a new kind of light.