In the first of a two-part blog series, SGSAH PhD intern, Molly McCracken writes about Helen Biggar's wide-ranging works at GSA, discovered while cataloguing Biggar's papers.
 Recently added to GSA Archives and Collections' catalogue, the Helen Biggar and Sydney Horne Shepherd Papers (DC 097) provide a fascinating glimpse into GSA alum Helen Biggar, an artist of diverse talents and unique personality.
Completing her Diploma between 1925-1929, Helen Biggar was a student at GSA during a fascinating period of the School's history, in which students were experimenting with new art forms both in and out of the classroom. Enrolling in the 1925-1926 session, Biggar studied on the Design and Decorative Art pathway. Though she is perhaps better known for her sculptures, as well as her time as a filmmaker and theatre producer, she graduated with a Diploma in Textile Design in 1929. As a student, she had several examples of her textile designs exhibited at the Competition of Industrial Designs. At this prestigious event held by the Royal Society of Arts seeking to advocate the importance of industrial design, her designs sold for £2-£10 each.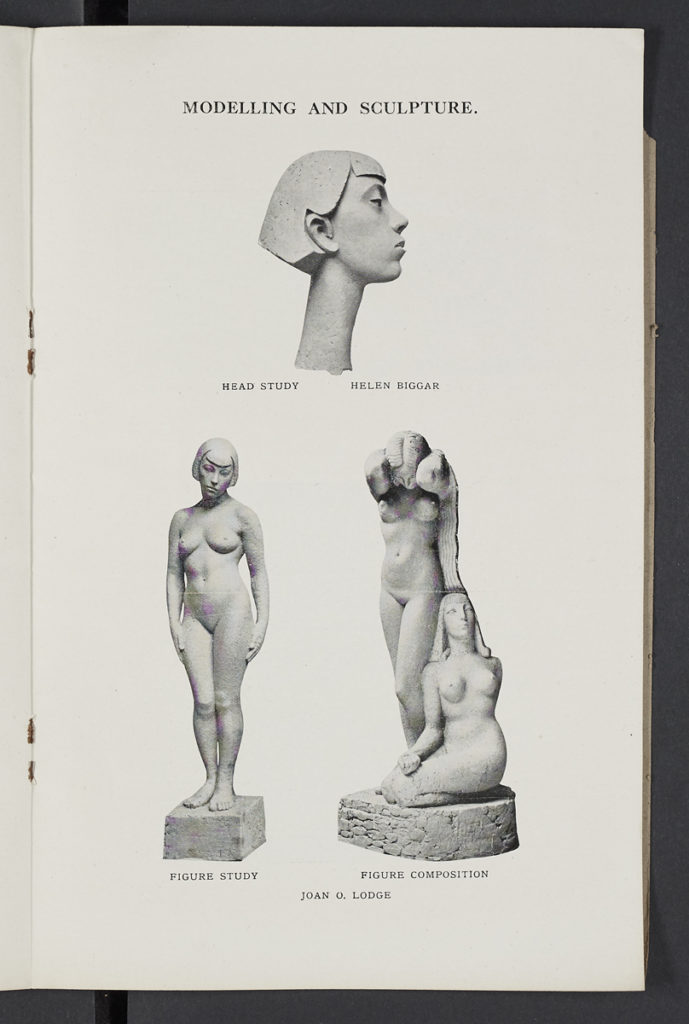 Biggar continued to take classes at GSA in the following years, receiving a small travelling bursary of £10 in 1930 (adjusted for inflation, worth approximately £537 in 2023) for her work in Modelling, and even had examples of her sculptural work highlighted in GSA's official prospectus in 1930-31 (GSAA/REG/1/41/1/1/p18). Unfortunately, she was unsuccessful in securing an Endorsement on her Diploma for her postgraduate work, and she ceased her studies in 1931. This outcome was attributed to the insufficient academic standard of her work, though Biggar's niece and biographer Anna Shepherd notes that GSA Director John Revel had disagreed with the decision. Biggar's work was, nonetheless, celebrated outside of GSA: for example, her bust of her father Bailie John M Biggar, displayed at the 74th Annual Exhibition at the Royal Glasgow Institute of the Fine Arts in 1935, was described in The Scotsman as having 'all the impressiveness of certain late Roman portrait heads'.
Biggar's time at GSA, however, was never restricted to the syllabus on offer, and it is perhaps her involvement with the School's nascent filmmaking society, as well as GSA peer Norman McLaren, that she has been most influential. Established in 1933, GSA's Kinecraft Society began informally as a group of five students keen to experiment in the cinematic arts. Following its first production, Seven Till Five, Biggar became involved with Kinecraft, developing the technical skills and relationships that would inform her later career. In 1935, she helped produce materials for the film Camera Makes Whoopee, and with the involvement of teaching staff member William Maclean, the group organised a number of film screenings and talks to enthusiastic reception by students.
For more on Biggar's career as a filmmaker alongside McLaren, come back and read Part Two.
Sources:
Shepherd, Anna. Helen Unlimited, 2014.