If you have not yet heard, this year Britain marks the 800th anniversary of the Magna Carta, an important document in our history that has become an international symbol of liberty. Created in 1215 the Magna Carta – or Great Charter – was an agreement made to try and keep the peace between the unpopular King John of England and his rebellious barons.
What is the Magna Carta?
Video courtesy of the British Library
While many events are currently ongoing to celebrate the significance this document has played in the history of Law, a unique piece of artwork has been created by artist Cornelia Parker that creates a new record of this historical document. That is the Magna Carta (An Embroidery). This piece of work is an embroidered representation of the complete text and images of the Magna Carta Wikipedia page as it appeared on 15th June 2014, the 799th anniversary of the document.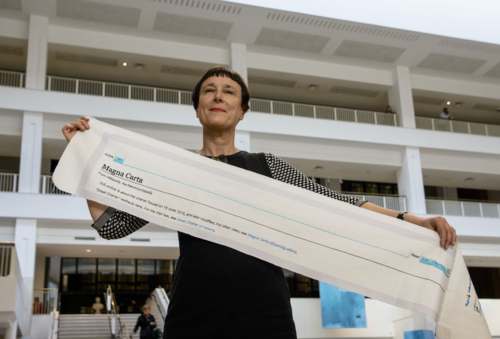 Embroidered by over 200 individuals this representation is as multi-authored as the Wikipedia article, with the majority of the work undertaken by prisoners trained in stitching by Fine Cell work, as well as the Embroiderer's Guild, Hand & Lock, the Royal School of Needlework and a series of noted individuals ranging from judges, solicitors, campaigners for civil rights, activists and more. Just under an impressive 13 metres, this piece of work is currently on display in the British Library alongside the Magna Carta: Law, Liberty Exhibition and has interestingly created a lasting record of a Wikipedia page that is likely to change as more research is conducted into this document.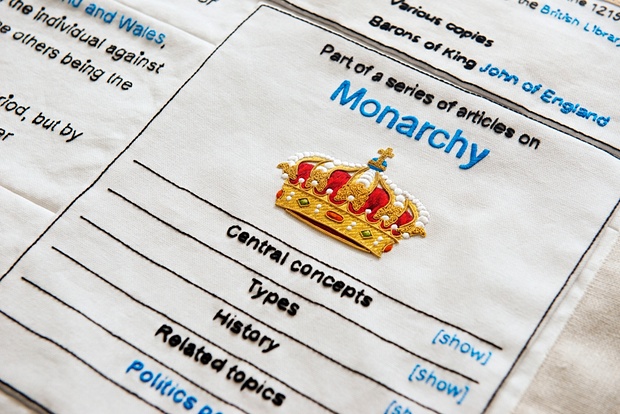 For more information on this piece of work see the British Library's site here, and the making of the Magna Carta (An Embroidery) here. Until next time!
Resources Used
British Library, Medieval Manuscripts Blog, Magna Carta (An Embroidery)
British Library, Magna Carta
The Embroiderer's Guild, Magna Carta (An Embroidery)
The Guardian, Kings and needles: the Magna Carta gets an embroidery update
Magna Carta: Foundation of Liberty
Wikipedia, Magna Carta (An Embroidery)