This week's post is part 2 of our "Researching Biographies" blog, following on from Part 1 here.  A&C Support Assistant Kay gives an insight into two more former GSA staff…
It would be quite wrong, however, to suggest that Newbery only 'imported' talented staff to the School.  Among a number of former students engaged to teach at the GSA, Newbery championed the work of many women – Jessie Rowat (who became his wife), Ann Macbeth, Dorothy Carleton Smyth, Frances McNair and Jessie M King all taught embroidery, metalwork, ceramics or other Design Section classes.  Often dismissed as 'crafts,' Newbery raised the standard and status of decorative arts, which became central to the development of the distinctive Glasgow Style and further enhanced the School's reputation.
Through training the next generation of art teachers, the philosophy and teaching methods Newbery had encouraged at the GSA were widely disseminated.  One of the most successful examples of this was the book "Educational Needlework" (1911), written by Ann Macbeth and Margaret Swanson, a practical manual of needlework skills which complimented the teacher training course they developed.  The manual was highly regarded and remained in use in Scottish schools into the 1950s.  Ann Macbeth's wonderful embroideries have ensured that her name is remembered, but her assistant and co-author, Margaret Swanson, tends to be overlooked.
Margaret Swanson (1872-1942) worked in the GSA Needlework & Embroidery department between 1910 and 1913. A former schoolteacher, her knowledge of young children's emotional and intellectual development underpinned the progressive programme of needlework instruction for children described in "Educational Needlework". Starting at age six, a series of projects introduced simple stiches, and as skill, level of concentration, and aesthetic appreciation developed, the articles produced – such as tablemats, needle-cases and bags – became more challenging and required more creative input from the maker.  Clearly still interested in how needlework was taught in schools, Swanson prepared a report for Newbery in March 1912 looking at a Scheme of Needlecraft in Secondary Schools, see archive DIR/3/35/5/3.
It hasn't been possible to confirm which school Margaret Swanson taught at before joining the GSA Needlework & Embroidery department, but at the date of the 1901 census, she was a lodger at 23 Bellevue Crescent in Ayr, her birthplace given as Olrig, Caithness, and her occupation listed as, 'teacher (board. School)'.  It is quite possible that she worked at the Wellington School, a small, girls boarding and day school that was established in the town in 1849.  Set up by Mrs Gross, a Frenchwoman who was married to one of the masters at Ayr Academy, the school was intended to offer "twelve young ladies of quality French, History, Art, Music, Embroidery and Elocution"!!  By about 1900, the school had expanded and changed hands and the new owners, Miss Smith and Miss Cay did a great deal to improve Wellington's academic reputation, brought in many specialist teachers and showed real ambition for their pupils.  Embroidery was still on the curriculum.
After she left the GSA, Swanson went on to write several further teaching manuals: "Needlecraft in the School" in 1916, had a frontispiece of an embroidery by Helen Adelaide Lamb, another GSA alumna; "Needlecraft for Older Girls" (1920) was designed for secondary school pupils, and "Needlework and Psychology" in 1926, looked at theories of childhood development in more detail.
Another GSA Director who really pushed the Design Section of the School, and who brought in leading contemporary artists to inject fresh ideas, was Douglas Percy Bliss (1900 – 1984).  Leading the School from 1946 to 1964, he served just two years fewer than Newbery, and shared the same drive to raise the profile of the Art School.  Bliss also worked hard to encourage critical appreciation of Glasgow's architecture, particularly the Mackintosh legacy.   Under his guidance the GSA saw a re-focus on the importance of design and the creation of the three new, or reconstituted, departments of Interior, Textile, and Industrial Design.  The status of all three subjects was increased by recognising them at Diploma level, and fully equipped workshops were provided for students following these courses.
Gilbert Spencer (1892-1979) was one of the artists Bliss attracted to Glasgow.  The younger brother of fellow artist, Stanley Spencer, Gilbert studied at Camberwell School of Arts and Crafts, took wood carving at the Royal College of Art  from 1911–12, then followed Stanley to the Slade School a year later and studied under the legendary Henry Tonks.  Leaving in 1915, he served in the Medical Corps during the First World War and was drafted to the Macedonian front.  He returned to complete his studies at the Slade in 1919.  While there, he became part of a circle established around the home of fellow artist Hilda Carline in Hampstead.  Both Gilbert and Stanley were attracted to Hilda, but Stanley's suit won through, and Gilbert left London for the Reading home of fellow artist Tom Nash, then on to a cottage on the Garsington estate of Lady Ottoline Morrell.  There he enjoyed the company of the Bloomsbury circle and taught at the Ruskin School of Art in Oxford.  In 1930 he married Ursula Bradshaw, one of his former students.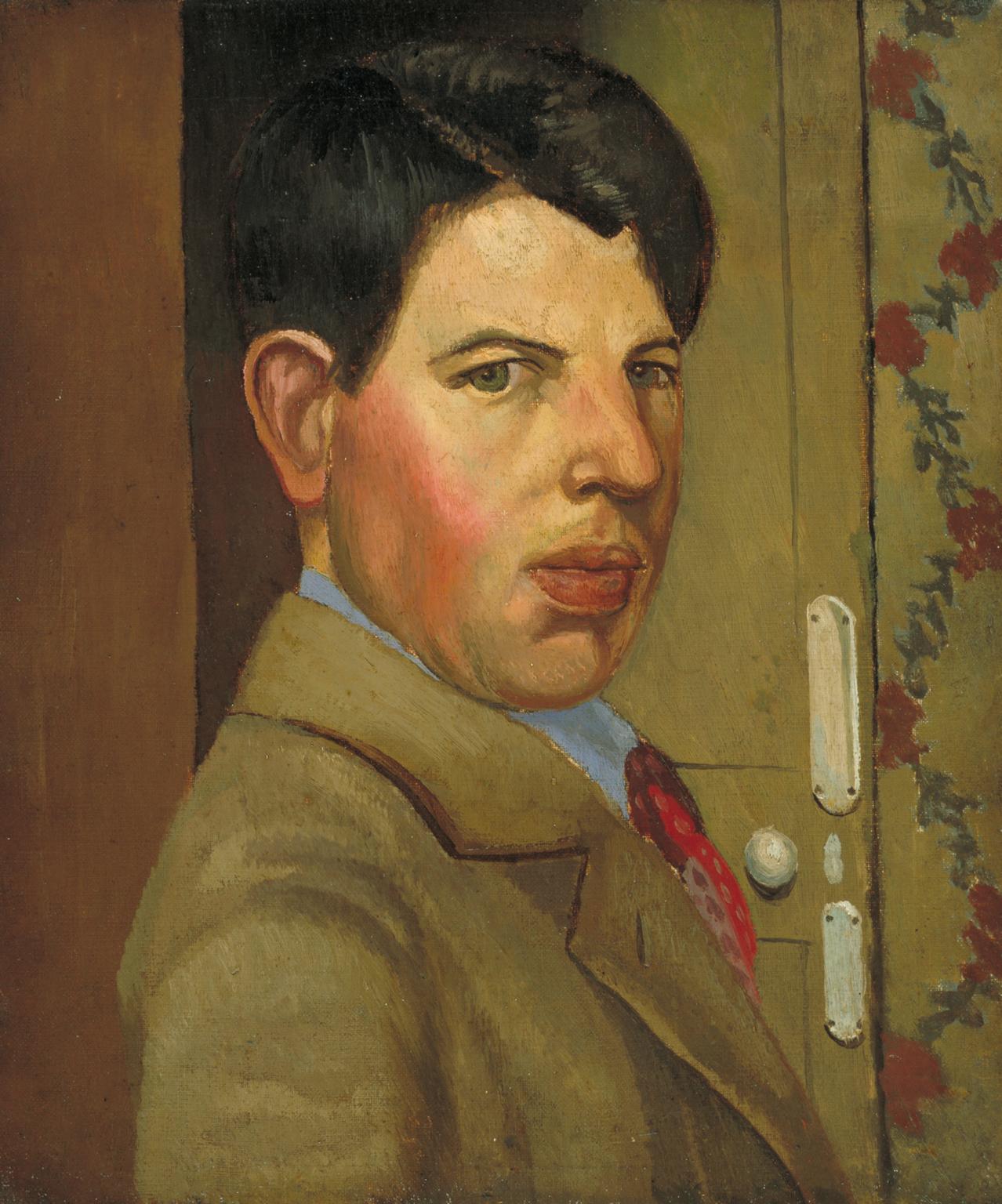 From 1932 to 1948 Gilbert Spencer was Professor of Painting at the Royal College of Art in London. During WWII he was commissioned to produce a number of pieces for the Imperial War Museum, which included some works painted in the Lake District while the Royal College of Art was relocated in the Queens Hotel in Ambleside.  In 1948 he was appointed Head of the Department of Painting at Glasgow School of Art by Douglas Percy Bliss, and stayed for two years.  In 1950, he returned south to become Head of Painting at Camberwell School of Arts and Crafts, where he stayed until he retired in 1957.
Spencer painted portraits, genre scenes and murals but is now best known as a landscape painter and portraitist. Elected to the RA in 1960, examples of his work are held in many public collections including the Tate Gallery and the RA. A Glasgow related painting, "Portrait of a Glaswegian Woman" can be found on his estate's website here.
We hope you've enjoyed reading these new biographies on people connected to our catalogue.  You can read all our online biographies here, and find what material we have connected to each person.  If you have more information on anyone in our catalogue, please contact us at archives@gsa.ac.uk.