Hip Hip Hooray! Today we're really pleased to announce the launch of a new online catalogue for our holdings.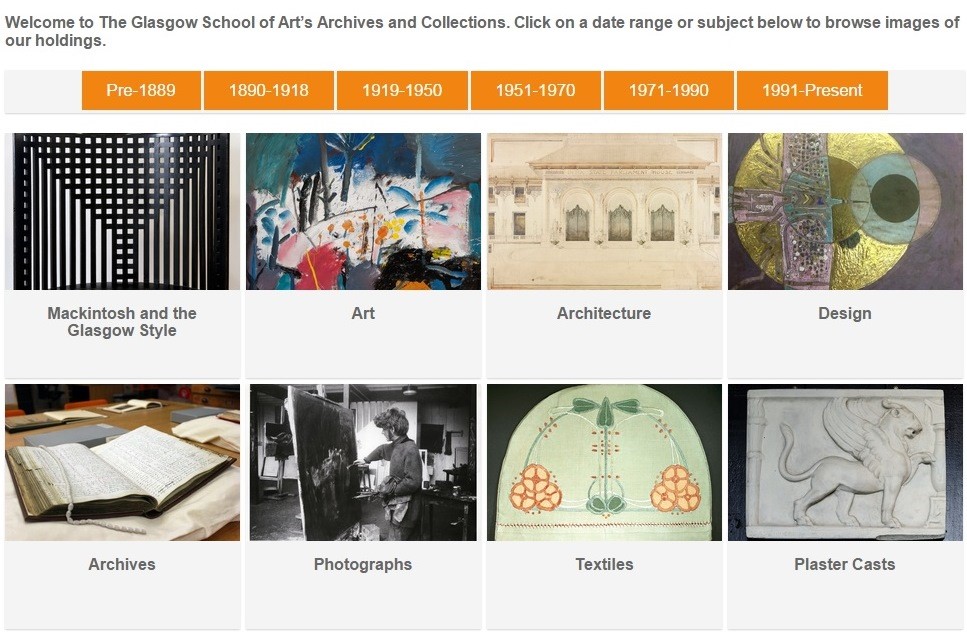 To some of you who use the Archives and Collections regularly, it might not look all that different, but we've recently migrated to a new system for our collections management activities and for our online catalogue. This uses a type of software called AtoM and the new system has improved functionality, allowing users to search and browse our holdings in lots of new and more advanced ways. The new system will also allow Archives and Collections staff to better track additional information about the collections, such as locations and conservation information, so there's lots of improvements going on behind the scenes too!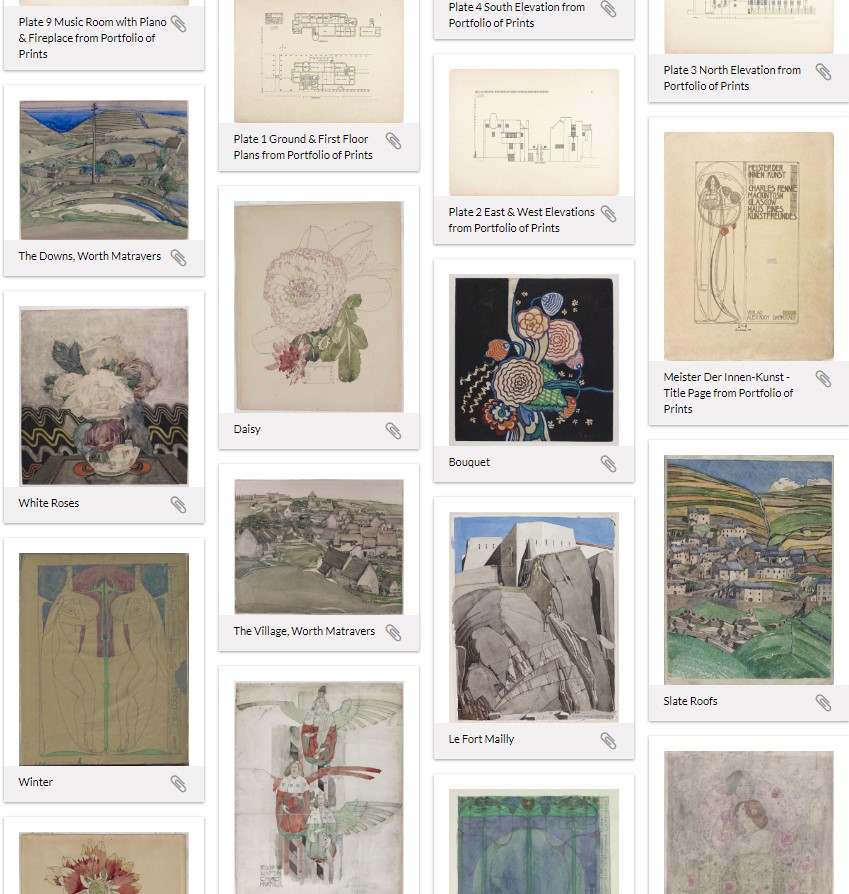 Our main aim has always been to make the catalogue as user-friendly, visual and intuitive as possible. While the catalogue is still very traditional in that it includes detailed descriptions and information on, for example, access, reproduction and copyright, as an art school, we are also very aware that creative practitioners, who make up a significant proportion of our users, really appreciate the ability to browse and quite often rely on serendipity to find inspiration for their work. Therefore, wherever possible, we have tried to include images alongside records, opening up a treasure trove of beautiful items to the public.
Indexing (or tagging) material in terms of names and organisations, subjects (keywords), places and dates provides access points to the collections, guiding researchers to archives and artefacts that are relevant to them, and to material that they may not otherwise discover. This is why indexing our descriptions and images is so important, and why we've taken time to add these key index terms to our online catalogue.
To browse images of our holdings, simply click on one of the 8 categories on our homepage. Alternatively, you can conduct a free text or advanced search. If you don't really know what you're looking for, you can browse material in a variety of ways – by collection title, name, subject, place or date range, or even just by image thumbnail. We've also created date range pages which include key facts about GSA's history and links to images which have been indexed as being from within each date range.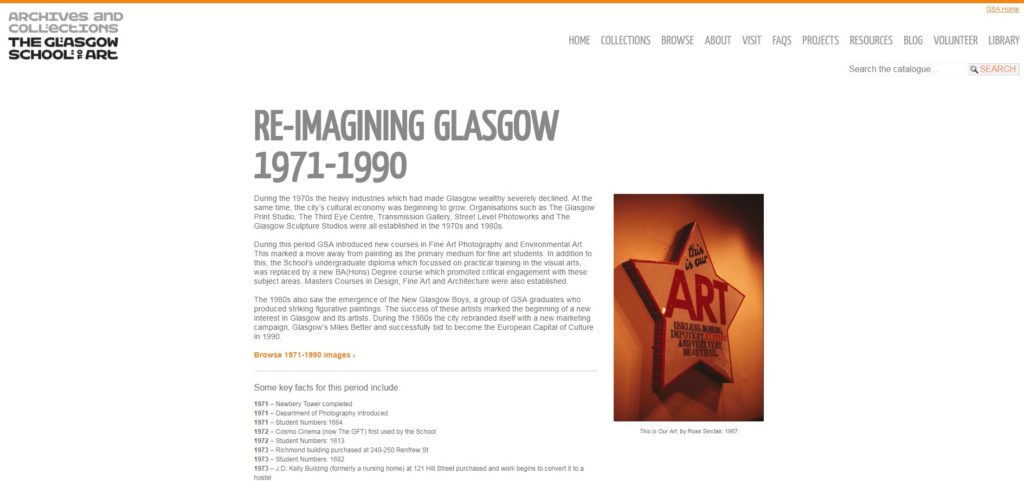 We've also really pushed the boundaries to try and make the catalogue a useful resource in its own right. For example, the vast majority of records for people and organisations include biographies (check out our Charles Rennie Mackintosh page). Subject pages also often include further information: we'll be adding more and more information as time goes on, but see our textiles subject page as an example. These pages also include links to associated archives and artefacts we hold, as well as suggestions for further reading.
As you'll know from previous blog posts, we are in the middle of a huge project to digitise as much of the collections as possible – amounting to 60,000 captures, many of which will be added to the new catalogue over time. We can't wait to share more and more of these new images with you!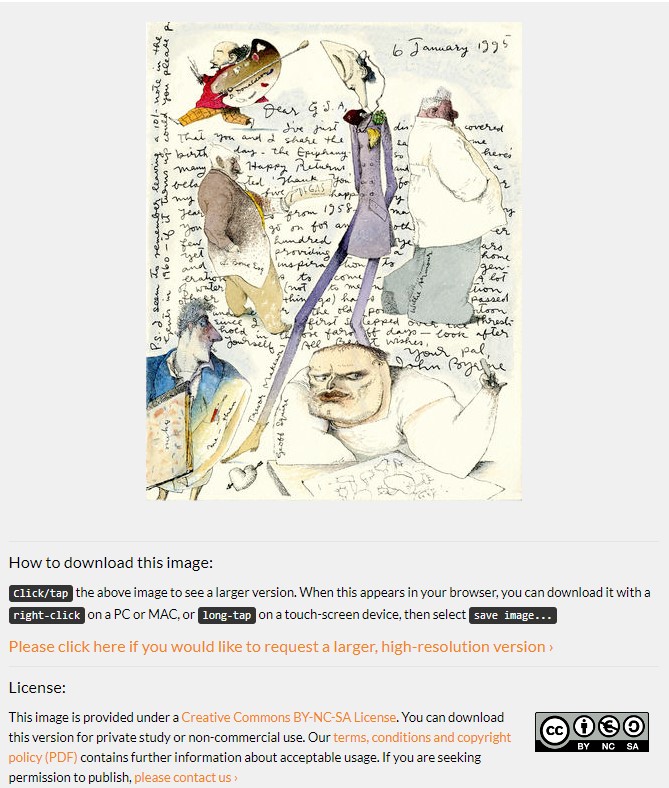 As before, in the interest of making our collections more accessible, low resolution versions of the images, which are not suitable for printing to scale or for commercial purposes, are available to download free of charge for personal and academic use (i.e. for private study, non-commercial use, teaching, criticism and review) under a Creative Commons BY-NC-SA Licence (Attribution-NonCommercial-ShareAlike 4.0 International License).
Users are still bound by UK copyright law. If you wish to order high resolution copies or to use images for commercial purposes or any purpose not considered as personal or academic use, please get in touch with us or complete and return a copy request form, and if you want to publish the images anywhere, you'll need to fill in a reproduction request form to seek permission to do so. A copy of our terms and conditions governing access to our online content is available on our website, along with further details of Creative Commons licensing. If you have any queries about any of this, just get in touch, and we'll try and help.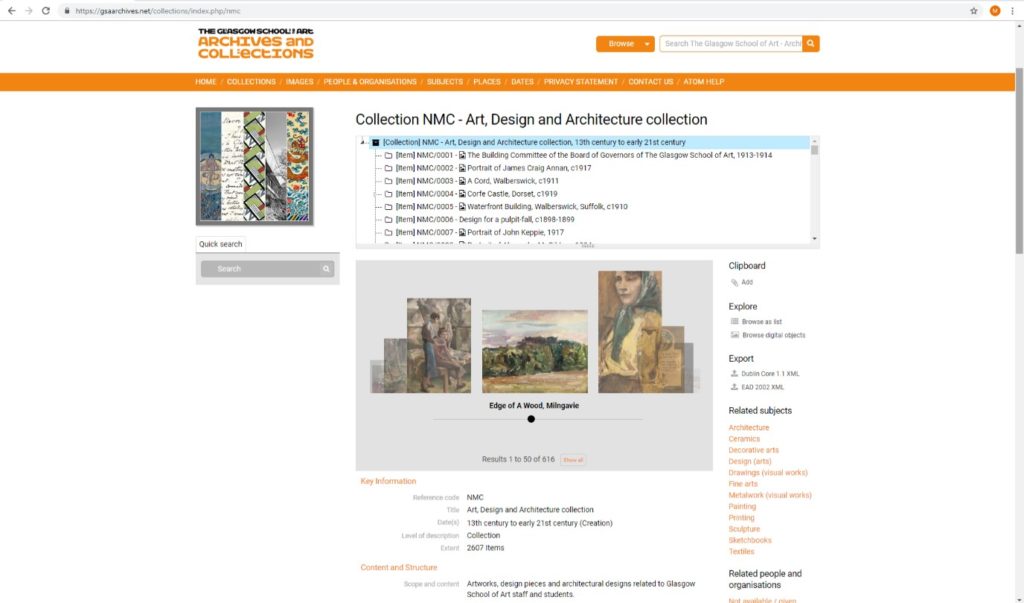 There are also a few completely new features – firstly, we've added a new window at the top of each page (above the descriptions and images) which shows the collection hierarchy (or treeview). This allows users to navigate up and down through collections, and to expand or collapse records to reveal or hide more detail, allowing individual items to be understood within their overall collection context. You'll see there are also small image icons in the treeview to indicate where a record includes an image. Another new feature for us is the image carousel which allows users to quickly browse through all images which feature in a collection. Clicking on an image in the carousel then links through to the full record for that item.
We really hope you enjoy using our new catalogue. To get you started there are some handy tips on our Catalogue Help or Catalogue FAQs pages. Do let us know what you think, and remember you can always get in touch with us if you need any help navigating the new system. Happy browsing!