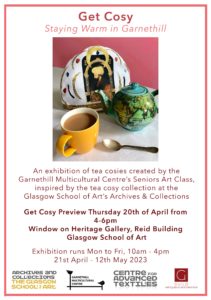 This exhibition brings together tea cosies designed and made by members of the Thursday Afternoon Seniors' Art Class from Garnethill Multicultural Centre, alongside a collection of historic tea cosies from The Glasgow School of Art's Archives and Collections.
The group visited GSA in October 2022, to explore the collection and draw inspiration for their next art project. Prior to their visit, they requested to see the School's tea cosy collection, which contains a range of motifs alongside examples of needlework and embroidery techniques.
Using the tea cosy as a template to express their creativity and convey their ideas, the group created their own designs and let their imaginations be limited only by the size and shape of the tea cosy. They employed a wide range of media from pens, to watercolour, to collage, in order to create the tea cosies. By selecting a medium designed to keep liquids hot, the group also sought to consciously reference, comment and reflect on the significance of the ongoing energy crisis.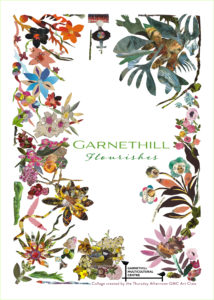 The Thursday Afternoon Seniors Art Class meet at the Garnethill Multicultural Centre on Rose Street from 2:30 to 4pm. No experience is necessary for this drop-in class and all materials are included. Of course this includes the all important tea and biscuits! Our group is a lovely mix of men and women who bravely try out new things, are kind to one another and often break out into song. Making our marks, no matter what they may be is one of life's great pleasures, especially when done in a relaxing and supportive group.

The class is funded by The Glasgow School of Art, with our deep appreciation. 
Get Cosy previews Thursday 20th April from 4pm-6pm, and will be open to the public Monday-Friday from 21st April – 12th May, 10am – 4pm at Window on Heritage in the Reid building.