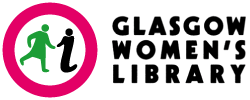 Glasgow Women's Library have recently launched another of their sucessful Glasgow Women's Heritage walks, this time focussing on the fascinating Garnethill area. As 19th century Glasgow prospered, it expanded west. The wealthy middle-classes built detached residences on the drumlin of Garnethill. A century on, Garnethill had grown into a bohemian enclave, home to theatre people, incomers, artists and activists, and some remarkable women who shaped this corner of the city. The GWL bills the walk as follows:
Garnethill is at the heart of Glasgow's city centre but remains an unknown quarter for many. This walk takes in its grand tenements, painted gables, a miniature park, a synagogue and world acclaimed architectural triumphs. These and other fascinating landmarks help us to tell the stories of some of the most remarkable achievements of women in Glasgow's history. Within Garnethill's confined boundaries we spotlight the women who pioneered European art movements, designed the banners for suffragette processions, created the first women's Library in Scotland and made Garnethill into the most exciting cultural and multicultural hotspot in Glasgow.
Garnethill is also home of course to our wonderful Glasgow School of Art. Perched atop the hills of Scott Street and Dalhousie Street, the Mackintosh Building is a beacon of architecture and design. We were happy to provide an photography of former headmaster Fra Newbery with a class of female students from 1894-5 for the booklet.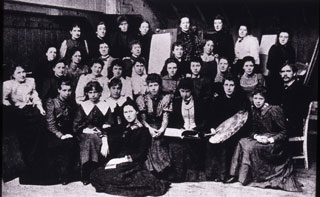 The inaugural guided walk has now sadly passed, but intrepid rovers can undertake a self-guided walk around Garnethill with the aid of a specially designed map.
For more information about the Garnethill Heritage Walk visit the walk launch event page. For details of forthcoming guided walking tours and information on how to download maps and audio tours so you can try out the walks for yourself, see the Glasgow Women's Library website.