Did you know World Penguin Day is approaching? This month, when each of us on the Archives and Collections team chose what we would tweet about, I chose to take on World Penguin Day. Everyone was a bit sceptical that I would find anything in the collections of a penguiny nature, myself included – but I'm game for a challenge!
I set about searching for penguins. It was great to put myself in the place of the researchers who visit this room each day. I didn't know if the material I was looking for was even in the archive, but I was prepared to look in a lot of different places and follow some pretty obscure leads in the hopes that it was. I sifted through the collections, eliminating bird after bird from my enquiries… 'that's not a penguin…nope, that's not a penguin…that's not a penguin'.
As I muttered under my breath I was strongly reminded of the previous weekend when, visiting a friend, I found myself reading some marvellous literature with her child. The author of this book was having a terrible time trying to locate their tractor, but was not to be taken in by a number of red-herrings purporting to be their property. 'That's not my tractor' they stated repeatedly, and continued in their quest undaunted.
This blog, therefore, follows the inspiring tone of this tireless tractor-hunter, and documents my own hunt for a penguin. Will I be fooled by the multitude of feathered friends hiding in our collections? Read on to find out…
Lucy goes to the archive stores where we keep all the collections in carefully labelled boxes.
Lucy finds a sketchbook with birds in it.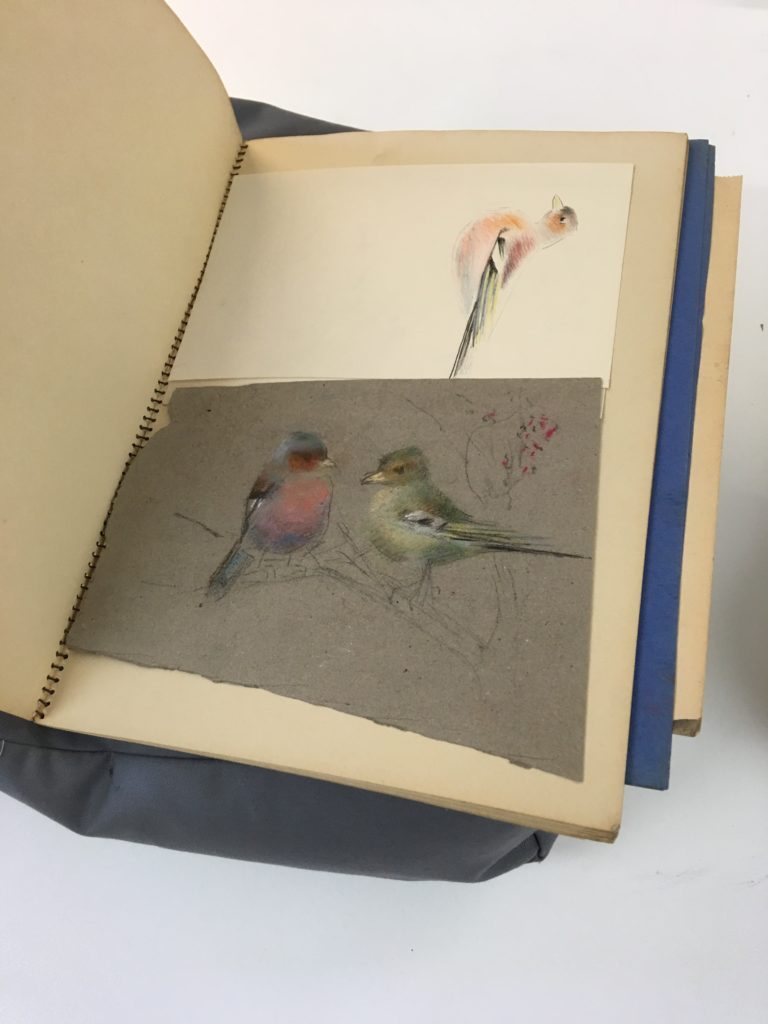 Those aren't penguins!
Penguins don't perch in blossom trees!
(This sketch is from the papers of Henry Young Alison (1889-1972) who was a student at The Glasgow School of Art. He lost sight in one eye during WW1, yet was still sufficiently skilled to become a teacher at GSA from 1927, and Interim Director from 1945-1946. Glasgow School of Arts Archives and Collections hold, and continue to collect, the papers of many of their former teaching staff and students. They also hold the papers of GSA Directors. The papers which Alison accumulated during his spell as Interim Director are all given a code starting GSAA/DIR/11 and form a separate collection to those he amassed in his time as a student and teacher which have codes starting DC 021.)
Lucy looks at an old list called 'Bird Skins on Permanent Loan'.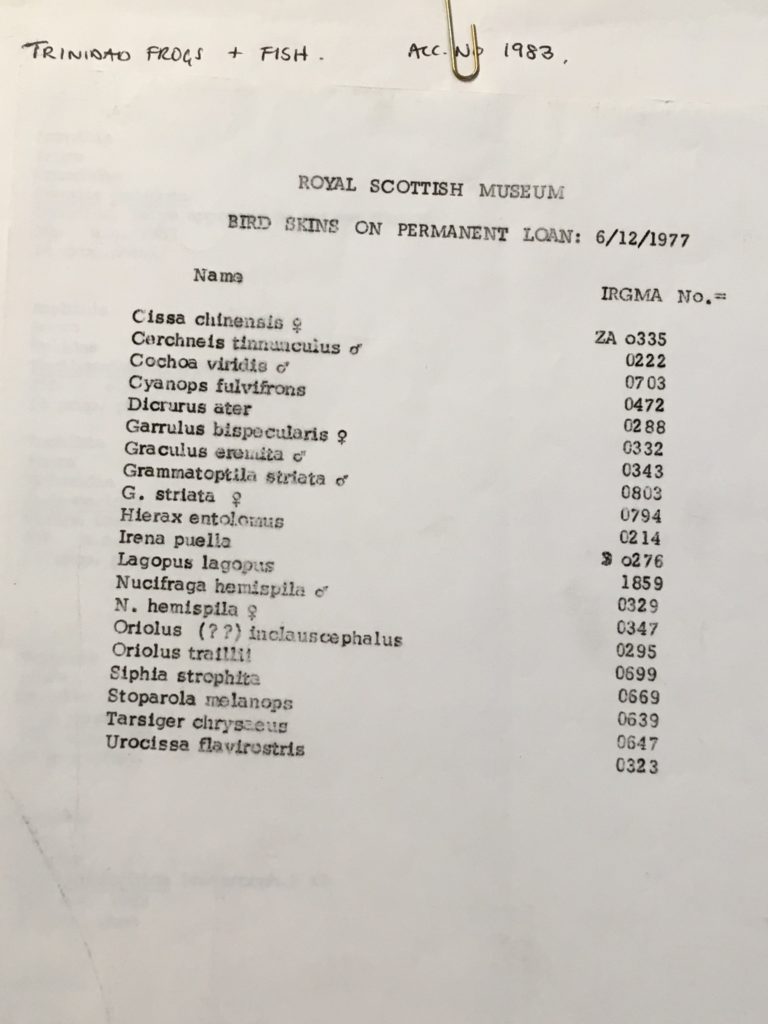 GSAA/ISE/5/11
Those aren't penguins!
Penguins belong to the scientific family Spheniscidae!
("GSAA/ISE" encompasses the Records of the Glasgow School of Art Information Services from around 1900-2004. GSAA/ISE/5 is the code for the series of papers relating to Collections Information.   It includes catalogues, lists of books, inventories etc.  Students at The Glasgow School of Art were able to undertake classes in Animal Drawing and Painting from as far back as 1893 according to prospectuses held by the archive. Do these bird skins remain The Glasgow School of Art as teaching aids today, or were they returned to the Royal Museum of Scotland – now the National Museum of Scotland?! They do not form part of our collections.)
Lucy uncovers a colourful textile.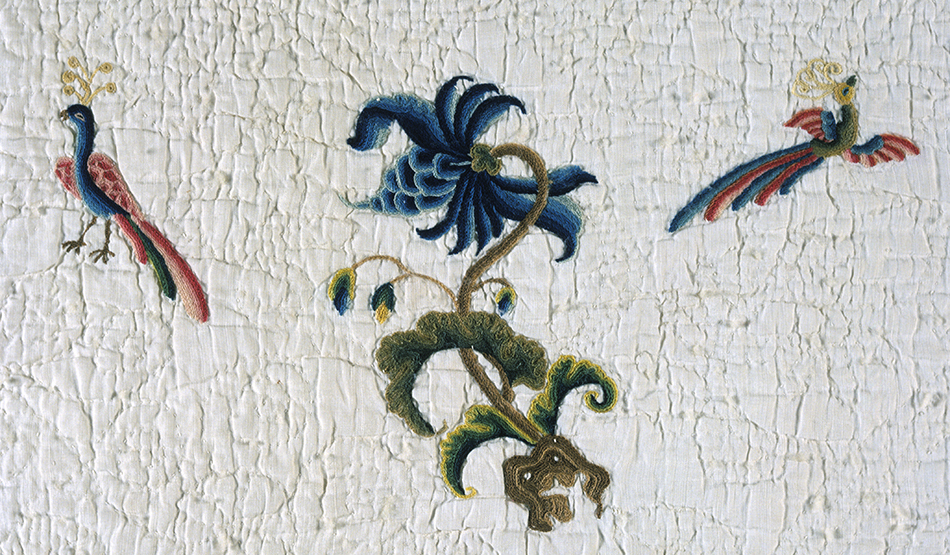 Those aren't penguins! 
Penguins don't fly!
This beautiful embroidery is part of the Needlework Development Scheme collection. This collection contains over one hundred textile and published items from the Needlework Development Scheme, which GSA was heavily involved in. By giving educational institutions access to a great number of collected and commissioned embroideries, the Needlework Development Scheme aimed to promote the art of embroidery, and increase standards in British needlework and design. During WW2 the scheme drew to a halt, but GSA restarted and expanded it in 1944. The works collected by the scheme, which finally disbanded in 1961, are now held between a number of educational and cultural institutes. GSA Archives and Collections include a wide range of both British and foreign textiles from the scheme.) 
Lucy spots some birds on a plaster cast.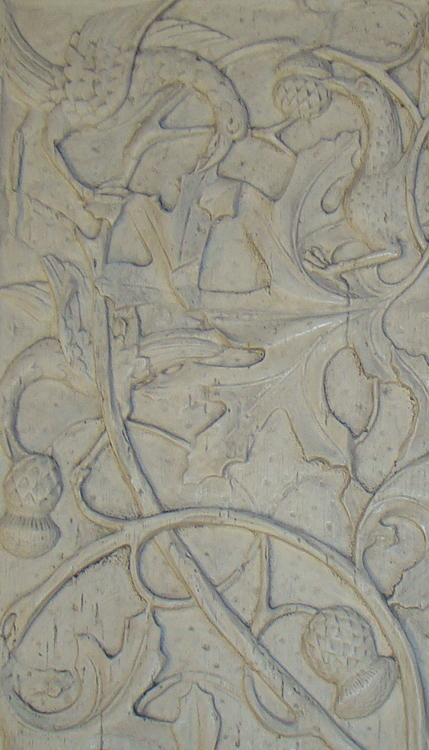 PC/177
Those aren't penguins!
Penguins don't eat thistles!
(The PC collection consists of plaster casts – largely taken from classical statuary.  These were originally purchased to be used as teaching aids in the Glasgow School of Art – as was the tradition in art schools. GSA Archives and Collections retain over two hundred of the casts. In addition, many other items within the collection relate to the plaster casts – e.g. photos showing students working from the casts, and catalogues and inventories of the casts. Some of the GSA casts were damaged during the 2014 fire and have undergone conservation. You can read more about this here: https://gsaarchives.net/2018/01/update-mackintosh-building-restoration/ )
Lucy spies a chart of birds in a photograph album.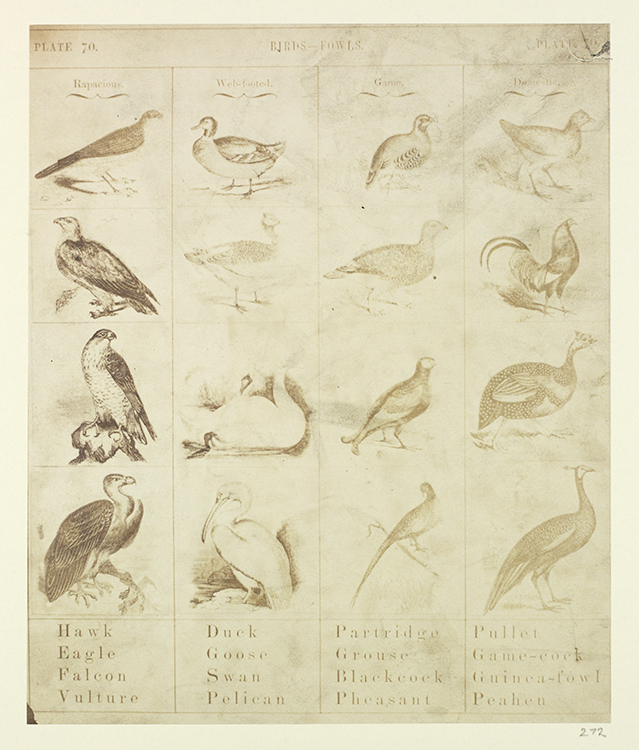 Those aren't penguins!
Their backs aren't straight enough!
(This photograph forms part of a large and fascinating collection of early photographs which were taken between 1853 and 1896 by amateur photographer Duncan Brown. Duncan Brown was a janitor at The Glasgow School of Art in the 1840s-60s and lived in accommodation within the school. His works cover a wide range of subject matter, including portraits, landscapes, and photographs of artworks. GSA Archives and Collections hold a number of early photographs including many of the building, students and staff, and a collection by pioneering photographers Hill and Adamson)
…But wait! What's this? Lucy has remembered that there is an easier way to find penguins in the archive.
THESE are penguins.
Penguins show up in catalogue search results.
Lucy found a penguin to tweet, and lived happily ever after.
The end.
(You can see the penguins Lucy uncovered by checking out our Twitter page on April 25th. If you want to find something in the archive, you can use the catalogue here:  https://gsaarchives.net/archon/. You can search by key word, or browse by collection, name, date, subject, place or image. Alternatively make an appointment to visit the Archives and Collections at the Whisky Bond, where you may be able to find material which has not yet been catalogued to item level. Please note: this archive 
does not contain real-life-actual penguins.)