Continuing with her research of the GSA WWI Roll of Honour, Maja Shand provides a fascinating insight into the life of one of the artists listed. 
In my previous post I wrote about GSA's early 20th century Canadian émigrés, many of whom were instrumental in establishing major Canadian art schools, galleries, and architects' practices of the time, and whose legacy can be felt in Canada today.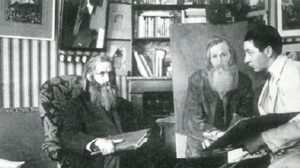 Today I'll tell the story of painter Saul Yaffie, another outward-looking Glaswegian who sought artistic refuge a little less further afield – in euphoric 1920s Paris, famed for its international community of bohemian artists and writers, where little more than a decade later it would become too unsafe for many to remain.
Yaffie was born the son of Russian immigrants who were among the first generation of 20th century Jews to settle in the Gorbals, which became the heart of the Jewish community in Glasgow. Pre-1900s, most recorded Jewish peoples in Scotland were economic migrants, drawn to the rapidly industrialising Second City of the Empire. From the 1890s onwards the majority of immigrants of Jewish ethnicity were refugees, escaping poverty and persecution in Russia, and later, genocide in Europe.
Saul Yaffie's parents Kate and Bernard Yaffie belonged to those fleeing Russia during a wave of pogroms triggered by the assassination of Tsar Alexander II in 1881. This period saw the introduction of harsh restrictions on Jews in Russia, and another more violent series of pogroms from 1903 to 1908.
Saul, whose father Bernard had been naturalised as a British citizen by the time he was three, was born in Blythswood, Glasgow on 29th April 1898. As Bernard's tailoring business prospered, The Yaffies moved to a more salubrious address at Sinclair Drive, Cathcart. This reflected a general trend among upwardly mobile Jewish families, many of whom moved to more affluent areas of Glasgow such as Pollokshields and Garnethill.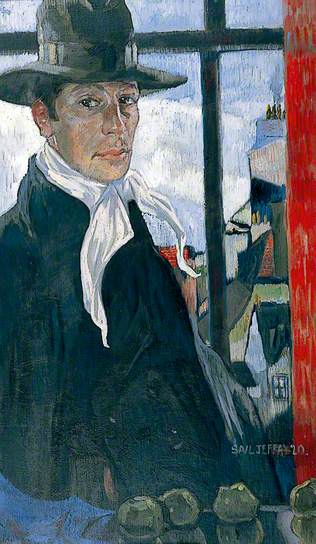 Saul attended day classes in drawing and painting, modelling, and life drawing at The Glasgow School of Art from 1912 to 1919, interrupting his studies in 1916/17 to serve in the First World War. In a letter of recommendation in 1918 (GSAA/SEC 2/1918/Y), the School's secretary Groundwater writes that Yaffie obtained the diploma in 1916 and a travelling bursary in 1914. Prior to joining the forces Saul is recorded in the GSA's student registers of 1916 as being engaged in munitions work, which suggests he was not among the groundswell of men who rushed to join the military at the outbreak of hostilities in 1914.
An urgent letter from Yaffie to director Fra. Newbery (GSAA/SEC 1/1917/Y) dated the 22nd of February 1917 asks for a supporting letter towards Yaffie's commission as an observation officer, which he believes will place him in 'the utmost service in the capacity that [he had] been trained for'. In the same letter he states that he was required to report for military service on the 26th of that month (February), until which date we could assume Yaffie remained in munitions work. The reasons for his delayed service – over a year after military conscription was introduced – are however sadly unknown.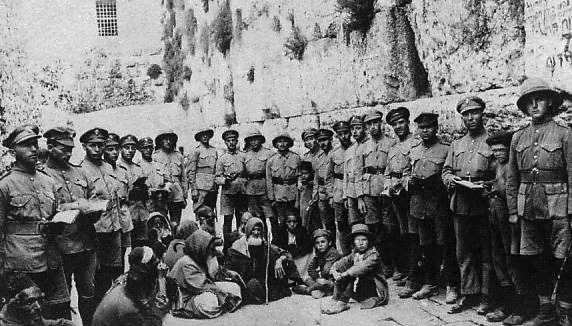 Another letter signed 'Corporal Saul Yaffie' and dated 13th April 1918 (GSAA/SEC 1/1918/Y) asks the director to sign Yaffie's papers for military recommendation. An outgoing letter from the secretary in May 17th (GSAA/SEC 1/1918/Y) confirms that the secretary 'has much pleasure in certifying that Mr Saul Yaffie […] was an earnest and sincere student and gave very distinct evidences of talent [conducting] himself always in a most gentlemanlike manner and [acquiring] the respect and esteem alike of the teachers and fellow students.' The School's commemorative Roll of Honour lists his regiment as the King's Own Scottish Borderers.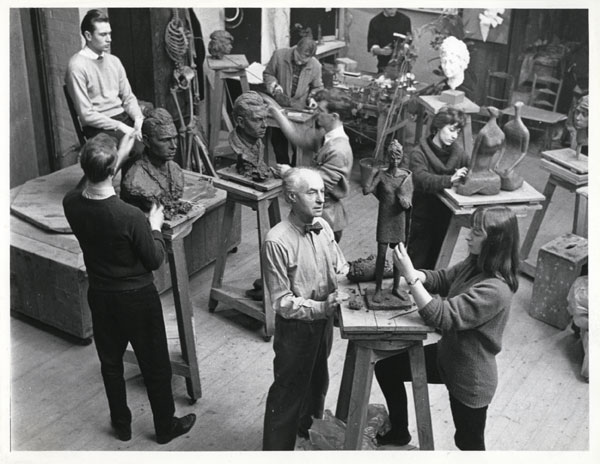 In his memoires 'Bronze in My Blood', German-born sculptor Benno Schotz describes a Saul 'Yaffe', one of only three other Jewish students who attended The Glasgow School of Art at the time. (Schotz himself was exempt from joining the forces because he was 'not yet a British subject', and was engaged in war work in the drawing office of John Brown's shipyards). On the outbreak of the war, Schotz writes, Yaffie won a poster competition to be displayed in Glasgow tramcars at the beginning of the 1914-18 war – his winning design depicted a woman with a child in her arms, fleeing from a fire behind her. While on leave from service, the young Saul told Schotz he had briefly been stationed in the same unit as Jewish American sculptor Jacob Epstein. This was most likely the 38th Battalion of the Royal Fusiliers, also known as 'the Jewish Legion', one of five Jewish battalions raised during WW1. 'He told me how incongruous it was', remembers Schotz, 'to See Epstein scrubbing the floor of their hut, with a large diamond ring on his finger' (Schotz, pg. 64).
After the armistice Saul returned briefly to Glasgow, before 'try[ing] his luck in Paris' (Schotz, pg. 64). It is around this time that Saul began to sign his work with the pseudonym 'Paul Jeffay'. In the 1920s Saul's father's business suffered greatly due to the post-war economic depression, and the family emigrated to Canada. Saul and his wife Estusia returned to the UK in the wake of the Second World War, setting up temporary home in Manchester. They returned to France after 1945, where it is possible they settled permanently.
Many thanks to the Scottish Jewish Archives, who assisted in this research.
Resources Used
Bronze in my Blood, by Benno Schotz (1981)
Education Scotland, The Jewish Community in Scotland
Wikipedia, History of the Jews in Scotland
Scottish Jewish Archives Centre, Glasgow's Jewish Community