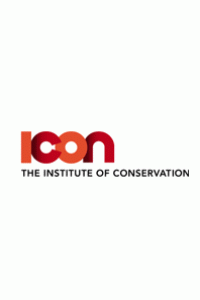 On Wednesday afternoon we welcomed a group of 23 ICON (The Institute of Conservation) Conference delegates to the School.
The ICON Conference is a triennial event, this year taking place at the University of Glasgow. This year's theme is "Positive Futures in an Uncertain World" and it's hoped the event will inspire conservation professionals and all those working in the increasingly challenging and uncertain circumstances of today's heritage sector. In light of funding cuts and staff losses, the conference will explore and debate how to respond in uncertain times.
Our group visited Charles Rennie Mackintosh's Hill House in Helensburgh in the morning, followed by a visit to the School in the afternoon, where they enjoyed a customised tour of the building exploring the intricacies of balancing the demands of conserving the Mackintosh Building with that of welcoming thousands of visitors each year and all the while continuing to function as a working art school. We then welcomed our visitors to the Archives and Collections Centre to view a selection of our varied holdings, including textiles from the Needlework Development Scheme; Mackintosh watercolours; architectural drawings by Eugene Bourdon; metalwork; and GSA student registers and ephemera relating to events at the School. The afternoon was rounded off with a visit to the Willow Tea Rooms, a Mackintosh building currently in dire need of conservation itself.
The conference is now almost over, but we do hope the conservators enjoyed their pre-conference visit to the School.
The conference programme is available here.