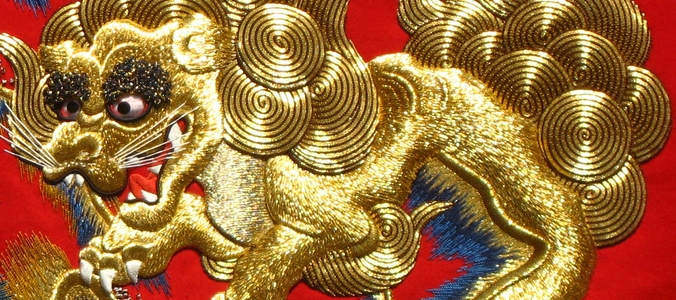 Glasgow Caledonian University will host a touring exhibition of the Embroiderers' Guild collection from 9th May-20th June 2013.
The Embroiderers' Guild collection includes c.11,000 catalogued items, comprising pieces spanning more than six centuries and many countries. Catalogued items also include designs, threads and needlework tools.
The beginnings of the collection saw embroideries, photographs, articles on embroidery and original designs accumulated for the purpose of distribution, in boxes, to members. They were called 'Model Boxes'. They were the forerunners of present day folios used by members and Guild branches for study, inspiration and learning. From the outset, the collection had a similar ethos to that of the Needlework Development Scheme, of which GSA Archives and Collections holds over 100 related textiles.
There is now a touring exhibition of over a hundred selected pieces from coptic times to the present day. The exhibition will also include the World's Longest Embroidery and 3000 postcard-sized images showing the life and times of the 200 plus countries recognised by the United Nations.
For more information visit the Embroiderers' Guild website.