Gillespie, Kidd & Coia's St Bride's Church in East Kilbride has scooped the third prize in the UK's Top 10 Best Modern Churches.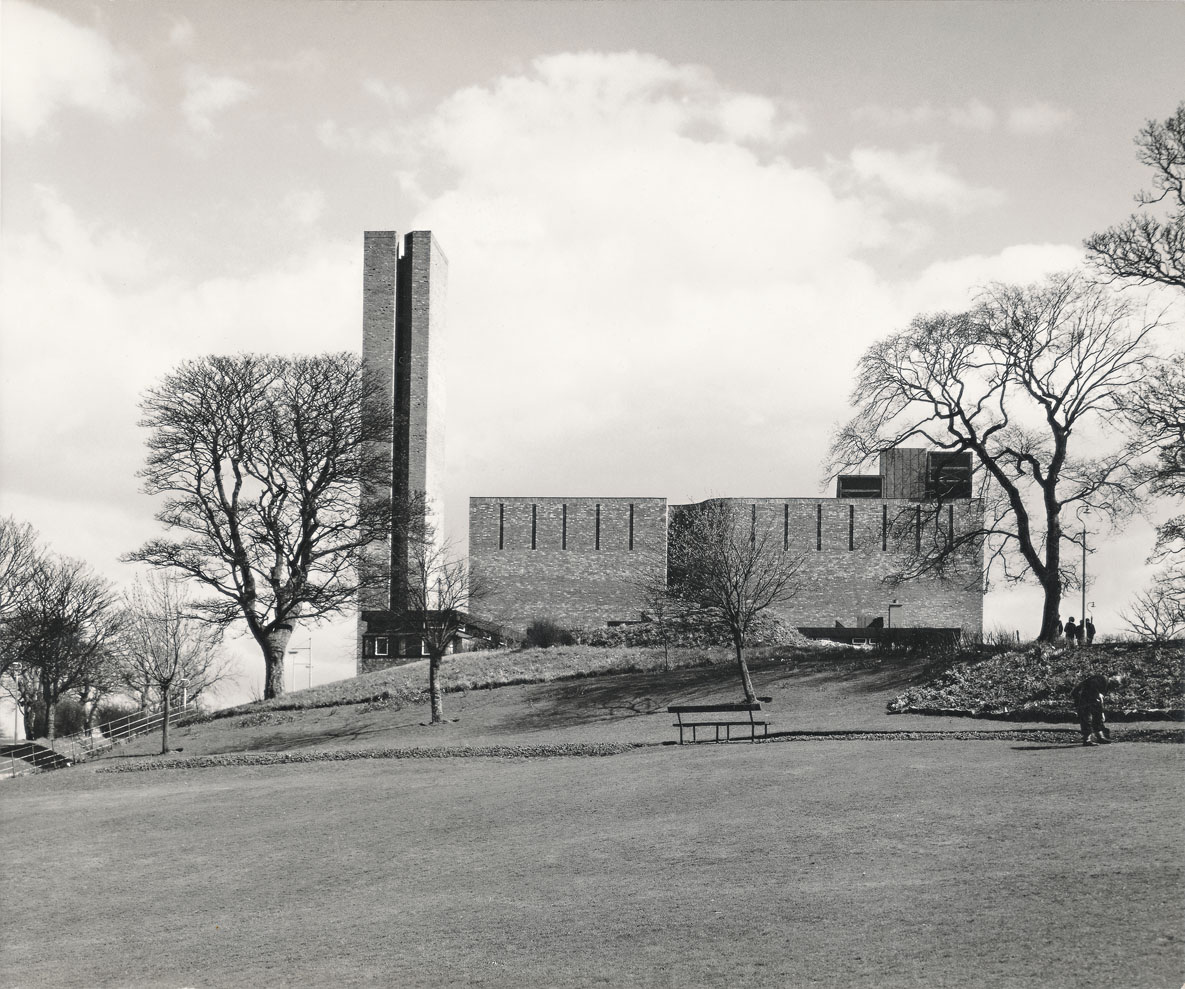 The Church of St Bride was the the first Roman Catholic Church to be built in the new town of East Kilbride, near Glasgow. The church which accommodates 700 to 800 people is prominently sited on a high bank overlooking Whitemoss Rd., between Laigh Common and Platthorn R.C. School.  In addition to the Church there are two sacristies, a presbytery for the parish priest and two curates and a 90 foot high campanile.  The group of buildings were designed to form a piazza bounded on one side by the tall Church entrance wall, the second side by the Sacristy link and on the third by the low presbytery. The remaining side is formed by the top of the bank and is partially screened by the long side of the tower. The plan of the Church is in the form of a broad rectangle, devoid of side aisles and apsidal end, with a freestanding side gallery under which are placed side chaple, confessional and baptistry. The church furnishings are simply conceived in timber of a rugged quality matching the timber finishings. The altars, pulpit and font are made of natural stone. As well as this new accolade, the Church has also received a Civic Trust Award.
The winners of 'The UK's Best Modern Churches' competition were announced at a ceremony held at Lambeth Palace on 7 November 2013. The competition was run by the National Churches Trust in association with the Ecclesiastical Architects and Surveyors Association (EASA) and the 20th Century Society. Over 200 churches were nominated for the competition by the public, parishes and architects, which was open to church buildings or significant extensions to an existing building from any Christian denomination in the United Kingdom which opened for worship after 1 January 1953. From a shortlist of 24 churches, judges selected the top 10 Best Modern Churches. These are:
1) St Paul's Church, Bow Common, London, E3 4AR by Robert Maguire & Keith Murray, 1960: Winner National Churches Trust Diamond Jubilee Award
2) St Mary's RC Church, Leyland, Lancashire, PR25 1PD by Jerzy Faczynski of Weightman and Bullen, 1964, Grade II Listed: Winner National Churches Trust Silver Award
3) St Bride's RC Church, East Kilbride, Lanarkshire, G74 1NN by Gillespie Kidd and Coia (Isi Metzstein and Andy Macmillan), 1964, Scottish Listing Category A: Winner National Churches Trust Bronze Award
4) Bishop Edward King Chapel, Ripon College, Cuddesdon, Oxford, OX44 9EX by Niall McLaughlin Architects, 2013
5) St Mark's Church, Broomhill, Sheffield, S10 2SE by George Pace, 1963 Grade II
6) St Francis Xavier RC Church, Falkirk, FK1 5AT by A R Conlin, 1961
7) Scargill Chapel, Skipton, Yorkshire, BD23 5HU by George Pace, 1960 Grade II*
8) St Paul the Apostle, Harringay, London, N4 1RW by Inskip & Jenkins, 1991
9) Kildrum Parish Church, Cumbernauld, G67 2JG by Reiach & Hall, 1965
10) St Paul's Church, Harlow, Essex, CM20 1LP  by Derrick Humphrys & Hurst, 1959 Grade II
10) SS Mary and Joseph RC Church, Poplar, London, E14 6EZ by Adrian Gilbert Scott, 1954
You can find out more about the competition and find out about the other entrants on the Best Modern Churches Award website. For more information about Gillespie, Kidd and Coia, take a look at our previous blog posts.