It was a sad day yesterday at the Archives and Collections when we said goodbye to our fantastic Project Assistant Fiona Hall. With the help of volunteers Kay, Maria, Emma and Lucy, Fiona has done an incredible job identifying and researching GSA students who stayed at the School and became involved in Home Front activities during the First World War. To mark Fiona's invaluable work, we'll hear from her about the Belgian Tryst in Fundraising on the Home Front: Part 2!
The Belgium Tryst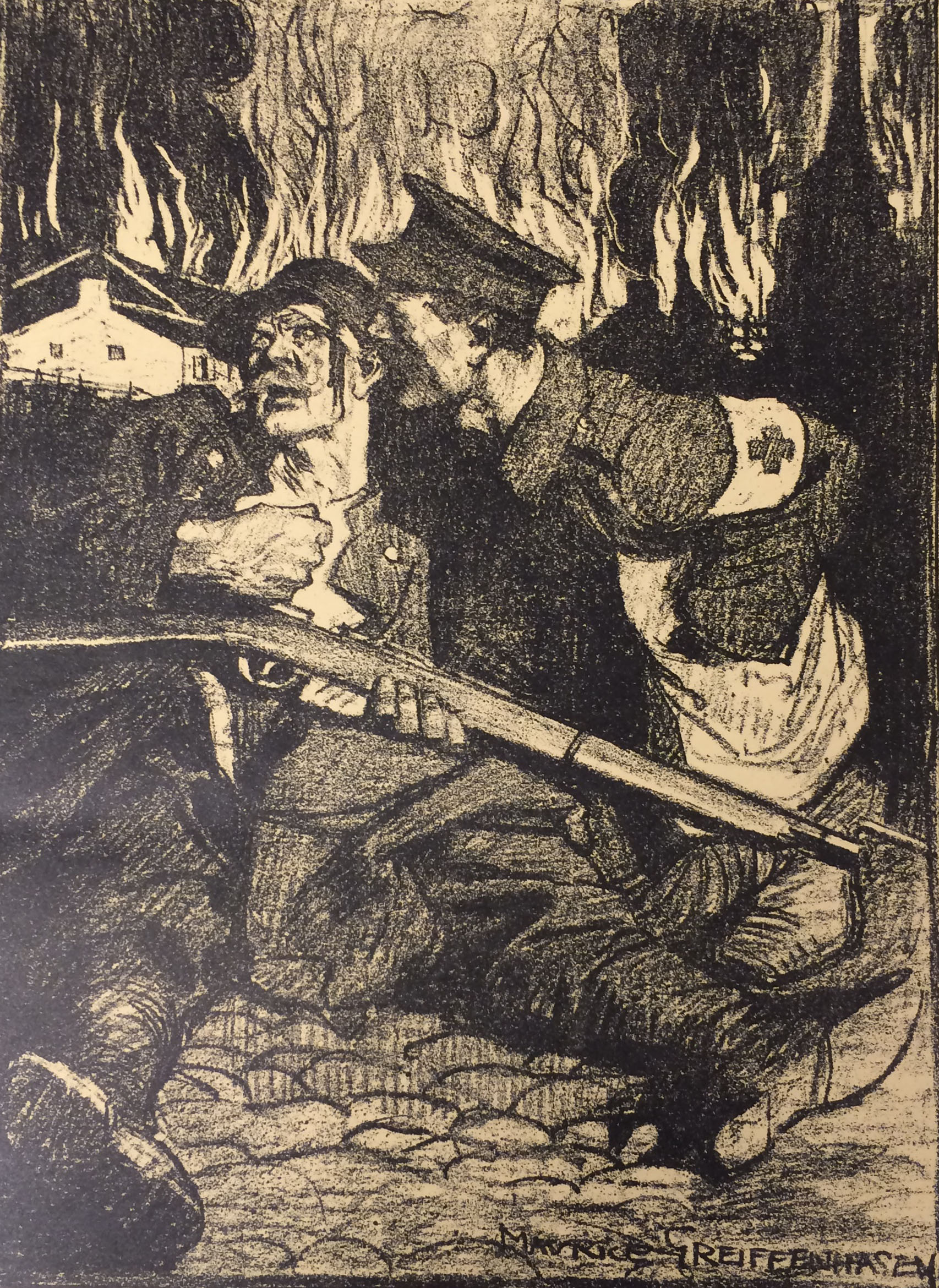 Taking the form of a two-day event held in the Mackintosh building to raise funds for the Belgian Relief Fund and the Scottish Branch of the British Red Cross Society, the Belgium Tryst was the first fundraising event that took place at the School during the 1914-18 period.
Why Belgian Relief Fund?
Following the outbreak of war in 1914 and Germany's invasion and subsequent occupation of Belgium, many Belgian families began to flee their war torn and damaged country to seek refuge in France, Holland and the United Kingdom. Approximately 250,000 Belgian Refugees called the United Kingdom home between 1914-19. Glasgow was the main 'processing' area in Scotland for refugees and the city and the surrounding area had between 8,000 – 10,000 refugees between the 1914-20 period.
The relief fund was established to ensure that individuals and families who remained in Belgium would receive money, but it also ensured that those who had sought refuge in the United Kingdom would be well looked after, although it is important to distinguish this Fund from the National War Refugees Committee. The Fund appealed for locals to look after Belgian families and GSA has a newspaper article that advertises the need for clothes, food, linen etc.
We know that upon arrival in Glasgow, Belgian Refugees were often greeted at Central Station by Red Cross members, church congregations and nurses. They were then processed and billeted to various locations in Glasgow and beyond – some would return to London and join military service.
Perhaps another reason for why GSA's two-day event was in aid of the Belgian Relief Fund was because of the School's connection to Belgium through Georges Marie Baltus. Baltus taught at the School but returned to Belgium in 1914 to defend his home town of St Trond. In a letter to the School, Baltus appeals for help, asking for donations to be sent and requests that some sort of fundraising event be held.
Regarding GSA's Belgian Connections, I found it particularly fascinating to discover that several Belgian student attended the School during this period. Several of them are listed as artists and I am very much looking forward to researching their stories/lives.
What is meant by a Tryst? We have in the box of material relating to the Belgium Tryst a copy of an address to the Lord Provost and here a Tryst is referred to as a Scottish word, and defined as meaning 'a meeting with a purpose'.
Initially two of the School's youngest female students came up with the idea of a cake and candy stall but it was soon realised that something much bigger was required. What took place instead was a two day event held in the Mackintosh building on the 28th and 29th of January 1915. The event had the same programme for each day – there was a Belgium Market, a futurist exhibition, and a play written by Francis Newbery referred to as 'The Mummers' play in which students performed. One such student was William McCance a well-known artist who was also a conscientious objector. Student Agnes Miller Parker, who would later go onto marry McCance, also took part in the events.
The Tryst also included a lightning artist, a palmist, a decorative arts stall, and a Winter Garden tea room that was staffed by students with supplies provided by Kate Cranston. There were 8 stalls in total that were convened and staffed by students, among them Grace Melvin, a former student and member of staff in the Embroidery department. There was also a shooting range that is advised as 'being good practice for the embryonic soldiers in attendance'. A highlight of the Tryst for me would have definitely been the Chamber of Horrors. A little note in the archive lists the material needed for the Chamber of Horrors, as well as the names of cast members.
Finally, there was a picture subscription and sale event; we know that there were 105 pictures given to various members of the public and other artists. This alone raised 223 pounds and one shilling, and two pictures are noted as having sold for 20 and 30 pounds each. The sale included works of art by some well-known artists including 'Glasgow Girls' such as Ann Macbeth, and staff members including Robert Anning Bell, and Maurice Grieffenhagen.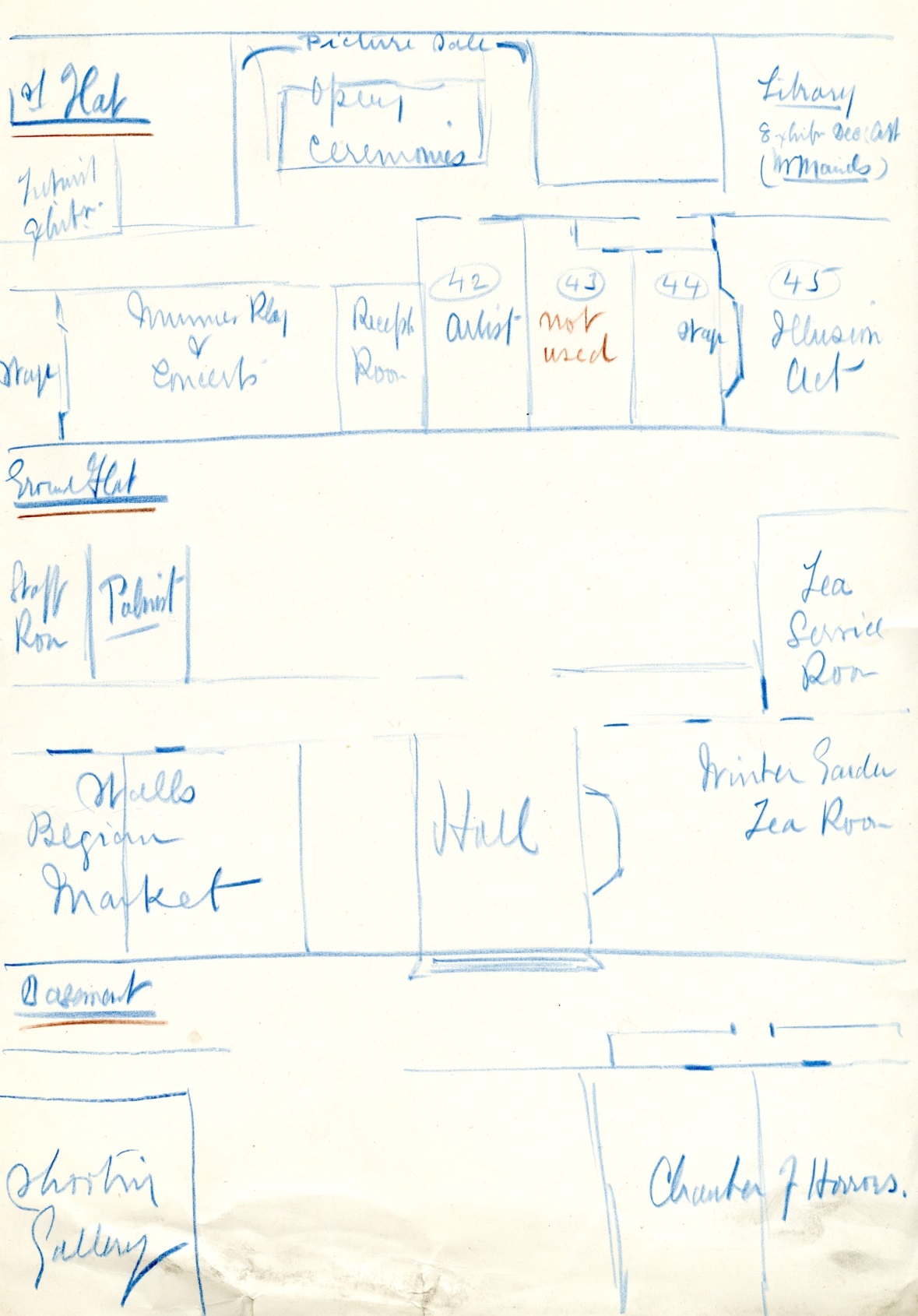 What is evident is that art, and the arts in general were at the heart of this fundraising event- creativity was key. As was the enthusiasm of the staff and students to help raise money, and more importantly raise the morale of the School. By the time of the Tryst about 150 students and several staff members were off to the front, and by the end of the 1913-14 session there were 200.
The tryst was very popular and over the two days 2,682 people attended. In total, funds raised amounted to £849.10 shillings and 6 pence which was split equally between the Belgian Relief Fund and the Scottish Red Cross Society.
I have loved having the opportunity to explore and uncover another aspect of the School's history – I think it would be fantastic to one day recreate this event!