Volunteer Ailsa Sutcliffe continues with her story about John Charles Lamont listed on the WWI Roll of Honour, with more information about his friend Robert Sivell.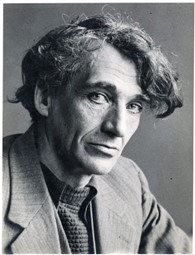 Robert Sivell was born in Paisley in 1888. His path into the Glasgow School of Art was not plain sailing. It was only after several years of hard labour in the Clydeside ship yards that he finally enrolled to The Glasgow School of Art in 1908 but lacked the means to study full time, working long hours as an apprentice engineer to supplement his studies and fund his brother's education, eventually having to leave the school in 1910 due to monetary struggles. Upon the outbreak of war in 1914 he utilised his engineering skills in a variety of positions before joining the Merchant Navy in 1916. Despite his war time servitude he does not appear on the Roll of Honour, one of many men curiously and inexplicably omitted. Haig Gordon states in his book 'Tales of the Kirkcudbright Artists' that Sivell's war time experience meant he was accustomed to handling a gun and, when money was low, would poach hares in the local woods, only sparing rabbits as to not upset his young daughter Elspeth who had a soft spot for the creatures.
Sivell's financial struggles followed him for most of his life and came to a bleak and desperate head when his wife, Isobel, fell ill. Benno Schotz, a friend and Glasgow School of Art peer, cites in his autobiography that 'Sivell pocketed his pride, for he was sorely in need, and paid a visit to a Mr. James Begg, who was then President of Paisley Art Institute. He made him buy a seascape he had painted in Italy, showing the cross currents at Capri. He brought back the notes and showered them on to Isobel's bed. These were still his days of trial and tension, and it may have helped to stimulate his resentment and indignation at life's vagaries, and to set his face into a mould of suffering, with eyes that shone with a brilliant fire, ever ready to defend his artistic stand.' (Haig, Gordon, Tales of the Kirkcudbright Artists p.71) His financial pressures were, thankfully, relieved upon accepting a senior teaching role at Gray's School of Art, a position he maintained between 1942 and 1954. Far from his fond Kirkcudbright, he returned to The Hollow he had built at any opportunity he could, eventually returning to permanently reside. He died there in 1958 at the age of 70.
The next and final part of John Lamont's story will be released next week in 'John Charles Lamont and the GSA WWI Roll of Honour – Part 3: The Friendship.