One of the new features in our online catalogue is an area dedicated to the School's history. You can browse our images by date and find out more about what the School was like during each of the six periods covered. These include 1845-1890 (the early years of the School), 1890-1918 (a time when the Glasgow Style flourished in the city), 1919-1950 (when politics, economics and art greatly affected the School), 1951-1970 (a time of new beginnings for the School and for post-war Glasgow in general), 1971-1990 (when Glasgow's art scene was re-imagined in response to the city's industrial decline) and post 1990 (a period which saw Glasgow establish itself as a cultural centre and recognised as European City of Culture).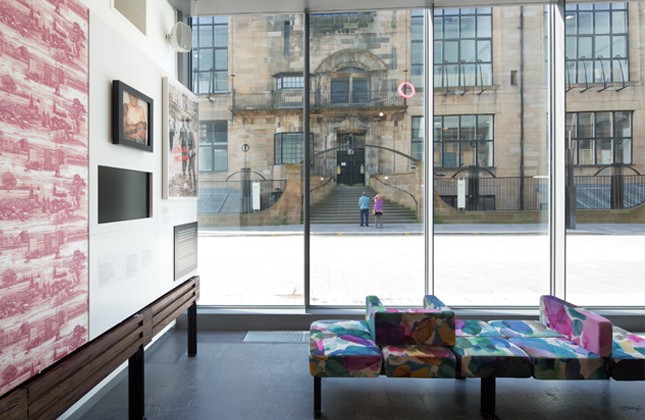 Theses periods reflect the timeline of the School's history charted in the recently opened Window on Mackintosh visitor centre in the Reid Building, which includes many items from our archives and collections. The visitor centre is free to browse around, and from the GSA shop next door you book a Mackintosh at the GSA tour.
As part of the online catalogue project, you might have noticed that we've also completely overhauled and enhanced our website. This includes several case studies about how our wide-ranging visitors (from architects, curators and designers to students, family historians and creative practitioners) have used the Archives and Collections in their research.
You'll also find a new set of subject-specific Resource Guides full of ideas about where to look for archive resources related to your chosen subject. There's also a handy introduction to using archives: believe me, it's not that scary!
Another enhancement is the reformatting of this very blog in keeping with the new website – remember to subscribe for updates.
So as well as being the home of our new online catalogue, we'll hope you'll find our new website to be a useful resource in its own right!