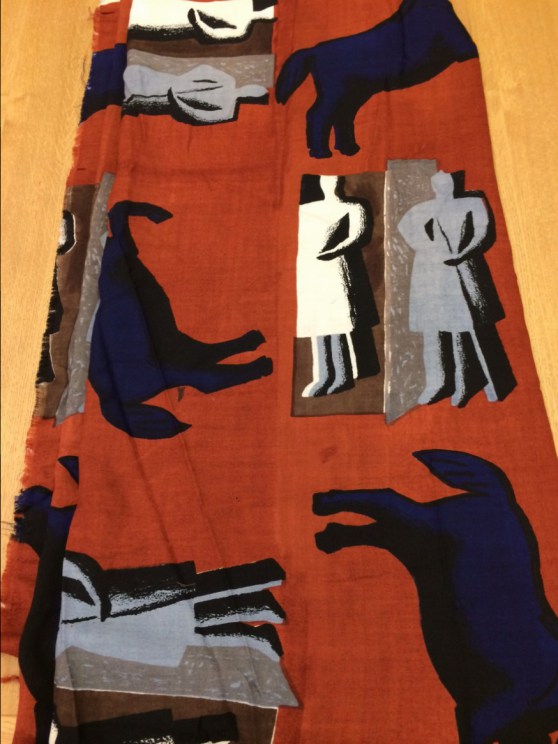 We have covered paper and are now onto our wonderful textile collection. The textile collection spans from the 16th century till present day and contains a diverse selection of works including woven samples from Donald Brothers Ltd., work by Robert Stewart, Kath Whyte, Fraser Taylor and many more. These collections suffered no direct damage from the fire, but some were exposed to water as the blaze was extinguished.
Like any of the collections that were touched by water (or had the potential to be) the textiles were quickly removed from their original store. As would be expected all archive materials are packaged and wrapped in archival proof materials (in other words acid free packaging). In this case the textiles were wrapped in tyvec or boxed in acid free boxes that took the brunt of any water exposure.
Once removed from their original store these were then transferred to the Reid building so that the textiles could be dried, aired and re-packaged after being examined by conservators. While of course this incident was extremely unfortunate, it has afforded a unique opportunity to see all the textiles laid out at once.
Over the last couple of months these textiles have been dried using a combination of fans and dehumidifiers and were periodically examined by textile conservators. To these conservators, for the generous offer of their time and assistance we would like to thank volunteers from the:
-University of Glasgow, staff and students
-National Museum of Scotland
-and independent conservators
All of who advised on the state and repackaging of our textiles collections.
Through the work of such volunteers these textiles have now been repackaged and moved off site for storage.
Next week we will be moving on to the plaster casts.