The Attic Archive was a small independent archive with its origins in the 1970s. Since then it has collected original artworks, mail art, correspondence, video and audio cassettes, photographs, books, magazines, catalogues, postcards, posters, packaging and ephemera.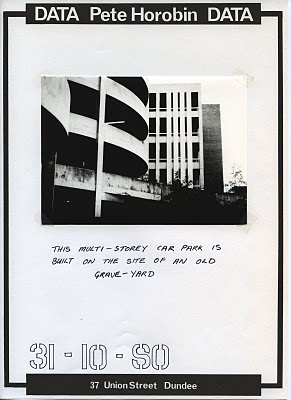 Since 1978 there have been three central projects, each with its own archive:
DATA (Daily Action TIme Archive) from 1980-1989

Marshall Anderson, 1990-1999

Peter Haining 2000-2009
Peter Haining is the archive's curator, and also the latest incarnation of the artist whose work forms the basis for the archive. Indeed the artist formerly known as Pete Horobin, Marshall Anderson and Peter Haining continues his 10-yearly changes of identity and is now called Aitch, operating as Ae Phor based in Law's Close, Kirkcaldy.
The Attic itself was sold last year, Its many varied parts are now relocated in numerous museums and collections as follows –
The Museum of Childhood, Edinburgh
The Museum of Communications, Burntisland, Fife
Kirkcaldy Museum & Art Gallery, Fife
McManus Museum & Art Gallery, Dundee
Central Library, Dundee
Dundee University Archives
Artpool, Budapest
The Scottish National Gallery of Modern Art, Edinburgh
The National Library of Scotland, Edinburgh
The National Irish Visual Art Library, Dublin
Though no longer in existence, various projects continue to take place, ensuring The Attic Archive's activities are documented as a digital archive and that the archive as art form is ongoing.