Some items from our Mackintosh collection are currently on loan to the Walker Art Gallery in Liverpool for the 'Making the Glasgow style' exhibition until August 2019.  This provides a great opportunity for us to tell you about the process we go through to loan material to exhibitions.  Archives and Collections Manager Susannah Waters and Archive Support Assistant Kay Bryant described the loan process…
The current exhibition at the Walker, organised by Glasgow Museums, involves the loan of 13 items by Charles Rennie Mackintosh, Frances Macdonald and Ann Macbeth from GSA's collection, and gives a unique opportunity for the work of these famous alumni to travel around the country and be seen alongside material from other organisations.  Frances and her husband Herbert MacNair lived in Liverpool where he taught, and strong trade links exist between Glasgow and Liverpool, so the loan of these items to Liverpool seems a natural connection.
Mackintosh's enduring appeal…
Exhibitions which involve Mackintosh's work are always popular, and hence loans are often large.  In 2018, the 'Charles Rennie Mackintosh Making the Glasgow Style' at Kelvingrove Art Gallery and Museum formed part of the Mackintosh 150 celebrations.  In 1996 an exhibition on Charles Rennie Mackintosh was shown at McLellan Galleries and onwards to New York, Chicago and Los Angeles.  This was accompanied by a publication, 'Charles Rennie Mackintosh' edited by Wendy Kaplan.  Material has also been loaned for a Japanese exhibition in recent years.
The material loaned here is a subset of the material which was exhibited at Kelvingrove in 2018.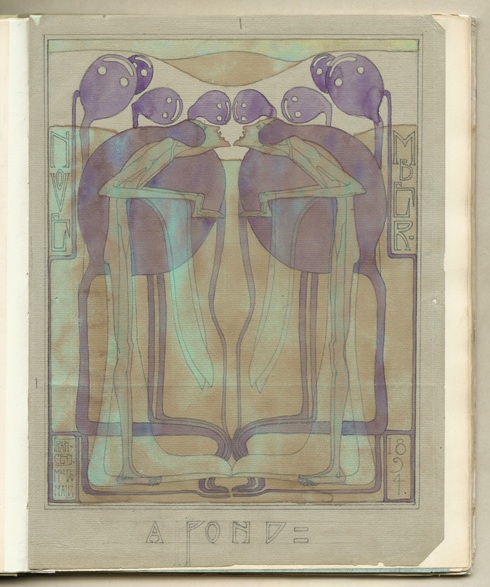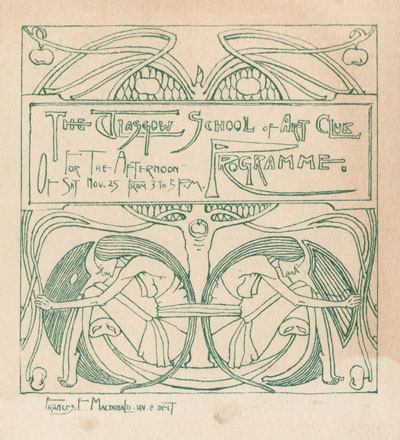 A Pond (MC/A/2) and Design for a Glasgow School of Art Club 'Programme' (MC/A/18) are just two of the items being exhibited at the Walker Art Gallery
The processes we are following for this exhibition are the same for all exhibitions we lend for, following our Loan for Exhibition Policy.
The support work behind the scenes starts well before the exhibition itself, and involves many stages and staff…
Work starts many months prior to the exhibition, where organisations contact us to say they wish to borrow items.  Most organisations already have a good idea of which items they would like us to loan, and six months prior to the event we ask for a formal request for items, plus a synopsis of the exhibition and details of the date and the venue.
A facilities report which addresses the venue (including security, environmental conditions, loading bay options) is also supplied by the borrower.  This is done to the UK Registrars Group Standard and, along with the other loan request information, needs to be approved by GSA's Museum and Archives Committee.
Insurance also needs to be arranged by the borrowing organisation, based on values which we provide to the borrowers, and this can be done via the Government Indemnity Scheme or via private insurance.  Loan of items also impacts on our own insurance and so we must inform our own insurers when items are not in our custody.
Transport by an art handler and the crates for transportation also need to be arranged by the borrowers and approved by ourselves.  Items will be packed into crates and the packing and loading will be overseen by us.  Unpacking and install of the loan items may be overseen by us, but in many cases the borrowing venue will carry this out.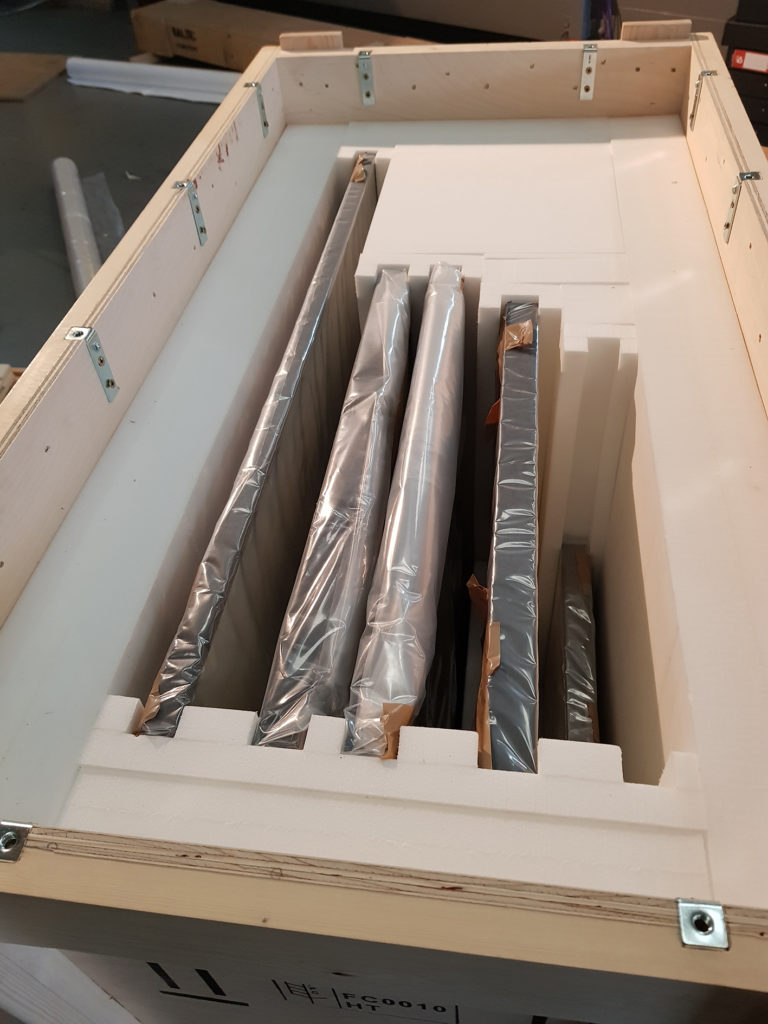 Items are stowed in bespoke packaging to ensure their safe transit to the loan organisation
How to decide what we can loan….
We generally loan items which are of educational value.  However, we need to take into account how often an item has previously been toured, both from the perspective of ensuring new material is available to the public and also taking into account the conservation and preservation needs of the item.  We don't want to expose the same items to excessive light and handling too often.  Internal demand on the items by GSA will also take precedence over loans.  Dependent on these factors, we may suggest alternative objects.
Steps to be taken for each item…
Each object requires a condition report, which is like an object passport, travelling with the items as they go.  As the name suggests, this notes the general condition of the item, including existing damage with supporting photographs – this is checked before and after the outward and inward journeys, and at installation and de-installation of the exhibition.
Measurement of items is another important task, to fulfil a number of purposes.  Dimensions from the catalogue inform framing of pictures, with entries often recording mounted and un-mounted dimensions.  It is also necessary to have item measurements for packaging, to ensure a close fit so no damage occurs during transit.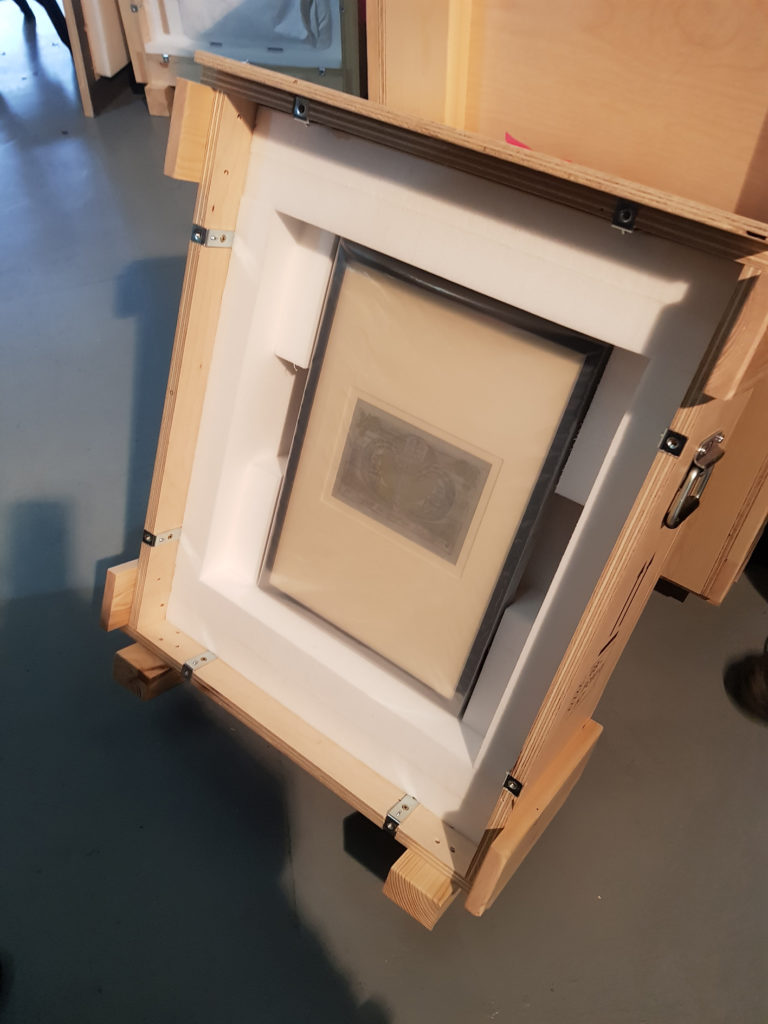 Packaging must be tight to the item to prevent damage in transit
The measurements are also used when considering display of the loaned items.  Some objects will require bespoke mounts, or to be displayed at certain angles or orientations.  Items might also need to be re-framed, to match others in the exhibition.  Non-reflective, ultraviolet filtration glass in frames is best for viewing and preserving pictures and textiles.
Some items need to be considered from a safety perspective, if they are large, heavy or fragile.   Consideration must also be given to minimise the vibration experienced by the items as visitors are walking past, to minimise damage.
Paper trail…
Once all the steps above have been taken and the arrangements are in place, a loan agreement is generated covering the reference numbers of the items loaned, artists, dimensions, media and other details.
At each stage of the process, it is vitally important that version control of the documents involved is maintained.  Signatures must be recorded at each stage of the process to provide traceability. Details such as measurements and insurance information have to be precise and accurate, and a keen eye for detail is essential for staff involved in the process. Within a small team such as that at GSA, staff will be undertaking many aspects of the process. This diligence continues once the exhibition has finished and the items are packaged and returned to us, in the reverse of the above process.
Hopefully the current exhibition will appeal to a new, wider audience, thanks to the work which has been done by the GSA A&C team.