In this blog post we'll hear from Nada Al-Naemyi who is undertaking a work placement with us as part of her postgraduate Museum Studies course at The University of Glasgow. Nada is a qualified architect and also holds a PhD in architecture and climate change.
For my work placement at The Glasgow School of Art Archives and Collections, I have been cataloguing a collection of architectural drawings created by Prof. Christopher Platt while he was a student at The Mackintosh School of Architecture from 1974-1981. It is a large collection including architectural detail drawings, freehand sketches and photographs taken by the architect throughout his studies at GSA.
Recently, Prof. Chris Platt donated his student papers to GSA's Archives and Collections in order to make them accessible to GSA architectural students and other public audiences. Despite the fact that this collection is large, it had been well organised and retained the original order showing the architect's efforts to keep his student papers in good condition. The collection is valuable for both architectural students and researchers. It shows the architect's style from his early years as a student at the MSA prior to his career as a professional architect and becoming Head of The Mackintosh School of Architecture.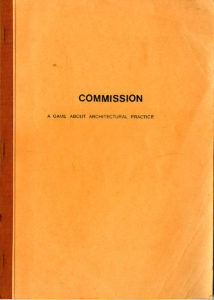 As a student, Chris Platt spent his first three years studying architecture as a part time student while living and working in Greenock, then he finished his fourth and fifth years studying full time. In his fourth year, Platt, along with a fellow student, preferred to design and write about an architectural boardgame instead of write a 10,000 words dissertation.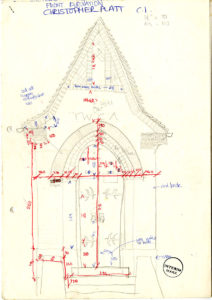 A few weeks ago, Chris Platt visited the Archives and Collections to have a look at the draft catalogue of his collection and talk to me about his work. I personally was delighted to meet Prof. Platt and have a chat with him regarding the material I have been working on.
Platt was teaching and writing alongside his private practice. He believes that "The discipline of research is embedded in the creative architectural process as well as in the realisation process of building buildings". If we look back to his student papers, it is easy to see this even in his student work. Starting from first year projects, including the study of traditional buildings in Glasgow and vernacular buildings from Scottish rural areas showed the progress of his understanding of traditional buildings and their harmony with the surrounding environment. Several freehand sketches of some of Glasgow's building facades, like Glasgow Cathedral, tenements, and multi-storey flats represent the process of learning from tradition. In his third-year material related to a project to study a family house in the style of Richard Meier, Platt did an analysis study aimed at addressing the priorities and the main design issues used in some of Meier's private and public buildings. It is the practice of researching that would inspired students to be creative by learning from pioneers.
Either learning from tradition or learning from pioneers, Platt's student papers come with his professional's vision to "explore aspects of tradition, history and memory to innovate new contemporary architecture". For this reason, this collection is of special significance for both academics and practitioners. The collection is almost fully catalogued and will soon be available to view online Here. As part of my project I've also been digitising a sample of the material to help give users a flavour of the collection. The resulting images will also soon be available online.