Kay Bryant reveals part two of her discovery about the connection between previous GSA student Annie Osbourne Campbell and political activist Constance Markievicz!
While the Irish Citizens Army defended the demonstrating workers from the police, Constance distributed food, paid for from her own pocket, requiring her to take out loans and sell her jewellery to meet the costs. She was deeply inspired by James Connolly and designed the Citizen Army uniform and composed its anthem.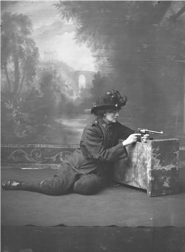 In 1916, with the ICA, Constance took part in the Easter Rising. Sentenced to death for her role, this was commuted to penal servitude for life, "solely and only on account of her sex". In fact she was released 13 months later along with others involved in the Rising as part of a general amnesty, but by 1918 she was in jail again for her part in anti-conscription activities. In the general election of the same year, she won the constituency of Dublin St Patricks, one of 73 Sinn Féin MPs, and became the first woman to be elected to the House of Commons, though in line with her party's abstentionist policy she did not take her seat.
Did Annie Osborne Campbell meet this firebrand or her equally feisty sister Eva? Given the age and position in the household of the sitter, it seems unlikely that "Nanny" travelled to Glasgow for the portrait, so it was presumably painted at Lissadell. As it was in the family collection, was it commissioned by one of the Gore Booths, or perhaps given to them as a gift by the artist? It is little mysteries like this that make our work researching the lives of the GSoA students during WW1 so fascinating and so frustrating! I can't find anything else about Annie that would definitely link her to the Gore Booths, but feel sure there is more to this story.
The limited information I have gleaned about Annie's background doesn't provide many clues. Her early life is unclear, though she was probably born in Kendal, Westmorland. For her first two years at Art School, her home address was 970 Sauchiehall Street. The 1912 Post Office Street directory records that this was the address of the Hillhead Nursing Institution and the home of its Lady Superintendant, Mrs Campbell, who I am guessing was Annie's mother. For the next two years, Annie's registration details give 89 Marlborough Avenue as her home address and for her last four years (including the 1917-18 session, where her entry was scored through and marked 'not coming') her address was the Smithson Poorhouse and Assylum, Greenock.
Unfortunately, most of the Smithson records have been lost, but 'Greenock Parochial Assylum Transaction Book 1913-1921' survived, recording, "Admissions, Discharges, Removals, Deaths, Attendants Leaving, Engaged and etc". This has an entry made at 2.45pm on 29 June, 1914, marking the arrival of Annie O Campbell who, 'entered the service' as Matron, and who would start work on 8 July. At this time, nursing was still unregulated and training courses varied hugely in content in quality – really anyone could claim to be a nurse. The influx of 'volunteer nurses' or VADs (Voluntary Aid Detachment nurses) as a result of the war seriously worried some senior hospital nurses – some of the VADs had as little as two weeks first aid training. In an effort to ensure consistency, the Royal College of Nursing was set up in 1916 and put pressure on the Government to introduce the The Nurses Registration Act of 1919, which required all nurses to register with the General Nursing Council. Thanks to this act, we know that Mrs Annie O Campbell (née Paterson), Matron at Smithson Assylum and Poor House in Greenock, became RCN no. 15606 in 1919 and that she had trained at the Royal Infirmary in Glasgow, receiving her nursing certificate in 1894. It was interesting to find that her maiden name was Paterson as one of the three men recorded as living at 89 Marlborough Avenue was Rev. Robert Paterson, possibly Annie's grandfather or uncle, which would explain her stay there.
Knowing about where Annie lived as a student and something about her mothers work is all interesting background, but doesn't shed any light on her character or political views.  We do know that she was President of the GSA Women's Common Room for the 1915-16 session and then again the following year, so can assume she was an organiser and had the respect of her peers. Could she have come into contact with Constance or maybe Eva Gore Booth? Was she perhaps involved in the suffrage movement or the Independent Labour Party (ILP)? Membership of either movement would certainly mean she was in their ambit, and quite likely given what was happening in Glasgow at the time. Students from GSA helped embroider the women's suffrage banners designed by Head of Needlework, Ann MacBeth – was Annie one of them? Or perhaps she was part of the massive Peace Demonstration organised by the ILP on Glasgow Green in August 1914, just after war was declared.  I'm sure that these activities would be hot topics for discussion in the Student Common Room at the time.  Maybe the contact with Lissadell had no political link at all and was an introduction via her tutor, Allan D Mainds, or another member of GSA staff…. or was the sitter simply a relative of the painter? We may never know how Annie's picture of  "Nanny" came to be, but what a great connection to such a fascinating family.
Resources Used
The Glasgow School of Art Student Registers (GSAA/REG/2)