Today we're thrilled to announce the launch of a new website and online catalogue for our holdings.
This is an exciting step for the Archives and Collections. By making our collections more accessible online, we hope to promote our magnificent holdings and facilitate the use of our archives and museum objects by both GSA staff and students as well as external users for the purposes of learning, teaching and research. This project has been kindly supported by Museums Galleries Scotland.

Our main aim has been to make the catalogue as user-friendly as possible. We understand that academic users generally require detailed descriptions and information on, for example, how access to originals, copies and copyright, and in that sense the catalogue is still very traditional. However we are also aware that creative practitioners, who make up a significant proportion of our users, really appreciate the ability to browse and quite often rely on serendipity to find inspiration for their work, therefore, wherever possible, we have tried to include images alongside records, opening up a treasure trove of beautiful items to the public.
To browse images of our holdings, simply click on one of the 8 categories on our homepage.
Alternatively you can also search by keyword on our catalogue.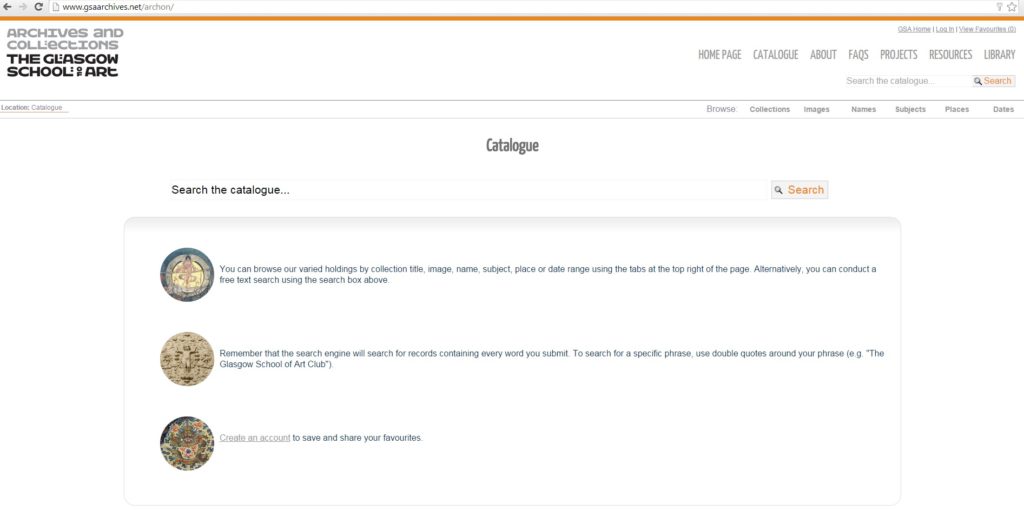 Our new website also includes user case studies and new subject-based archive resource guides, as well as a brand new format for our blog, so please remember to subscribe for updates.
As a result of the fire which occurred in the Mackintosh Building earlier this year, physical access to our collections is limited and we are sadly currently unable to welcome researchers to our searchroom, so providing virtual access to our collections has become even more vital at this time.
We'll keep you updated on our progress and will be posting all week about the new features of the website and online catalogue, so stay tuned. Happy browsing!