Polly Christie

MA Electronic Communication & Publishing, University College London
Project Lead, Archives & Collections
• 0141 566 1484
• p.christie@gsa.ac.uk
Polly studied languages as an undergraduate and completed her Masters at the School of Library, Archive & Information Science, UCL in 2000. Since then Polly has worked in the arts sector, promoting the access and use of art and archive collections for teaching, learning and research, both to academic and general audiences. She was a founder member of the Visual Arts Data Service, becoming Director in 2007; she established an Image Bank and then the Digitisation Unit for the University for the Creative Arts in 2009 and 2011 respectively, and then moved to Tate in 2012 to manage the Transforming Tate Britain: Archives & Access project until February 2015.
Polly has lead on the Archives & Collections Recovery Project over the last 6 years, overseeing a programme of conservation, digitisation, collection management and collection development work. She is also the lead on the Mac(k)cessibility Project. She is now focusing on Engagement, through our user services, loans, exhibitions and display activities. Please contact Polly if you have any questions relating to this work.
Cat Doyle

PG Cert Learning and Teaching in the Creative Disciplines, The Glasgow School of Art
BDes (Hons) Jewellery and Metal Design, Duncan of Jordanstone College of Art
Archives and Collections Assistant
• 0141 566 1418
• c.doyle@gsa.ac.uk
Coming from an art school background, Cat has an interest in how archives and museum collections can inspire creative practitioners. She first explored this interest during a Skills for the Future traineeship as part of Scottish Council on Archives' Opening Up Scotland's Archives project which was completed in 2016. Since then, Cat has continued to explore this interest in her role as Archives and Collections Assistant through designing, developing and delivering learning and engagement workshops tailored towards creative audiences.
Since 2017, Cat has worked as Archives and Collections Assistant alongside colleague Jennifer Lightbody. Both are the first point of contact for enquiries related to the diverse material that GSA Archives and Collections hold. Please contact Cat if you have any questions about our holdings or would like to make an appointment to visit.
Michelle Kaye
MA (Hons) History of Art and Slavonic Studies, The University of Glasgow
Collections Development Officer
• 0141 566 1104
• m.kaye@gsa.ac.uk
Michelle graduated with a first class honours degree in History of Art and Slavonic Studies from The University of Glasgow in 2006. With a personal interest in Art Nouveau and Glasgow Style architecture, furniture and interiors, she joined The Glasgow School of Art as Archives and Collections Assistant in 2012, having previously worked in various museum and archive roles at The National Trust for Scotland and The University of Glasgow, one of which was as Project Assistant for the Stoddard-Templeton Corporate and Design Archive, the archive of one of the world's most successful carpet manufacturers. In 2014, as Archives and Collections Project Officer, she developed and managed a project to create an online catalogue for GSA's archives and collections.
A major fire in the School's Mackintosh Building in May 2014 resulted in the loss of parts of the School's built heritage, art and furniture holdings and damage to some of its paper based archives and textile collections. During the last 6 years a programme of collections management and collection development work took place to stabilise and rebuild GSA's Archives and Collections. Michelle's role was to oversee the cataloguing, documentation, digitisation, conservation and repackaging of GSA's holdings, implementing new procedures where necessary.
Michelle continues to oversee these activities, and now also manages the accession of new material into GSA's collections. Please contact her if you would like to donate something to us.
Michelle also manages a team of volunteers who support associated activities and supervises the A&C's student work placements and internships. Please get in touch with her if you are interested in volunteering or undertaking a work placement at The Glasgow School of Art's Archives and Collections.
MSc Information Management and Preservation, University of Glasgow
MSci (Hons) Mathematics and Physics, University of Glasgow
Archives and Collections Assistant
• 0141 566 1418
• j.lightbody@gsa.ac.uk
Jennifer graduated from the University of Glasgow in 1998.  She spent nearly 18 years working as an engineer in the defence industry, carrying out both technical and project management work in the design of quiet ships, before making a career change into archiving.
She undertook a year's Skills for the Future traineeship in 2016-17, spending six months at each of Glasgow City Archives and GSA Archives, focussing on outreach and engagement.  She then returned to study for an MSc at University of Glasgow, where her dissertation addressed how to promote shipbuilding collections in Scotland.
As Archives and Collections Assistant until December 2019, Jennifer is based in the reading room hosting visitors and groups with Cat, but also focusses on processing image requests and promoting the collections via social media (Instagram, Twitter and Facebook).  In addition, she has been involved in the textile digitisation project, working with student volunteers rolling the textiles after photography.  You can keep up to date with what Jennifer is working on via our blog.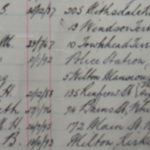 Susannah Waters
MA (Hons) MARM RMARA AFHEA
Archives and Collections Manager
• 0141 353 4592
• s.waters@gsa.ac.uk
Susannah manages the Archives and Collections service which comprises visitor services, collection management, and outreach & engagement work.
She studied History of Art at the University of Glasgow before completing a Masters in Archives and Records Management at the University of Liverpool. She is also a registered member of the Archives and Records Association and an Associate Fellow of the Higher Education Academy.
Susannah is particularly interested in the use of archives by creative practitioners and the role of historical sources in higher education. She has worked on a number of exhibitions, seminars and workshops relating to the School's historical collections and has written articles for The Journal of the Scottish Records Association, The Journal of the Society of Archivists and the Art Libraries Journal.
Please contact Susannah if you would like to donate something to our archives, if you have an in-depth enquiry about GSA's history, or if you are interested in working with our archives as part of a collaborative and/or creative project.