We are pleased to say that some of our alphabetical student registers are now available to view online. They have been digitised so you can extract information about individual students and see the original handwriting of the different registrars.
The registers are organised alphabetically by student surname for each year and give the following information:
Entries for each letter are given over a time range so the first register GSAA/REG/2/1 has entries for surnames beginning with A for each year from 1881/82 to 1891/92 inclusive, then those beginning with B for that date range, and so on.
In general, entries are alphabetical within each year by surname, but there are often some entries at the end of each list which are out of order. These may have been entries which were added later, so if you can't find the person you're looking for where you would expect, check the names at the end of the list.
Occasionally, some lists are NOT alphabetical for a given year within a specific letter, so you will need to check the whole list for that year, for a given letter.
There are sometimes blank pages between the letters so if you are moving on page by page, don't be surprised to see pages with no entries.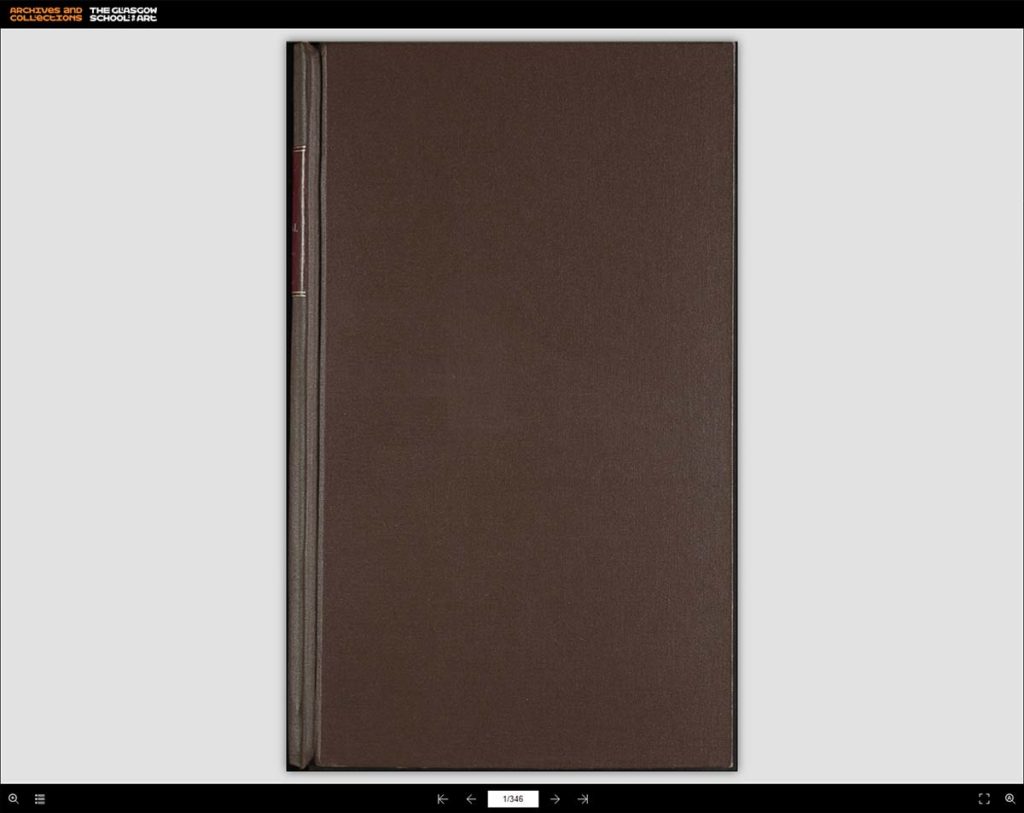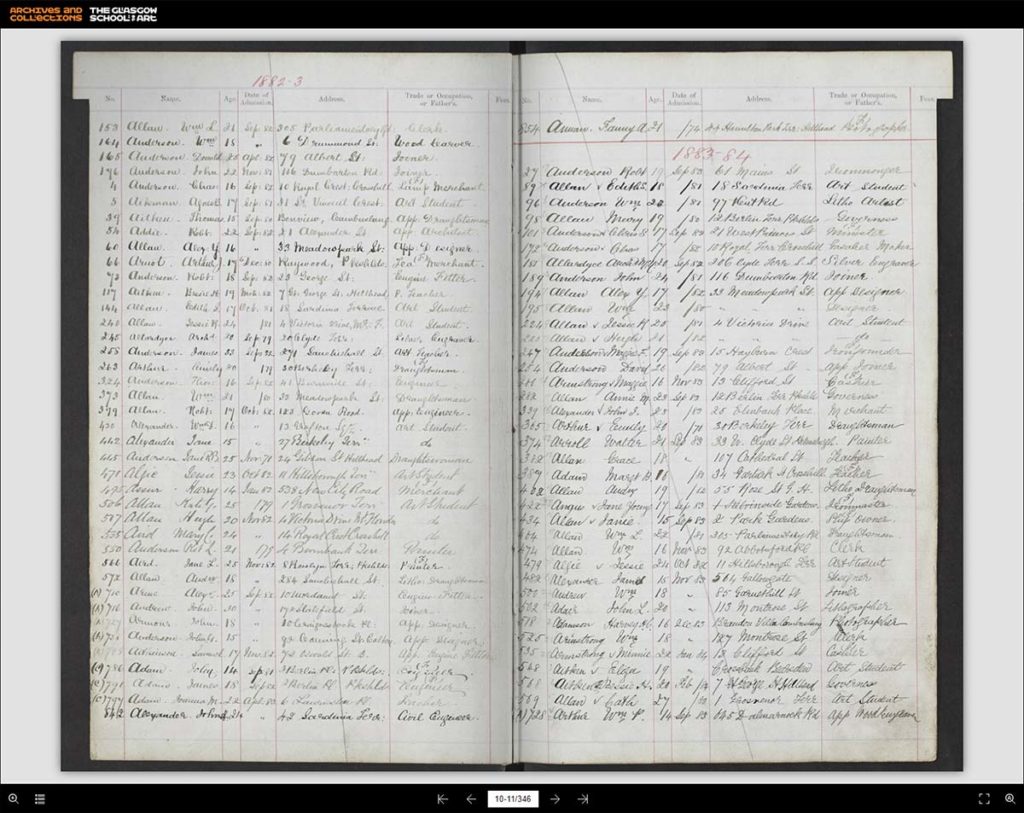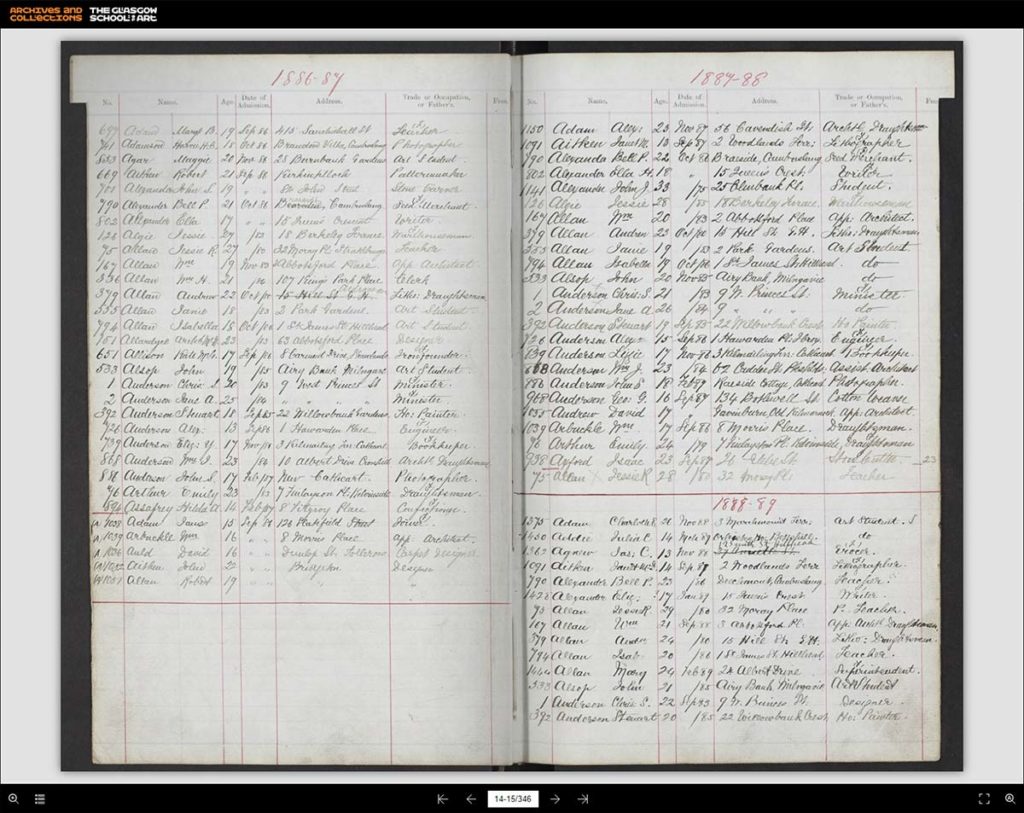 If you find the person you are looking for in the register(s), we can look them up in the general registers, which are not yet available online. These give details of the course they have undertaken and the local authority they resided in. If you can provide the student number and their name, we'll be able to find them in the general registers, just contact us at archives@gsa.ac.uk.
Alternatively, you are welcome to arrange a visit to the reading room to view the registers in person – both alphabetical and general registers can be made available, subject to data protection closures for those less than 75 years old.
If you are struggling to find someone in the registers, try searching under a middle name if you have one for them, or try variants of spelling for their surname. We often find that enquirers' relatives didn't study at GSA at the exact dates the enquirers believed they had, so be prepared to widen the dates on your search. For later dates which are not in the online registers, please contact us at archives@gsa.ac.uk. As above, registers less than 75 years old are closed due to data protection restrictions.
The handwriting in the registers varies between the different registrars and can often be hard to read. If you are having difficulties reading particular entries then we are happy to help decipher entries. Again, we can be contacted at archives@gsa.ac.uk.
Using registers as part of wider research
The student registers can be used alongside other resources to get a fuller picture of individuals you're researching.
Our online catalogue can be used to search for individuals, either through our search facility at the top of the page, or by searching in the 'People and Organisations' section of the catalogue. A short video giving guidance on how to use the catalogue can be found here too.
If you find material on an individual, please contact us if you wish to arrange a visit to view it. We have over 8000 images on our catalogue, so some material you find may be available to view online.
The registers can also be used in conjunction with sources from other organisations, such as birth, marriage and death certificates, census returns and valuation rolls from Scotland's People. Please note there is a charge associated with accessing documents via Scotland's People.
You can also use the information you hold such as address, occupation and date of birth to confirm you have the right person.
When later registers are made available online, we will publicise this on our social media, through Twitter and Instagram.
For further information, questions on an individual or any other queries, please contact us.
We hope you enjoy using the registers in your research!