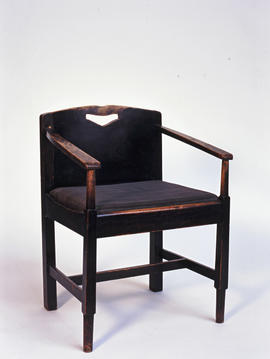 Armchair for Glasgow School of Art
This item was lost in the fire in The Mackintosh Building at The Glasgow School of Art on 23rd May 2014.
Designed for original board room at Glasgow School of Art. The chairs were designed for the original Board Room in the East wing (now the Mackintosh Room). The Governors never used this room for meetings and it was initially used as a studio while space was short in the half-finished building. When the new Board Room was built in the second phase of the building, Mackintosh designed a more elaborate version of this chair for it, MC/F/61. Six chairs reupholstered in brown horsehair 1985, very similar to the original fabric found on one of the chairs. Two remaining chairs reupholstered in 1986. This item was assessed for conservation in 2010 as part of the Mackintosh Conservation and Access Project (2006-2010).
Mackintosh, Charles Rennie