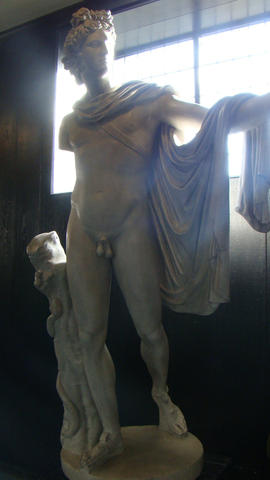 Plaster cast of the Belvedere Apollo (also called Pythian Apollo)
This item was lost in the fire in The Mackintosh Building at The Glasgow School of Art on 15th June 2018.
Original: The Apollo is thought to be a Roman copy of Hadrianic date (120 - 140 BC) of a lost bronze original made between 350 and 325 BC by the Greek sculptor Leochares. Statue depicts the Greek god Apollo, who has just overtaken the serpent Python, the cthonic serpent of Delphi. Apollo has been variously recognized as a god of light and the sun; truth and prophecy; archery; medicine, healing and plague; music, poetry, and the arts; and more. Apollo is the son of Zeus and Leto, and has a twin sister, the chaste huntress Artemis. Listed in first catalogue of casts as Greco-Roman and from the Vatican Museum, and purchased from D. Brucciani. Original currently in the collection of the Vatican Museum, Rome, italy.