Showing 2 results
Archival description
GKC/HOHE
Subfonds
c1972-1977
Job files, images and drawings related to project.
Gillespie, Kidd and Coia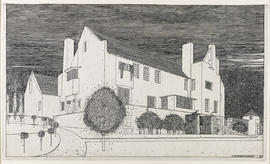 Design for The Hill House, Helensburgh, perspective from south-west
Design for Walter Blackie. 'When in 1902, Walter W Blackie, the publisher, decided to have a new house built on a site he had acquired overlooking the Firth of Clyde, he asked Talwin Morris, the art manager of his firm, for advice in the choi...
Mackintosh, Charles Rennie