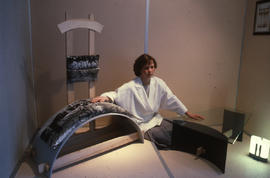 Papers of Jane Richards and Fiona Jean Paton, students of The Glasgow School of Art
DC 083
Collection
c1908-1980s
This collection relates to Jane Richards and her granddaughter Fiona Jean Paton who both studied at The Glasgow School of Art.
It includes:
An artist's palette owned by Jane Richards, c1910
a small box of watercolour paints owned by Jane Richards, early 20th century
a portrait drawn by Jane Richards, c1908-1910
a photograph of Jane Richards, c1914-1918
a photograph of Jane Richards' husband in uniform, c1914-18
two watercolour landscapes by Jane Richards, 1907 and 1911
even prints produced by The Dux Engraving Co Ltd, early 20th century
two portraits drawn by Robert Eadie, c1909
three sketchbooks for product design furniture by Fiona Jean Paton, early 1980s
eight photographs and eleven slides relating to product design furniture, early 1980s.
Please note that this material is not yet fully catalogued and therefore some items may not be accessible to researchers.
One item was damaged in the fire in GSA's Mackintosh Building on 23rd May 2014 and was conserved in 2018-19.
Richards, Jane