Re-imagining Glasgow
1971-1990
During the 1970s the heavy industries which had made Glasgow wealthy severely declined. At the same time, the city's cultural economy was beginning to grow. Organisations such as The Glasgow Print Studio, The Third Eye Centre, Transmission Gallery, Street Level Photoworks and The Glasgow Sculpture Studios were all established in the 1970s and 1980s.
During this period GSA introduced new courses in Fine Art Photography and Environmental Art. This marked a move away from painting as the primary medium for fine art students. In addition to this, the School's undergraduate diploma which focussed on practical training in the visual arts, was replaced by a new BA(Hons) Degree course which promoted critical engagement with these subject areas. Masters Courses in Design, Fine Art and Architecture were also established.
The 1980s also saw the emergence of the New Glasgow Boys, a group of GSA graduates who produced striking figurative paintings. The success of these artists marked the beginning of a new interest in Glasgow and its artists. During the 1980s the city rebranded itself with a new marketing campaign, Glasgow's Miles Better and successfully bid to become the European Capital of Culture in 1990.
---
Some key facts for this period include:
1971 – Newbery Tower completed
1971 – Department of Photography introduced
1971 – Student Numbers:1684
1972 – Cosmo Cinema (now The GFT) first used by the School
1972 – Student Numbers: 1613
1973 – Richmond building purchased at 240-250 Renfrew St
1973 – Student Numbers: 1682
1973 – J.D. Kelly Building (formerly a nursing home) at 121 Hill Street purchased and work begins to convert it to a hostel
1974 – Richmond Building opened for use for staff and students following brief site works
1974 – Student Numbers: 1723
1974 – Flat at 17 Baliol Street rented
1974 – Premises at 7 Blythswood Square purchased
1975 – Student Numbers: 1762
1976 – Student Numbers: 1821
1976 – Conversion of the Haldane Building completed at the cost of £94,000
1976 – J.D. Kelly Building ready for use as student residence
1976 – BA (Hons) degree fist awarded for Design and Fine Art
1977 – Student Numbers: 1841
1978 – Student Numbers: 1719
1978 – Assembly Hall Building is refitted with salvaged interior from the Victoria Cafe (formerly on Cathcart Rd)
1978 – First BA in Town Planning awarded
1979 – Student Numbers: 1728
1979 – Degrees of the Council for National Academic Awards now awarded
1979 – Four year diplomas abolished
1979 – Bourdon building officially opened by HRH the Duke of Gloucester
1980 – Student Numbers: 1711
1980 – Professor Anthony Jones becomes Director (holds post until 1985)
1981 – GSA/USA Programme begins allowing staff exchange with American institutions
1982 – Extension to Newbery Tower completed (now houses the refectory and staff lounge)
1982 – Student Numbers: 1801
1982 – BA (Hons) degree in Fine Art Photography introduced
1983 – Blythswood Square residence vacated and sold
1983 – Main Library moved from Mackintosh Building to Bourdon Building
1983 – Assembly Hall refitted as a social facility for students by Gillespie, Kidd and Coia Architects
1983 – Coffee and snack bar opened in Newbery Tower
1983 – Student Numbers: 1697
1984 – Student Numbers: 1717
1984 – MA Design course begins
1984 – MArch course begins
1984 – Planning degree now validated by Glasgow University
1985 – Student Numbers: 1790
1985 – Murals and Stained Glass renamed Environmental Art
1985 – Organised public guided tours of the Mackintosh Building begin
1985 – Thomas Pannell becomes Director (holds post until 1988)
1986 – Fire ravishes McLellan Galleries and reconstruction begins
1986 – Student Numbers: 1836
1986 – Competition launched to redesign streetscape and street furniture in front of Mackintosh Building
1986 – Shop proposed to promote Mackintosh style products
1987 – Planning Department absorbed into Strathclyde University
1987 – BEng and MEng courses in Product Design Engineering validated by Glasgow University begin
1987 – MA Fine Art begins
1987 – Student Numbers: 1800
1988 – Work begins on balcony in Main Library
1988 – Approval given for Margaret Macdonald House on Buccleuch Street intended to be self-funding student accommodation
1988 – Student Numbers: 1974
1989 – Student Numbers: 2023
1989 – William Buchanan becomes Acting Director (until 1990)
1990 – Student Numbers: 2199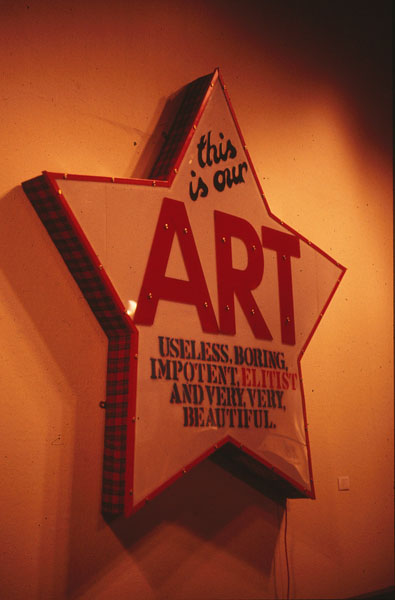 This is Our Art, by Ross Sinclair, 1987
---